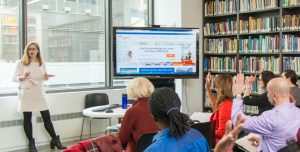 The Foundation Center is an organization dedicated to strengthening the nonprofit sector by advancing knowledge about U.S. philanthropy. The Center maintains the most comprehensive database on U.S. grantmakers and their grants. Richmond Public Library is a Funding Information Network Partner of the Foundation Center, which means we can provide free funding information. The Foundation Center has put together a rich collection of publications and supplementary materials useful to grant seekers.  You can use those online anytime through Overdrive by creating a free account.
The Funding Information Network of the Richmond Public Library can make available both print and electronic resources that are available for public use in the Library during the Main Library's regular hours. The resources are available on a walk-in basis, or you may call ahead to schedule an information session with a librarian. We also subscribe to Grants Connection, an online database of Virginia-based philanthropic organizations.  This database and the Foundation Center are only available in the Main Library. For more information, contact our Reference desk at 646-7223.
Want to learn more right now?  Check out Natalie Draper's blog post with great book selections from our catalog as well as a pointer to a grant-writing class in Universal Class.