Welcome back to the second installment in our new series of blog posts featuring children's books we're currently loving! "Book Chat with the Youth Services Team" features one book recommendation from each of our Youth Services team members. We cover a variety of books from fiction to non-fiction, picture books to chapter books, graphic novels and more! We hope that this month's reading recommendations get you excited about some awesome new books we've added to our collection as well as some oldies but goodies. Enjoy!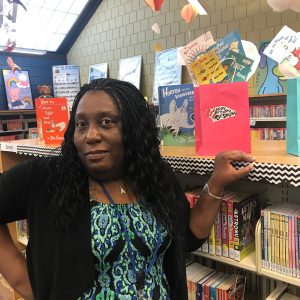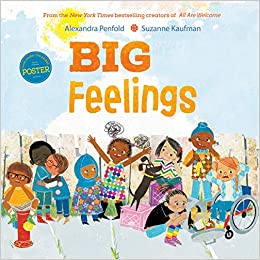 April recommends: Big Feelings by Alexandra Penfold and Suzanne Kaufman (ages 4-8)
Big Feelings is a fascinating story. The pages of the book have pop-out pictures, eye catching illustrations and multicultural characters. Authors Penfold and Kaufman do an excellent job explaining to children that feelings are normal, with catch phrases such as "This is our home. Whatever we're feeling, we're never alone." This is a perfect book for parents to read at bedtime and teachers to read in circle time.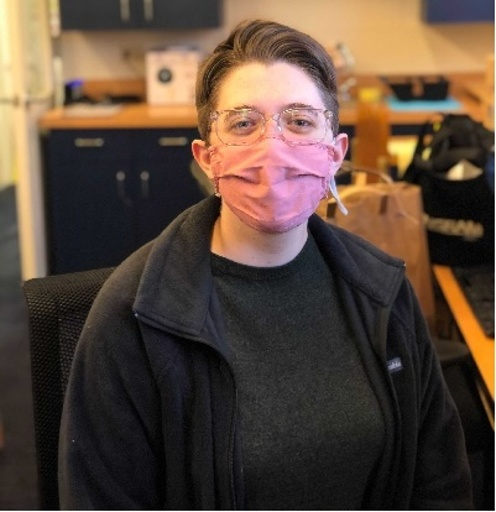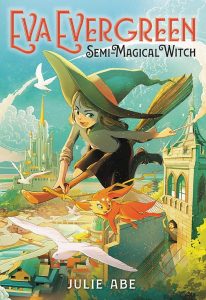 Eva is an apprentice witch hoping to achieve the rank of Novice by her thirteenth birthday, or she'll lose her magic. Her only problem is she only has a pinch of magic, and can't work big spells without falling asleep. She settles in a coastal town for the summer to open a 'semi-magical' repair shop as a part of her apprenticeship and while Eva find success, her biggest test comes when she suddenly finds herself in a dangerous position, having to protect the town from the biggest magical storm in history. This cute fantasy story has fun magic, plenty of adventure, and Eva's creative problem solving will keep you guessing until the very end.
 
Dancing is so fun and exciting, but have you ever thought of where they started and how they changed life for people? In this colorful picture book, Dean Robbins tells the tale of how Latin Jazz started and how it changed America. Before the civil rights movement people danced but they danced in their own neighborhoods and never mixed with people from other cultures. Then Machito and His Afro-Cuban band came on the scene and started a new style of music call Latin Jazz. People from all cultures loved and danced to it. In 1948, Machito and his Afro-Cuban band played in New York in the Palladium Ballroom which was open it up to all races. Many people came but they danced in culture groups. That was until Millie Donay (a white woman) and Pedro Aguilar (a Puerto Rican man) saw each other across the floor and danced their way to each other. From that point on, they danced together. Years later they got married. Some people saw this dance craze, Millie and Pedro, and this new music as the beginning of the civil rights movement in America.
 
On her 12th birthday, when Zoe receives her first ever letter from her imprisoned biological father, Marcus, the criminal justice system is the last thing on her mind. Until now, her concerns have revolved around her birthday, becoming a world-renowned baker, and giving her ex-best friend Trevor the silent treatment. However, as Zoe's secret communication with her father continues, she realizes that he is innocent of the murder he has been charged with. When she finally tells her grandmother about the letters and Marcus' innocence, Zoe's world is opened to systemic racism and how it affects black families, including her own. Determined to clear her father's name, Zoe sets out on an investigation that will change her life and every relationship in it. From the Desk of Zoe Washington balances humor and fun with serious issues and questions, a dynamic that creates an engaging, thoughtful, and timely story.
 
Jenn recommends: Love Makes a Family by Sophie Beer (ages 9 mo. – 3 years)
This beautiful little board book show little ones all the things "love is." From baking a special cake to reading just one more book, families show love in many different ways. The best part about this inclusive book is that it shows the many different ways families can look, too! All that is needed to make a family is love.
 
Joan recommends: Our Table by Peter Reynolds (ages 4-8)
Violet's family used to spend a lot of time doing things together at the family table, but lately they've all been pulled away by technology and other distractions. As the family drifts apart, the family table shrinks down to nothing. Violet misses the connected feeling and comes up with a creative plan to bring everyone back together. Sweet and timely, Our Table will be enjoyed by many families.
 
Just Be Yourself Dragon! Is a cute story about a dragon's first day of school. This colorful story takes a very relatable topic and gives it a fantasy twist in a way that is sure to catch any child's attention. With gorgeous art as well as easily understood and interactive text, this picture book is perfect for any child preparing to begin school.
 
Mirissa recommends: The Rough Patch by Brian Lies (ages 4-8)
The Rough Patch by Brian Lies is a picture book that doesn't shy away from tackling a hard topic. The reader follows Evan, a fox who experiences the death of his dog, who had been his best friend and companion. Evan is heartbroken, and he lashes out in anger until his garden reflects his grief and loneliness. But what happens when the garden unexpectedly begins to grow a bit of hope instead? Read and find out—and keep a tissue or two nearby, just in case.
 
Nae recommends: The Funny Little Woman retold by Arlene Mosel (ages 2-5)
The Funny Little Woman is a fun Japanese folk tale that *to me* has the advice of "always keep your- sense of humor." In it an old woman that liked to make rice dumplings one day followed a dumpling into a hole in the floor. Under the earth she found a forgotten city and some wicked oni who kept her to cook their rice with a magic paddle. Does she escape? Find out for yourself when you check out this nearly forgotten gem.
 
Nicole recommends: Cat Talk by Patricia MacLachlan (ages 4-8)
Have you ever wondered what your cat might say if it could talk? Cat Talk is a book of poetry that delves into the everyday lives and thoughts of our feline companions. Read about your furbaby's opinion on food, adventure, other cats, and litterbox fun! This is a great way to introduce your kiddos to poetry, pets, and creative thinking.
 
Summer recommends: Across the Desert by Dusti Bowling (ages 8-12)
Jolene loves adventure, although she mainly experiences it through reading books about great explorers. One day, she sees her online friend Addie stream herself crashing her ultralight plane in the Arizonan desert – and knows she might be the only one who can save her. Running from home – and a mother living with an opioid addiction after a bad car accident – Jolene encounters numerous obstacles on the search for Addie, but still makes friends along the way. This middle-grade book is a touching story of love, friendship, and possibilities.
Well young readers, that's a wrap. Check back again next month for some more fabulous reading recommendations. Until then, happy reading!