What does "school readiness" mean?
In Virginia, School Readiness is defined as the capabilities of children, families, schools and communities that work together to promote student success in kindergarten and beyond.
Ready Children – are prepared socially, personally, physically and intellectually to meet state standards for four-year olds in literacy, mathematics, science, history/social science and development.
Ready Families – include parents and other adults who take responsibility for school readiness through direct, frequent and positive involvement with their children and by maintaining stable relationships and environments that promote healthy development and learning.
Ready Schools – provide a seamless transition to a learning environment led by skilled teachers and welcome all children with opportunities to enhance and build their skills, knowledge and abilities.
Ready Communities – including businesses, faith-based organizations, early childhood service providers, community groups and local governments – support schools and families through information and promote access to high-quality child care and other early learning opportunities and services.
Adapted from Virginia's Definition of School Readiness.
Why is School readiness important?
While babies are born full of potential, the opportunity to help them fully achieve their potential diminishes over time. We can have the biggest impact on lifelong success if we start early. This has huge economic benefits for individuals, families, communities, and our society as a whole. This is so important that economists spent years evaluating the research to develop what is now known as the Heckman Equation, which shows investments in early childhood care and education producing undeniable returns on investments, while investments later in life generate much smaller, or even no return.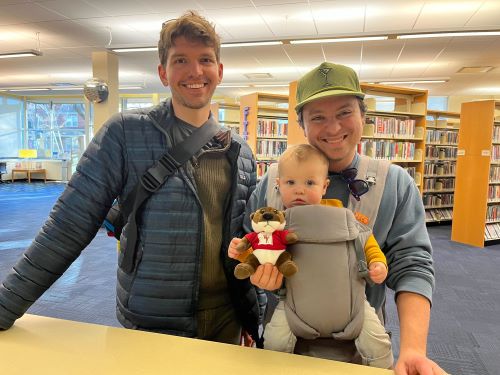 According to the Heckman Equation:
"The highest rate of return in early childhood development comes from investing as early as possible, from birth through age five, in disadvantaged families. Starting at age three or four is too little too late, as it fails to recognize that skills beget skills in a complementary and dynamic way. Efforts should focus on the first years for the greatest efficiency and effectiveness. The best investment is in quality early childhood development from birth to five for disadvantaged children and their families."—James J. Heckman, December 7, 2012
How can I help my baby or child get ready for school?
Preparing your baby or toddler for school is easier than you think! Early childhood organizations all around the Metro Richmond area, including Richmond Public Library, have adopted a strategy called The Basics which includes just five developmental areas on which to focus:
Maximize Love, Manage Stress – Warm and responsive parenting lays the foundation for healthy social, emotional and cognitive development.
Talk,Sing, and Point – Talking, singing, and pointing accelerate language development, which in turn accelerates children's early learning and engagement with the surrounding world.
Count, Group, and Compare – Counting, grouping, and comparing lay the foundations for mathematical thinking, helping children make sense of the numbers and categories they encounter in the world.
Explore through Movement and Play – Exploring through movement and play encourages curiosity, exploration, and discovery, and supports the development of motor skills and a healthy body.
Read and Discuss Stories – Reading and discussing stories engages children in thinking and builds their knowledge, reasoning, and early literacy skills.
Want to learn more? Read more about the science behind The Basics.
By following these five principles, you can help your child get a jumpstart on their school success. The Basics provides wonderful, easy tips and activities for you to try at home called Brain Boosts. They're even divided by age. Check them out here.
You can also attend one of the many storytime offerings we provide at Richmond Public Library. Keep reading to find out more!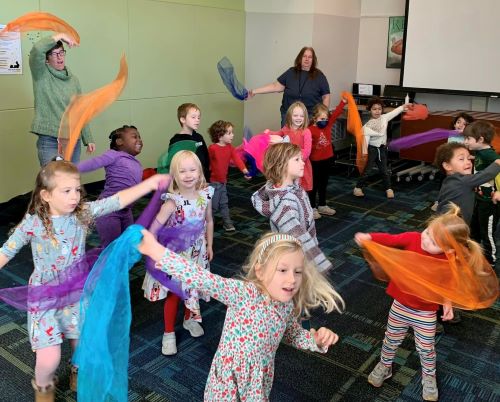 Attend a storytime!
Richmond Public Library is committed to laying the foundation for literacy for Richmond's young children using The Basics, a proven curriculum to empower caregivers to be their children's first and most important teachers. All neighborhoods in Richmond are within a 15 minute walk of a library branch and we offer storytimes throughout the week so there is something for everyone!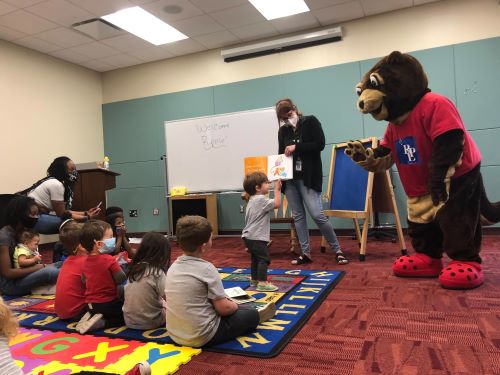 Each storytime is led by a professional Youth Services Associate who is trained in the implementation of The Basics. He or she will lead you through a full-filled storytime filled with early literacy tips and tricks that you can go home and repeat with your child. What's more, your child will grow their love of reading and make friends too!
We would love the opportunity to play a role in preparing your child for school. To attend one of our storytimes, visit our online calendar for specific dates, times, and locations.
Attend a School Readiness Fair
What's a School Readiness Fair? Join us as we get parents and children working together through hands on fun activities for ages birth to 6. Find resources you may need to help your child grow and get ready for school, and take away some great products to get you there.
There will be activities for ages 0-6, resources from the community, translators to help guide the way, school personnel to get you started with registration if needed, and so much more!
How do I register my child for school?
Richmond Public Schools offers a free, high-quality preschool program for eligible 3- and 4-year olds and kindergarten for all 5-year olds living in the City of Richmond.
To apply for preschool and to enroll in kindergarten, you will need your child's original birth certificate or a certified copy, two proofs of address, and an up to date immunization record and physical (performed within the 12 months before the first day of school).
To apply for preschool, you will also need proof of income.
Families of children with special needs are encouraged to apply to preschool.
Parents/Caregivers can start their preschool application and kindergarten enrollment by going to attendrvaschools.com.
In-Person enrollment events will be posted on the RPS website. Please check rvaschools.net/preschool for up to date information.
Where can I get more registration information or assistance?
For assistance with preschool registration, please send an email to preschool@rvaschools.net or call (804) 780-6195.
For assistance with kindergarten registration, please send an email to enrollrps@rvaschools.net or call (804) 780-6195.
Parents/Caregivers of children with suspected disabilities can contact the RPS Preschool Reception and Diagnostic Services at (804) 780-8058 to schedule an evaluation.
Parents/Caregivers without a mortgage or leasing contract on their name can fill out and notarize the shared housing form as proof of address. The Richmond Public Library has Public Notaries available at all of its locations.
Parents/Caregivers experiencing housing instability and homelessness can complete the online McKinney-Vento screening form for additional support and services.
For information regarding physicals and immunizations required for school entry, please go to vdh.virginia.gov/richmond-city/childhood-immunization.