What's the best book you read this year?
We asked our staff and this is what they had to say:
Tonya Tyler, Senior Library Technician, Belmont Library:
I read anything adventurously hopeless and borderline insurmountable. If there's an open prairie, I saddle up. I am a sucker for pointless short stories, quirky family epics and weird women doing weird things. I like my parallel universes wide-legged with pleats. Mysteries, Westerns, Sci-Fi and backwoods Modern Noir are my favorite genres. I do not want to ever read about bonding over shared denim, teenagers, love or (heaven's forbid) any of the three at the same time.
Washington Black: A Novel by Esi Edygyan is the best book I've read in 2019. It's a mash up of James McBride's The Good Lord Bird and Colson Whitehead's Underground Railroad. It is a hybrid of classic runaway slave narrative and swashbuckling bildungsroman. In Washington Black: A Novel, Edugyan boldly explores the cruelties of tethered awakening, exploitation, betrayal and what it means when the state of being "potentially estranged" is directly due to being owned by someone other than yourself.
Tori Nunnally, Library and Community Services Manager, Westover Hills branch:
My two favorites from this past year both share themes of enduring strength in the faces of subjugation and power in various hands. Although it debuted in hardback two summers ago, I finally had the opportunity to read Before We Were Yours by Lisa Wingate as a book club pick this year. Both tender and cruel at points, this book follows the story of a young female protagonist, Rill Foss, and her siblings who have grown up floating along the Mississippi River on a shantyboat in the 1930s with their parents. One of five (soon to be seven), twelve-year old Rill loves her simple life on the river. However, all that she has ever known is ripped from her one stormy evening when her father rushes her mother to the hospital and leaves Rill in charge of her other siblings. Soon after, strangers arrive in force and take the children to an orphanage where they are left to endure the merciless director of the facility until their parents can come to rescue them. Based loosely on historical accounts of the real Tennessee Children's Home Society Scandal, this book looks at resiliency in children and loyalty in family. It uses two narrators to take the reader on a journey from the present to the past and back again with ease as both stories weave their way together. I was taken aback by this piece of American history I never knew existed and was profoundly affected by the stories told in these pages. Before We Were Yours is a riveting tale that reminds us—no matter what path we follow in life, our heart remembers all the steps taken to get us there.
Hot off the presses, I could not wait to read The Testaments (Sequel to 1985's The Handmaid's Tale) by Margaret Atwood. I was not alone in that vein of thought and had to wait my turn for a copy of the audiobook to become available—it did not disappoint. The sequel picks up fifteen years after the tale of Offred ambiguously came to end in the events told in The Handmaid's Tale. This new story is written from the perspective of three female narrators: Aunt Lydia, the powerful leader of the Aunts in the oppressive regime of Gilead; Daisy, a teenage girl living in Canada; and Agnes, a young girl that grows up in Gilead. Atwood's words come to life in the audiobook version of this novel with Ann Dowd, Bryce Dallas Howard, and Mae Whitman as the voices of the three narrators. Dowd, already plays the role of Aunt Lydia in Hulu's award-winning television adaptation of Atwood's novel and does a superb job continuing Aunt Lydia's story in this new novel. Simultaneously inspiring and infuriating, the story of Gilead continues and the answers to questions about its downfall are finally revealed. With vivid words and carefully crafted storytelling, Atwood presents a novel that surpasses its predecessor and demonstrates why Margaret Atwood continues to be an award-winning writer throughout the decades.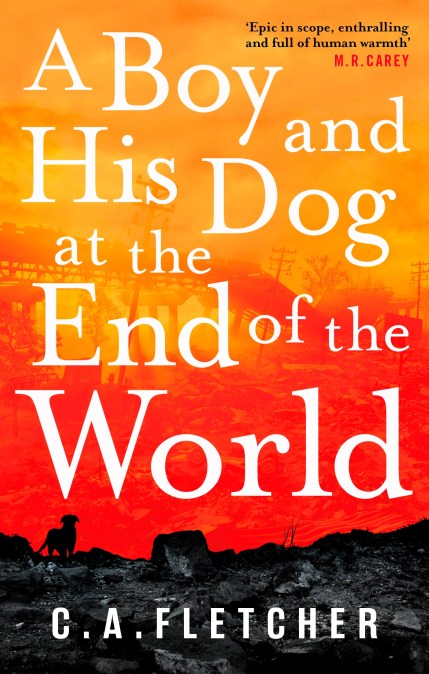 Jenn Deuell, Teen Services Coordinator:
As the teen librarian here at RPL, I read mostly YA…and I am not ashamed to say I love it! I'd say my favorite genre to read is contemporary fiction, especially those that touch on relevant social topics teens face today. I also love a good dystopian. I know, I know. Dystopian novels are so out. But I still enjoy them. I feel like the genre is a classic, going back to 1984 and Fahrenheit 451. In my opinion it will never go out of style. Every so often I also like to dive into a good adult book, especially if it has a dog in it! Social justice and/or dystopian themes apply here too. This year I have two favorite books, one from each of the categories I've mentioned.
My favorite YA book from 2019 is Wilder Girls by Rory Power. This is a debut novel from Power and has been widely compared to Lord of the Flies. The story takes place at the Raxter School for Girls, a remote boarding school on an island in an unnamed country. The school has been placed on quarantine for the last eighteen months due to an outbreak of the "Tox," a strange and deadly infection that turns living beings into a monstrous version of themselves…think scales, protruding spines, eyes fused shut, and worse. In addition, this is a group of girls that is doing everything they can to survive. This means they are often unlikable and unapologetic for their actions. The atmosphere of this book is also so extremely creepy. At times, the plot is dark and vicious and horrifying, with a tension that builds steadily throughout the pages. I was enraptured. It is feminist horror at its best!
My second favorite book of 2019 is an adult book falling under the post-apocalyptic category with bonus points for having a dog. A Boy and His Dog at the End of the World by C.A. Fletcher is just as its title hints. Set in the future, people live in virtual isolation and must depend on the land and themselves to survive. Griz is a young boy living with his family and their two dogs. Life seems to be good despite their hardships until a stranger happens upon their camp. The family decides to be hospitable and provide the stranger with dinner and lodging for the evening. But when they wake up, the man has disappeared along with one of their family dogs, Jess. Here begins the story of Griz's harrowing journey to bring back Jess. If you know me, you know I love my dogs like family. So, I completely related to Griz. I, too, feel like I would trek to the end of the earth to save my dogs. Fletcher's writing style is also amazing. His prose is incredibly poetic and his ability to depict the love and loyalty of both human and canine really resonated with me.
Otis Pryor, Library Technician, Main Library:
It was hard to narrow it down but I decided on Brief Cases: More Stories from the Dresden Files. I like to use short stories as a doorway into a universe to see if I like it and want to read more. If short stories aren't an option then I will just open up to a random page and start reading because sometimes a book can start strong and then lose it so I find it's better to try it out midway. I often read comic books and graphic novels, and want to have a little fun in what I'm reading. The antagonist has to be serious, needs to be a real threat because if the protagonist isn't worried, then why should I be?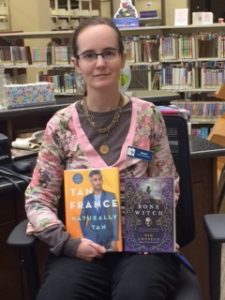 Naomi D'Archangel, Library Technician, Main Library:
When I read for fun, I either want to sink in to a fantasy world, laugh, or learn something new. My favorite genres are YA, romance, biographies, and sci-fi. So this was a difficult decision! I have read so many wonderful books this year that I barely could decide on two. This year's winners for me are Naturally Tan, an autobiography by Tan France most recently of Queer Eye notoriety, and Bone Witch by Rin Chupeco. To begin, reading Naturally Tan just felt like I was listening to an old friend. I love watching Queer Eye and was intrigued when I saw that Tan had a book. It was a pleasure to find out that how he presents himself on the show is his authentic self and that's exactly how his book comes across. Just a really dapper, sweet, and charismatic individual. It was a hug with words and absolutely lovely. Bone Witch was a fun YA novel that was written really well. The book cover itself I also love for its design as well as it soft texture. The chapters alternate between the main character, Tea, in her present time and Tea telling the story of her past to a bard to explain why she's doing what she's doing. That being said, it was really easy to understand whether it was in the past or present which some books have a hard time doing. Tea is, as the title suggests, a bone witch which uses necromancy. It's a hard life and her story immediately draws you in with her first raising which is her brother out of love due to his untimely death. I enjoyed the mystery and magic of it all.
Mary Cook, Library Technician, Main Library:
The Sun is a Compass by Caroline Van Hemert is ONE of my favorite books of 2019. A true story of a 4,000 mile trek through the Alaskan wilds. Van Hemert, a biologist, and her husband traveled from the Pacific rainforest to the Alaskan arctic on foot or using a canoe/raft. Beautifully written – this adventure story tells of dangerous encounters with bears, challenging terrain and many obstacles to overcome. Her story telling is rich with eloquent descriptions of nature and the resilience of human intimacy.
I am an eclectic reader which I attribute to my long standing membership with libraries. Having a library card allows readers to sample different reading genres and discover new worlds. A library card is my ticket to the universe.
Kathy Coker, Library Technician, Main Library:
No Ordinary Time: Franklin and Eleanor Roosevelt: The Home Front in World War II, Doris Kearns Goodwin. No Ordinary Time was a 1995 recipient of the Pulitzer Prize. It's a lively, detailed chronicle of the WWII home front from the perspective of Franklin and Eleanor Roosevelt and is one of the few excellent books on the war's impact on  at home. I'm a non-fiction reader.
Meg Raymond, Librarian, Main Library: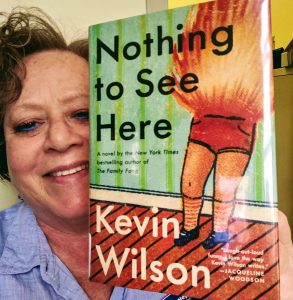 THIS was my favorite book of 2019 and may very well go into my All-Time Top 10 favorites, too. It just WRECKED me. It's sad, but not devastatingly so. It's also very funny. Full of weird and deeply flawed characters. If you just read the premise – children who burst into flames when they are angry or upset – you would say "what? No! That's just stupid". But Kevin Wilson pulls it off.
Natalie Draper, Library and Community Services Manager, Main Library:
This was my own challenge to staff and I'm really struggling with it! After much careful deliberation I'm going to have to give it to On Earth We're Briefly Gorgeous by Ocean Vuong, a tender and raw coming of age story written in the form of a confessional letter addressed to the author's own illiterate mother. His novel explores the immigrant experience in America, a fractured but close-knit family, and a young man discovering his sexuality. Every word on every page is gorgeous. Vuong is an award-winning poet and this is his first novel. The staggering beauty of his writing has me hooked forever.
I typically read literary fiction that leaves me completely emotionally wrecked, or deeply disturbed, or questioning reality. I also like poetry, science fiction and nonfiction that leaves me completely emotionally wrecked, or deeply disturbed, or questioning reality. Preferably all of the above.
Jonah Butler, Web Developer: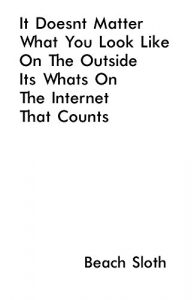 It Doesn't Matter What You Look Like On the Outside It's What's On The Internet That Counts by Beach Sloth
I don't know how to put it any other way. Beach Sloth's 2014 book of poetry changed my life. My year labels for defining periods within the Gregorian calendar have changed from, you know, the usual ones taught in school: A.D. & B.C., to my revised ones: B.B.S & A.B.F (Before Beach Sloth / After Beach Sloth(from the Latin Anno Nostri Poetae Beach Sloth)). Seriously though. Beach Sloth writes some of the best modern poetry there is. Beach Sloth is a delight. Beach Sloth will make you laugh, cry and nod approvingly. Reading Beach Sloth is like eating your favorite sandwich. You finish, satisfied and full, but since it's your favorite sandwich you wish there was more. Well I got good news, Beach Sloth is unlike sandwiches in this way because you can always go back for seconds/thirds/fourths etc. Read Beach Sloth today!
Patrick DeRoche, Librarian, Main Library:
I tend to bounce all over the place in what I read; fantasy, classic literature, sci-fi, modern poetry, and way too many things set in (or with flashbacks to) WWII. I also try to ensure I get plenty of things by/about women and POC. I am definitely lacking in romance and mystery though.
I'm kind of torn between suggesting The Book of the Unnamed Midwife by Meg Elison and The Little Snake by A. L. Kennedy. The former because you don't get a lot of non-cis white guy perspectives in sci-fi/post-apocalyptic novels; sort of reminiscent of The Parable of the Sower and The Handmaid's Tale and the latter because it's a surprisingly deep and moving fable in a nice compact novella. A solid demonstration of less-is-more.
Lisa Crisman, Library and Community Services manager, West End:
The Overstory by Richard Powers, 2019.
Fiction. Beautiful exploration of an intersection of characters with very different backgrounds uniting for a common cause. Truly opens the question of our relationship to plants, particularly trees, and the destruction we have accomplished in a relatively short time on the planet. Favorite quote: "Life has a way of talking to the future.  It's called memory."
Nandhitha Agaram, Librarian, Main Library:
I love to read historical fiction, fantasy, romance, YA, literary fiction, Sci-Fi, mystery, thrillers a general hodgepodge of whatever catches my eye. I don't remember a time when I didn't read, as my parents instilled my passion for reading early on. I love to read as it takes me into worlds and situations unfamiliar to me and lets me experience so many wonderful and heart wrenching things.
Since I had to pick only one, which was really really hard, I chose The Huntress by Kate Quinn. It is a fascinating post WWII historical fiction, based on real events and actual people made it even more fascinating. The daring and courage exhibited by these women was really addictive.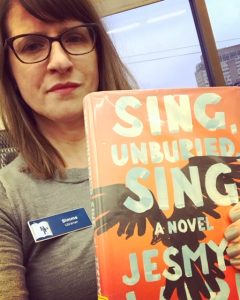 Simms Toomey, Librarian, Main Library:
I'm usually a reader of historical & contemporary romances – I tend to think I  turn to them when my heart needs soothing, and whose doesn't, really? – but, the best book I read all year was Jesmyn Ward's second National Book Award-winning novel, Sing, Unburied, Sing.
This story, situated around an utterly harrowing road trip & told from the perspectives of three travelers, broke my heart again & again, and all the HEAs (Happily Ever Afters) in the world just aren't going to mend it. I'll continue to read romances, though, & if you need help finding an epic love story with a happily-ever-after ending, look for me at the Main Library!
Adam Zimmerli, Library and Community Services Manager, East End Branch:
An oldie but a goodie: I had never read Steinbeck's East of Eden until this year and LOVED it!