Picture books are equal parts text and illustration. All ages may delight in the settings and characters as pictures help tell the story. Here's a baker's dozen new titles available @ your library.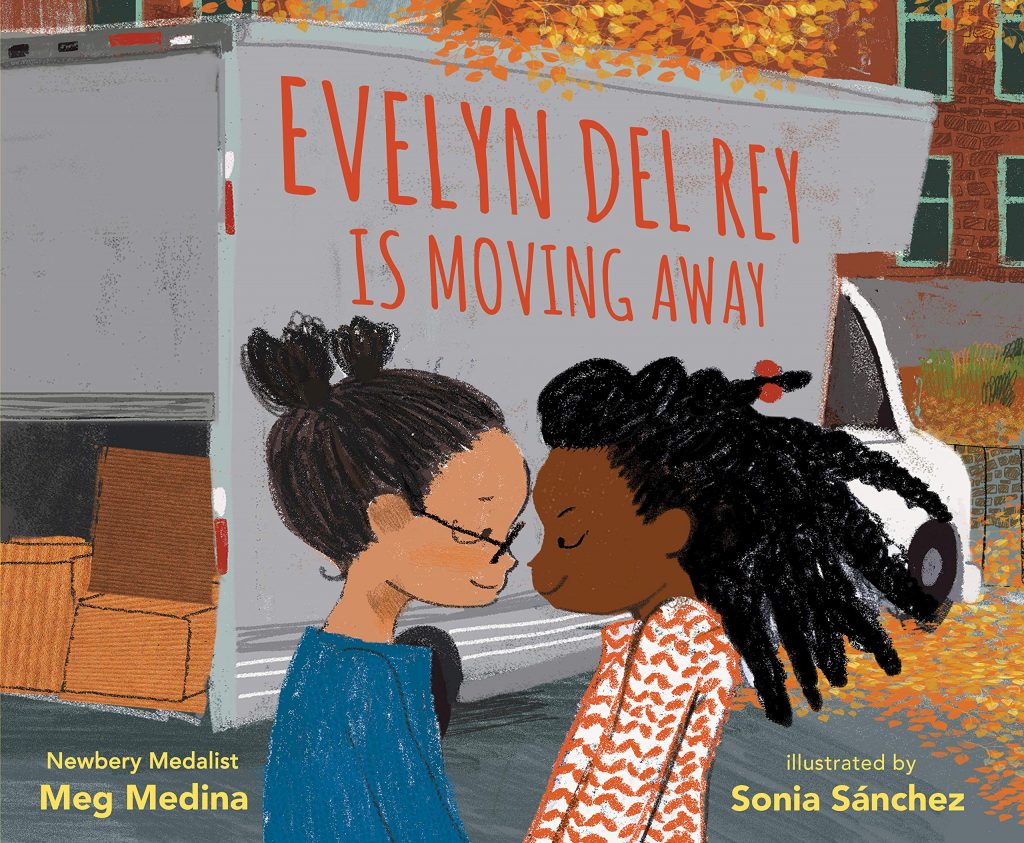 Evelyn Del Rey is Moving Away by Meg Medina; illustrated by Sonia Sánchez. (Somerville: Candlewick Press, 2020) The bond of friendship is lovingly portrayed in this recent book by Newbery winner Medina. Warm, fall oranges and golds are scattered throughout the mixed media illustrations as the girls visit each familiar place on a best friend's moving day.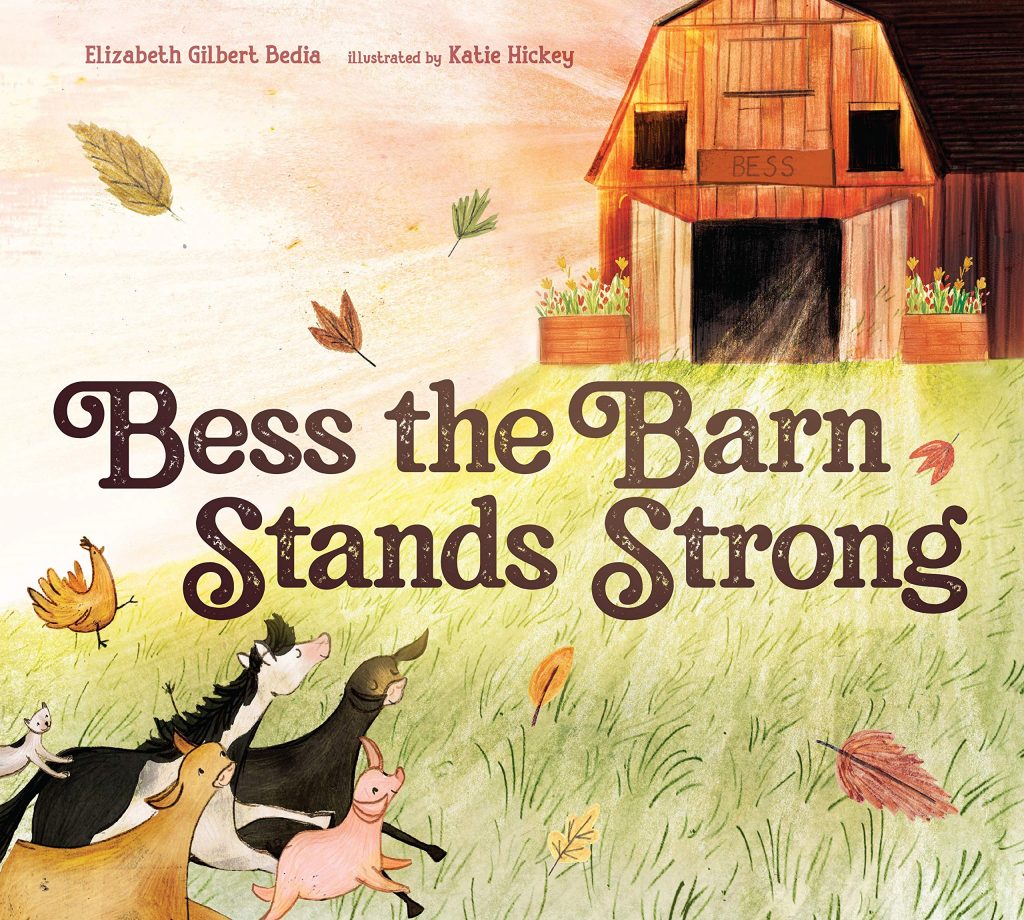 Bess the Barn Stands Strong by Elizabeth Gilbert Bedia; illustrated by Katie Hickey. (Salem; Page Street Kids, 2020) This is the tale of a barn, from its construction to its replacement. Bess weathers storms and witnesses the passing of time with celebrations, beginnings and endings. Just when she is feeling totally forgotten she perseveres. This title would pair well with Otis by Loren Long. (New York: Philomel, 2009)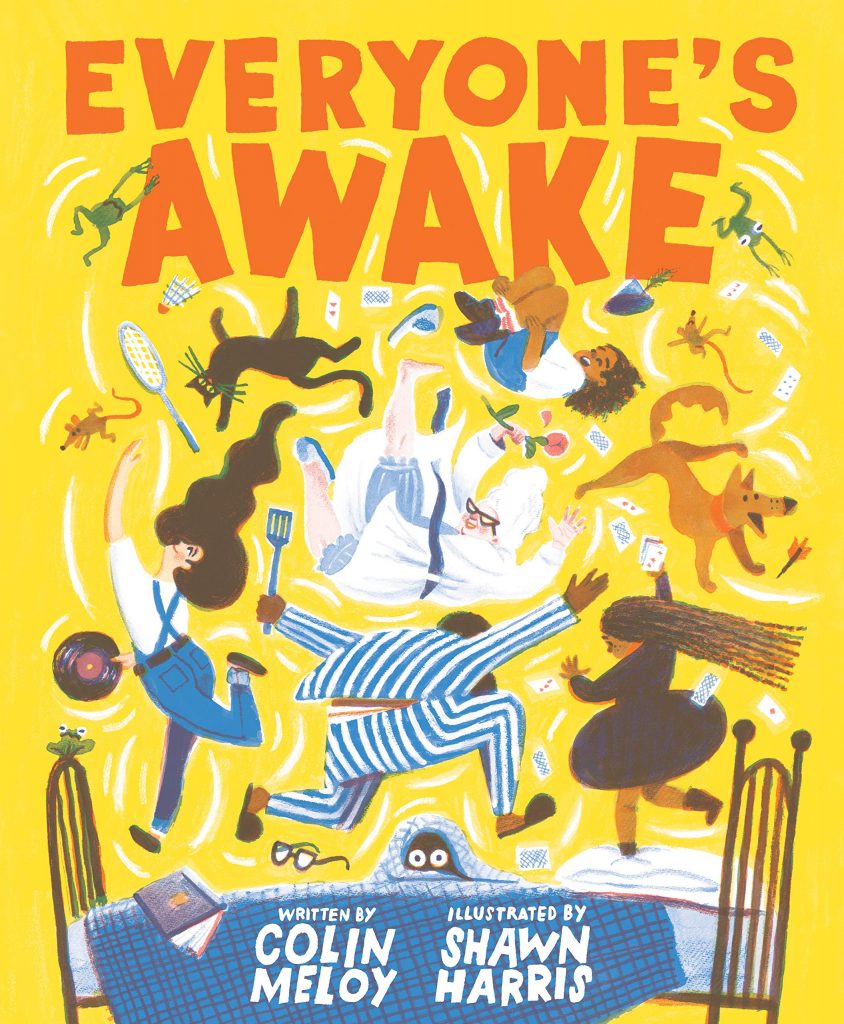 Everyone's Awake by Collin Meloy; illustrated by Shawn Harris. (San Francisco; Chronicle Books, 2020) Everyone's early to bed and yet, at midnight, everyone is awake! Raucous and irreverent, fans of The Decemberists will recognize the author and move right in time with this new, multigenerational, rhyming book. Perfect for reading aloud. Meloy also writes the middle grade Wildwood series. Shaun Harris illustrated the 2017 Dave Eggers' title Her Right Foot, a graphic bio on the Statue of Liberty.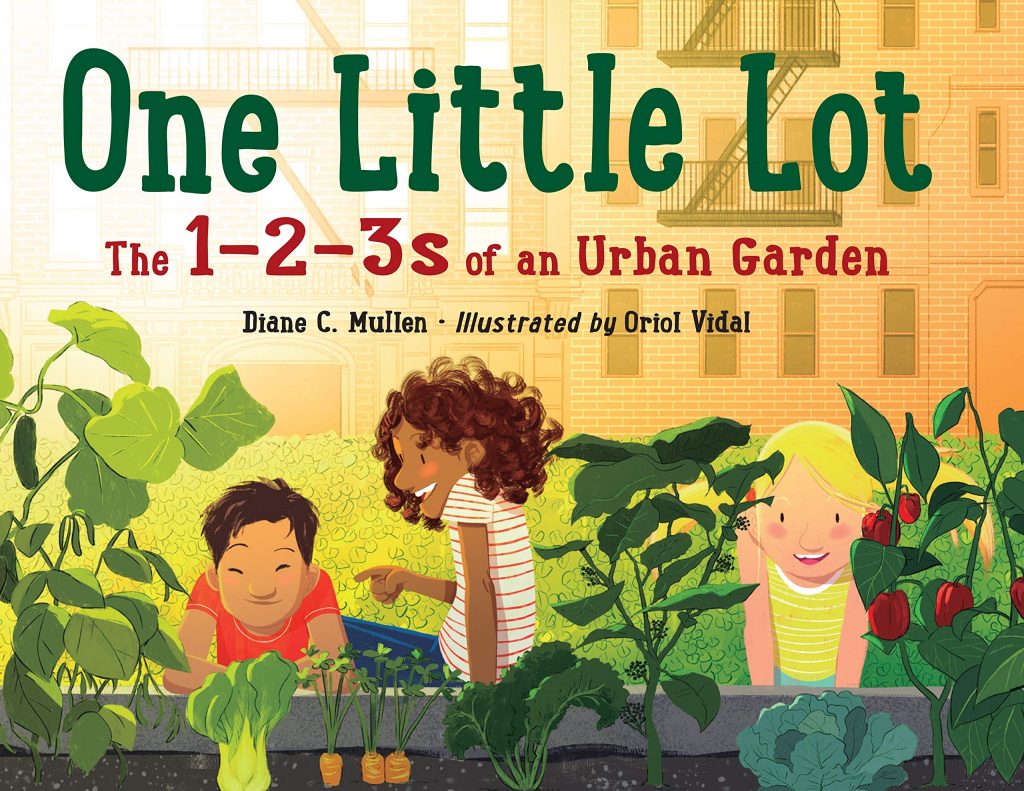 One Little Lot: the 1-2-3s of an Urban Garden by Diane C. Mullen; illustrated by Oriol Vidal. (Watertown: Charlesbridge, 2020) Part counting book, part urban renewal, this new title presents a simple yet realistic empty-lot transformation. Inspired by the author's participation in her Minneapolis neighborhood's Soo Line Community Garden. Included is a call for saving the bees and simple tips on creating a pollinator friendly yard. For a worthy flashback on the same theme, try Wanda's Roses by Pat Brisson, illustrated by Maryann Cocca-Leffler. (New York: Caroline House, 1994)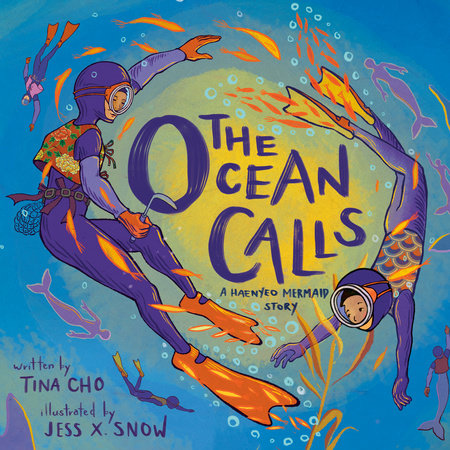 The Ocean Calls: a Haenyeo Mermaid Story by Tina Cho; illustrated by Jess X. Snow. (New York: Kokila, 2020) A young girl wishes to become a Haenyeo, or sea woman, like her grandmother. She overcomes her fear of the ocean, one step at a time. Based on the Haenyeo of Jeju Island in South Korea, women who for generations have followed the weather and the sea. The vibrant illustrations are by muralist Jess X. Snow "a film director, artist, poet and community arts educator."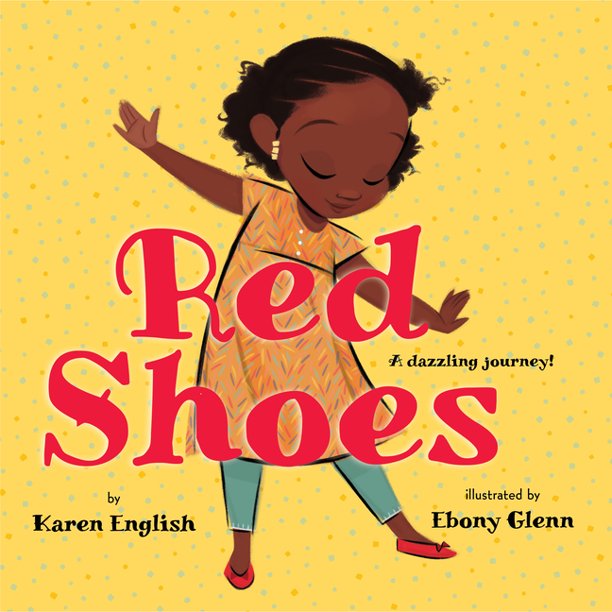 Red Shoes by Karen English; illustrated by Ebony Glenn. (New York: Scholastic, 2020) Exuberant Malika receives her window-shopping wish from Nana: red shoes. English lovingly describes a year in the life of Malika and her shoes, including family events and special days. The inevitable day comes when the shoes are too small. They find their way across the ocean to another young girl and continue to delight. Beautifully written with bright, colorful illustrations. A sweet treat.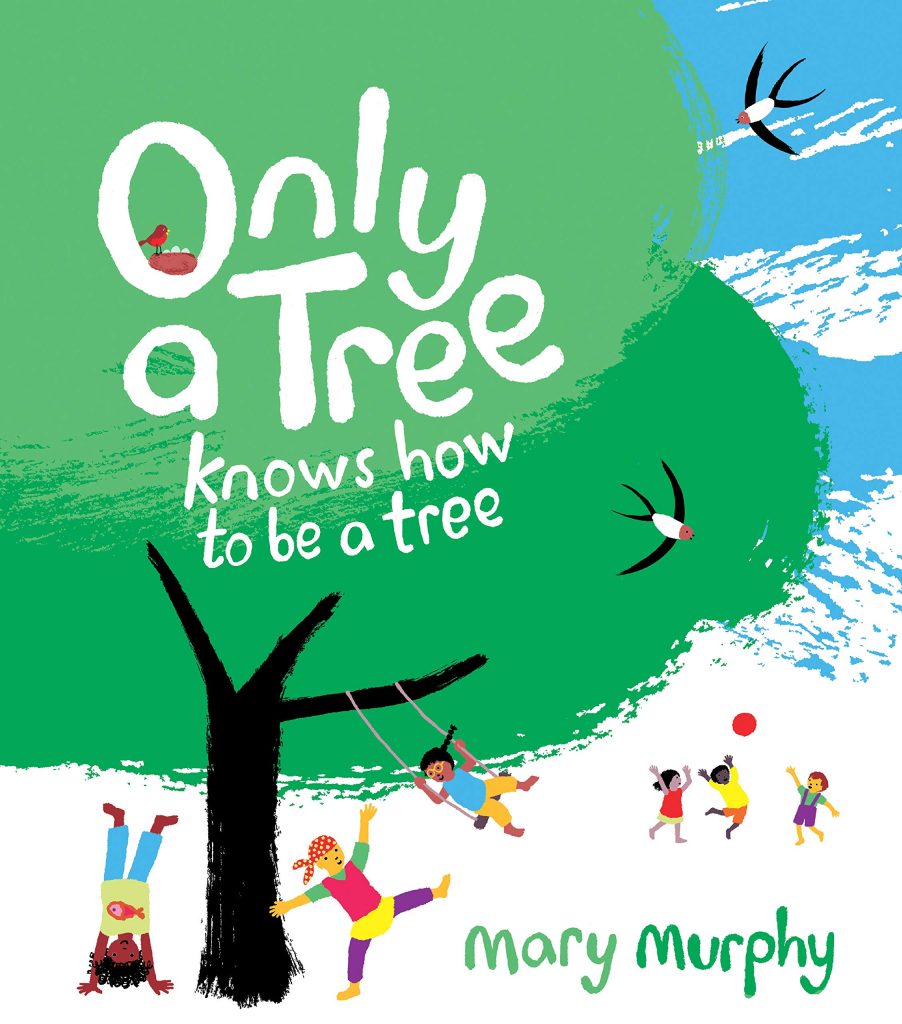 Only a Tree Knows How to be a Tree written and illustrated by Mary Murphy. (Somerville, MA: Candlewick Press, 2020) Childlike illustrations bring to life this simple reflection on self discovery. The unique identity of all living beings on Earth is the underlying theme. Great for preschoolers and reading aloud. Murphy is an Irish writer and illustrator known for her colorful, engaging books for toddlers and preK.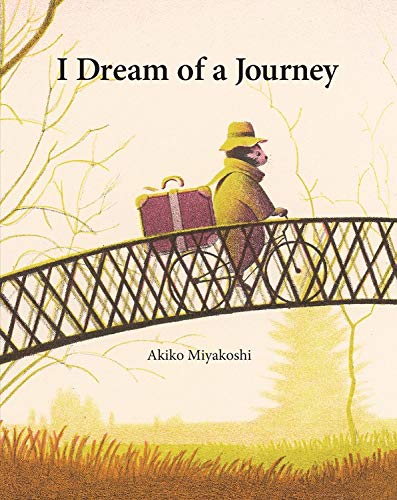 I Dream of a Journey, written and illustrated by Akiko Miyakoshi. (Toronto: Kids Can Press, 2020. First published in Japan in 2018) Translated by Cathy Hirano. An innkeeper (is he a badger?) cares for visitors and looks forward to their cards from worldly travels. Having never left his small town he dreams of taking a trip one day. Beautifully detailed, grey tones in the hotel move to soft, colorful, dream travels. For armchair travelers, young and old.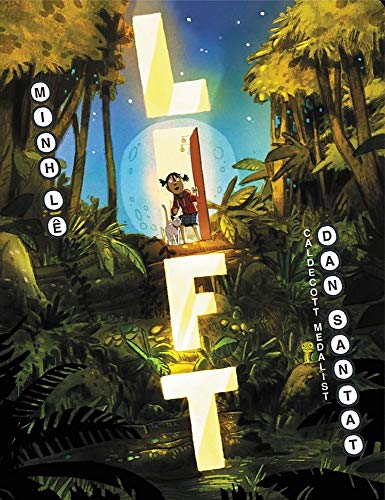 Lift by Minh Lê; illustrated by Dan Santat. (New York: Disney/Hyperion, 2020) What's the best thing about riding the elevator? Pushing the buttons! One lucky find leads this big sister on many fantastic journeys, just by pushing a button. Simple, brief text is expanded by the creative genius of Santat.
Read it together!
---
And now for something spooky!
How to Build a Haunted House by Frank Tupta; illustrated by Kyle Beckett. (New York: Two Lions, 2020) Wacky, rhyming fun arises when a new vampire family comes to town. The house must be completed before daybreak! Lively, digital graphics complete this new, seasonal title.
Monsters 101. Written and illustrated by Cale Atkinson. (New York: Doubleday, 2020) Just in time for fall! All you have ever wanted to know about monsters, from biology to daily life, favorite foods to fears.
Pick a Pumpkin by Patricia Toht; illustrated by Jarvis. (Somerville, MA: Candlewick, 2019) An excellent, new addition to the pumpkins and Halloween collection. Full of the experiences anticipated in fall, from a pumpkin patch, a carving party, costumes and treats.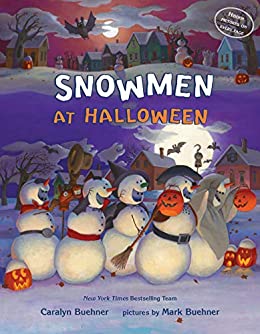 Snowmen at Halloween by Caralyn Buehner; illustrated by Mark Buehner. (New York: Dial Books for Young Readers, 2019) For fans of Snowmen at Night there is a Halloween version! An early snow prompts the building of snow people, dressed for Halloween. Snow people young and old enjoy holiday fun with pumpkins, carving, games and more. Look for the hidden pictures throughout. Like this title? Check out others by the Buehners.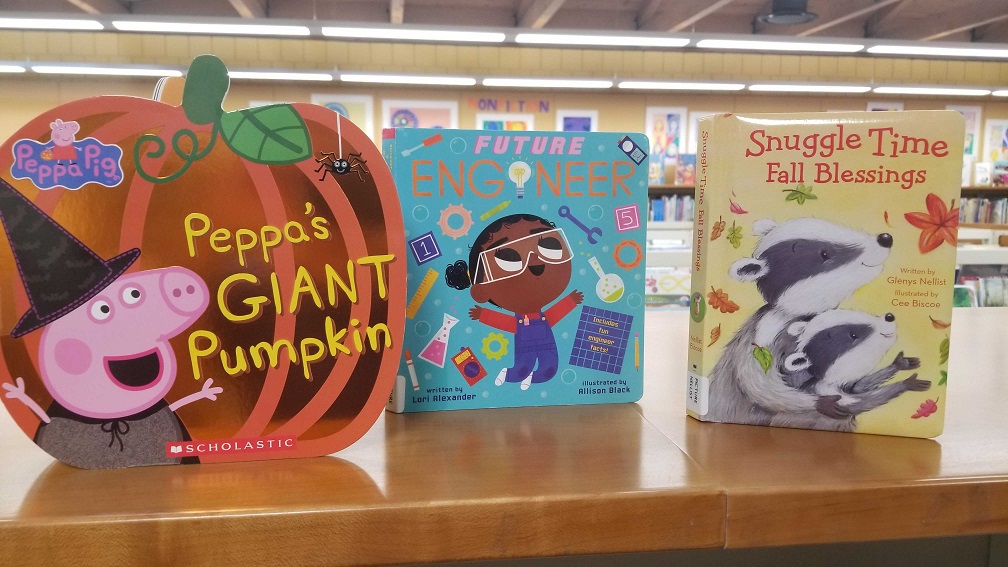 And just a few boardbooks for the littlest readers! Enjoy.