Music of the Month is a monthly round-up of RPL's programs and resources related to music.
May 2021 Gellman Room Concerts @ RPL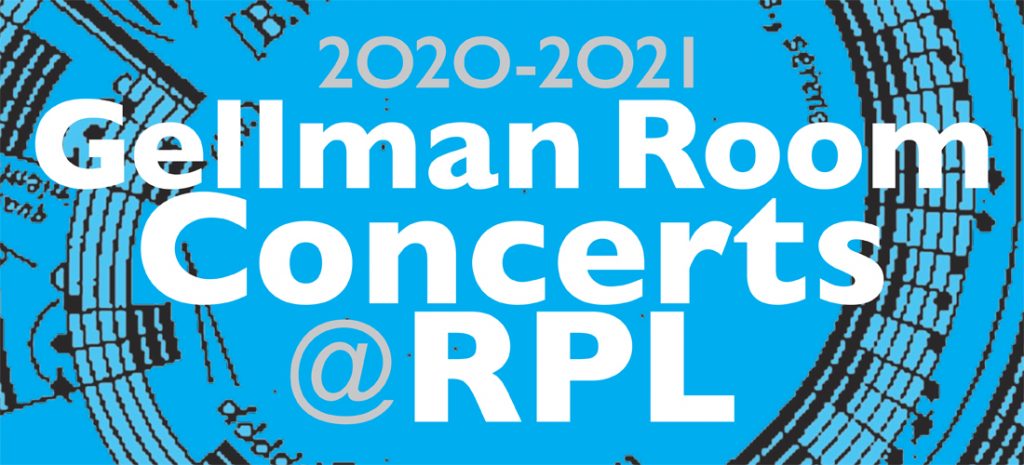 Saturday, May 1, 2021, at 2:00 pm, to be livestreamed from the Gellman Room:
"A Musical Aviary"—a celebration of our feathered friends with music of composers Camille Saint-Saens, Somei Satoh, Howard Swanson, and Jen Sichler and literature presented by the Chamber Music Society of Central Virginia.
Saturday, May 8, 2021, at 2:00 pm, to be livestreamed from the Gellman Room:
"Sing Love! Sing Justice! Sing Freedom!"—presented by the Greater Richmond Children's Choir, directed by Crystal Jonkman and Pete Curry. "Singing has always been one of the most used, most useful, and most beautiful methods for spreading awareness and calling for justice…"
Saturday, May 22, 2021, at 2:00 pm, to be livestreamed from the Gellman Room:
"Something for Everyone—Romantic, Impressionistic, Modern Virtuoso Piano Music"—works by Rachmaninoff, Schumann, Debussy, and Prokofiev presented by Mark Valenti, piano.
Past Gellman Room Concerts are available on RPL's YouTube page.
From Our Collection
During the 1950s and 1960s, singers in the civil rights movement combined traditions of Black spiritual music, labor organizing songs, and various American folk traditions to create a soundtrack for the movement across the US, but especially in the South. RPL's collection includes interesting books, records, and digital items that document the history and music of this tradition.
We shall overcome! : Songs of the Southern Freedom Movement is a document of a very specific set of organizers and musicians. The Southern Non-Violent Coordinating Committee (SNCC) was part of the vanguard of the civil rights movement, mobilizing young and poor people in disciplined, highly effective campaigns against white supremacy. They used music to buoy spirits, harden dedication, raise funds, and spread their message.
Here's a recording of "Ain't Gonna Let Nobody Turn Me Round" by the SNCC Singers.
We Shall Overcome is a documentary effort compiled by Guy and Candie Carawan, white activists from California who participated in the movement. An arrangement and transcription of "Ain't Gonna Let Nobody Turn Me Round" is included in We Shall Overcome.
WeShallOvercome-AintGonnaLetNobodyTurnMeRound-1

The recording above is from Voices of the Civil Rights Movement: Black American Freedom Songs 1960-1966, a set of records released by the Smithsonian Institution Program in Black American Culture. Check out the cover of the album and the pictures of Guy Carawan, Fannie Lou Hamer, and the SNCC Singers below.
VoicesoftheCivilRightsMovement

These RPL resources are ways to learn more about the Black women who led through music and organizing work:
Voice of freedom : Fannie Lou Hamer, spirit of the civil rights movement – Hamer was an organizer, singer and leader.
Ella Baker and The Black Freedom Movement – Baker was a leader and mentor with SNCC, among many other accomplishments.
Odetta : a life in music and protest and Odetta's music on Hoopla Digital – Odetta was a prominent folk musician and activist with a large audience.
I'll take you there : Mavis Staples, the Staple Singers, and the march up freedom's highway and The Staple Singers music on Hoopla Digital – The Staple Singers were one of the most popular groups who moved between gospel, civil rights and popular music during their careers.
Staff Playlist
Alex Z. suggests "Cuckoo" by Benjamin Britten, from his collection of songs called Friday Afternoons. Below is a scan of the score in our collection, published in 1936 by Boosey & Hawkes. You can listen along with this recording on Hoopla by The English Opera Group.
Britten-Friday-Afternoons