Dispatch from Robert @ Westover Hills:
Back from my terrific trip to the 53rd Chicago Film Festival and I think the best overall slate (13 films in 4 days!) I have seen there. All were good—not a dud in the bunch—and a couple were truly outstanding. French films topped the selections in number—I was able to see 6 (one partially in Flemish). Others were fairly evenly divided though for the first year, there was nothing from the U.K. The big trend right now in films (even U.S.) is ambiguous endings (or as a friend would say, "So French"), which almost got to be comical, as my friend and I would sort of "see it coming (a mile off)." A few films had a layer or two too many and would have been so much better with a little trimming. Some veered off course two-thirds of the way through, which threw off pacing and thus dropped a bit on my ratings list. Perhaps not surprisingly, the film I was most excited about, from the great director Andre Techine (Wild Reeds, Being 17) was "a misfire" (IMDB quote) and while it had merit, ultimately went farther down the list as the days went past. Overhyping tends to disappoint me and I probably should have known better.
Tops on my list was the French film Custody by Xavier Legrand. For those of us lucky enough to attend the French Film Festival and/or be able to see the Oscar-nominated Shorts programs, this is actually the end of a "trilogy" started with one of the best shorts I have ever seen, Just Before Losing Everything. He was there and said that the second and third parts ended up needing to be told as a feature (4 of the orginal cast members of the short reprised their roles). I cannot recommend highly enough—unfortunately, I don't know where the short is currently available to watch. (Trivia Note: He emphatically stated he was Not a child actor and was not sure where IMDB got the idea he was—he's listed with 8 actor credits there!). After 6 years' work, he said he wants to do anything else next!
Also just as good were the German Cannes-winning (Best Actress) In the Fade (by the director of Head On and The Edge of Heaven) and Greta Gerwig's Ladybird, starring Steppenwolf members Laurie Metcalf and August: Osage author and actor Tracy Letts, who stopped by for a quick Q&A. Though company members for 30 years, he said the two had never actually worked together before. It's a great coming-of-age story with other superb performances by lead Saiorse Ronan (Brooklyn, Atonement) and Lucas Hedges (Manchester by the Sea). Trivia Note: her downtrodden best friend is played by Beanie Feldstein, sensational as Minnie Fay on Broadway in Hello, Dolly! (and in real life Jonah Hill's sister!).
I can't say a lot about In the Fade without destroying its impact. I will say it's beautifully constructed and maintains momentum throughout and has one of the most amazing, sustained performances from an actor (Kruger, Inglorious Bastards) undergoing grief, anger and depression I have ever seen.
Unlike a friend (also traveling on my return flight) who had a 6-hour delay taking off the day after me, I arrived at O'Hare at 11:10 and had 70 minutes to get through the airport (I haven't run so fast in years!) to get into the city to drop off my luggage and then cab ride across down to see Lola Pater, which I also desperately wanted to see (of course it's French!) as it will probably not come to the Richmond Metropolitan area. As a wonderful family character study, I would have been very disappointed to miss.
It's also thrilling to be able to see a mainstream Hollywood film before it's officially released—this trip featured Three Billboards Outside Ebbing, Missouri, which should definitely get Frances McDormand awards notice; she has terrific support from Woody Harrelson, Sam Rockwell, John Hawkes, Peter Dinklage and Lucas Hedges, among others. I don't want to give too much away but if you're a fan of any of them, as well as the brilliant writer-director Martin McDonagh, you will like it very much indeed.
For Charlotte Rampling fans, there's the somber and very bleak Hannah, another tour de force from this great actress (even though she's British, it's in French—she's lived in Paris for many years). She's sensational but if you don't like her, this probably isn't for you. It won the Cinematography Prize.
Bitter Flowers, though not in French (Mandarin), was directed by a Chinese-based Frenchman. Interesting and lovingly shot (mostly in Paris!), it probably surprised me the most at how much I liked and was moved by it—Asian films per se don't "speak" to me. We were all excited to learn that the filmmaker had just finished editing 3 (now 4) WEEKS ago to ready it for us, so I saw a World Premiere!!
Felicite won the Festival Jury Prize and is Senegal's official submission for the Foreign Language Film Oscar. It had an incredible performance by its lead and was definitely worth the patience it took at times to tell her story. It opened my eyes to the haves and haves-not in that area of the world.
Does anyone not like Matthias Schoenaerts? His film Racer and the Jailbird, (Oscar submission from Belgium) though having one subplot too many for my taste, was fascinating, especially after learning that there were gangs of robbers in that country's not-too-distant past. It was the longest film I saw and he's just as wonderful in his native language as he is in English-language releases. No surprise there! If you saw Blue Is the Warmest Color, you'll recognize his French Academy Cesar-winning co-star.
My biggest Festival disappointment still held fascination since it was based on a truly bizarre true story about a World War I deserter who cross-dressed (with his wife's help—comparisons to The Danish Girl are unavoidable) throughout the remainder of the war and became a minor celebrity afterwards as his life story was turned into a musical revue. Its stars had leading roles in Stranger by the Lake (him) and the French television series The Returned (her). It recreates the period gorgeously and the artificiality reminded me a bit of Baz Luhrmann. I still recommend seeing it as a minor work of this master!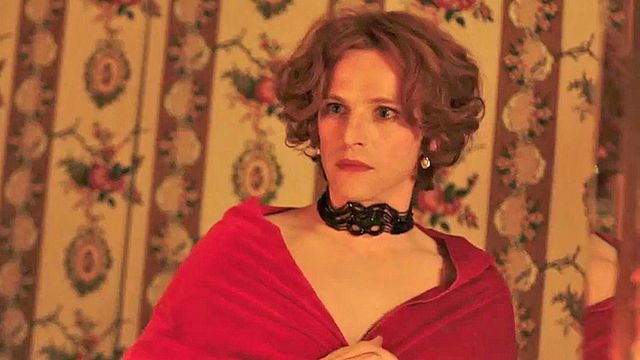 Pierre Deladonchamps
Paul Grappe, on whose life the film is based (artistic license in hiring a more beautiful leading man!)
Rounding out the list are 3 films, two of which you're unlikely to see except possibly on Netflix. Gemini, a modern noir set in L.A., stars Lola Kirke (Gone Girl, Mozart in the Jungle), Zoe Kravitz and Jon Cho, seemed to raise as many questions as answers and stretched plausibility in spots.
Budapest Noir was a gorgeously designed production (I'd never seen a Hungarian film noir!), which lost a tiny bit in translation for me because I think it would have been so much more effective in black and white—a worthy homage to U.S. noir. (All promos and stills were black and white so I was surprised.)
Liquid Truth is a Brazilian film that I doubt will get major studio release. It concerns a swimming coach accused of impropriety with a student. It had a very good performance by its lead and good direction.
Thanks to Robert for the report!