Stuck in a book rut and need some fresh picks? Want to know what you need to read to maintain your highbrow literary street cred? I'll admit I haven't read all of these yet (they are mostly sitting in a pile at home, making me feel guilty for watching TV), but these titles were all published in 2021 and are receiving heaps of critical buzz.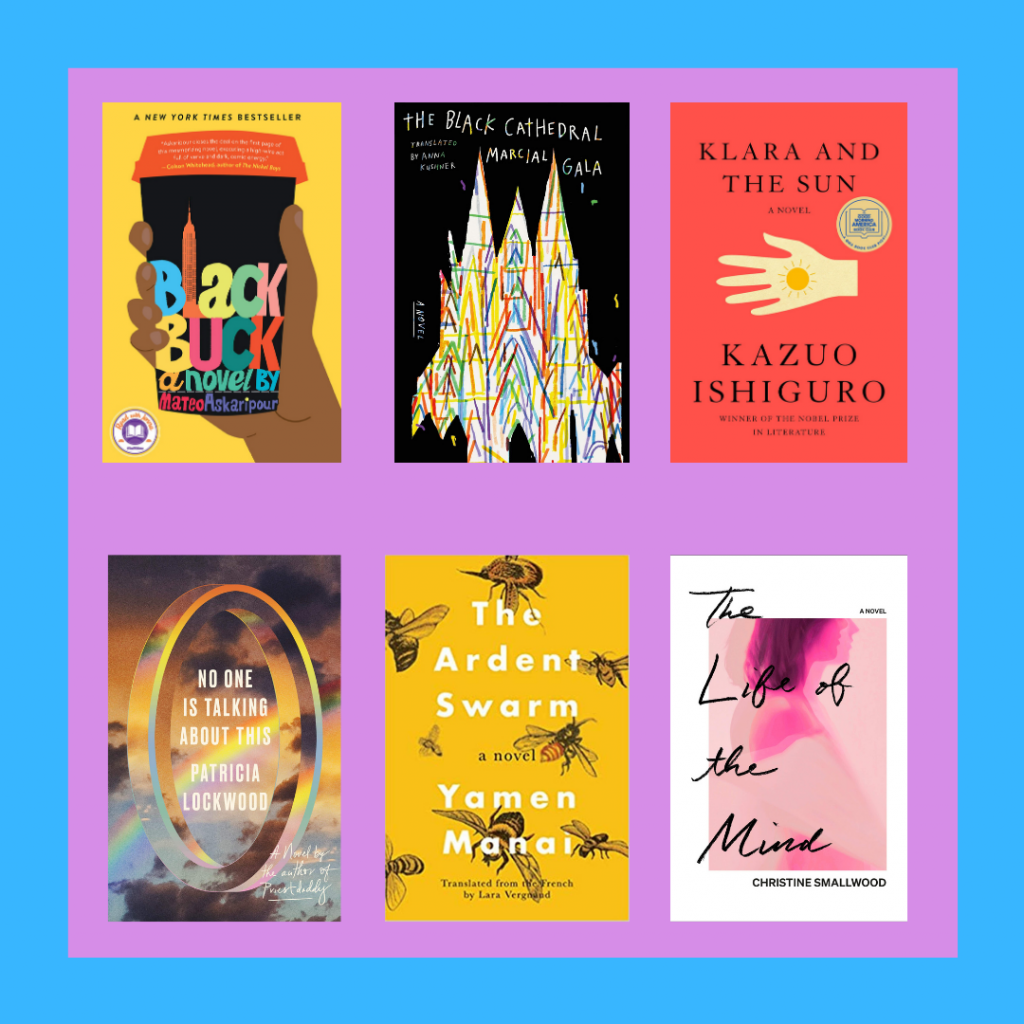 Black Buck, by Mateo Askaripour: In this debut novel, Askaripour delivers a sharp comic satire critiquing corporate America's entrenched racism. Part The Sellout, part "Glengarry Glen Ross," it follows protagonist Darren Vender on his trajectory from a content Starbucks coffee slinger to a ruthless tech-startup shill.
No One Is Talking About This, by Patricia Lockwood: Lockwood is primarily known for her mind-bending poetry and for asking the hard-hitting internet questions, like, "Can dogs be twins?" Her memoir, Priestdaddy, was a hit in 2017, but now she's released her first novel. True to her style, No One Is Talking About This is at turns laugh-out-loud funny, linguistically inventive, and devastating in its portrayal of a woman's absorption with the internet ("the portal")–until she's pulled out of it by family tragedy.
The Black Cathedral, by Marcial Gala: The Black Cathedral is a spider's web of interconnected tales, all of them set off by one event: The Stuarts move to Cienfuegos, Cuba and the patriarch, Arturo, commissions a temple for his growing congregation. Each strand of the story is nightmarish and surreal in its own way, but all lead back to the same central questions: How much are we shaped by our surroundings, and can we ever truly defy them?
Klara and the Sun, by Kazuo Ishiguro: Yeah, you already know all about Kazuo Ishiguro, writer of emotionally repressed protagonists who know less about themselves than the reader does. The titular Klara in this novel is an AI whose childlike observations of the people around her gradually evolve into complex feeling and beliefs (she eventually comes to worship the sun, noticing that it produces recognizable change in the world). But I suspect this book is more about us, our demands, and our reliance–the things around which technology revolves.
The Ardent Swarm, by Yamen Manai: This novel–the author's first translated into English–is an allegorical reframing of the Arab Spring in Tunisia. It contains two intertwined stories. In one, Sidi, a beekeeper in a small North African village, investigates the sudden mass death of his hive; in the other, religious fundamentalists overtake his country's government after opportunistically manipulating democratic elections. While this is a meditation on political corruption, Manai also explores the fragility of harmonious ecosystems in general.
The Life of the Mind: A Novel, by Christine Smallwood: If you related to Jenny Offill's Weather or Lynn Steger Strong's Want, this is the book for you! The surface similarities are obvious–this book is about a female academic in New York, coasting through malaise and adjunct-based survival–but the comparisons can go a little deeper, as well. Dorothy, the protagonist, is a compulsive overthinker whose inner life often eclipses or is at odds with her actual behavior, which Smallwood mines for comedic and philosophic effect.
Happy reading!