The Young Adult Virginia Author (YAVA) Award Celebration commemorated its tenth year on April 22 with an afternoon of fun, food, and most importantly, books! This year's theme was "retro video games" which set the mood for the party. From the music, to the decorations, to the food (think pizza rolls and funyuns), gamers were surrounded by nostalgia. Everyone who attended had the opportunity to meet some of Virginia's best YA authors. Roseanne A. Brown, Tracy Banghart, Judith Bice, and Kat Spears were all in attendance, talking about their nominated books, sharing their experiences as writers, and answering readers' questions. Local bookseller bbgb was also on hand selling all the 2023 YAVA Award nominees.
The climax of the event was the announcement of this year's YAVA Award winners. Winners were selected by a panel of seven teen judges who read and evaluated the nominated titles in the nine months prior to the event and then selected a winner and two runners up.
The winner of the 2023 YAVA Award is Amber McBride for her book Me (Moth). McBride is currently a professor at the University of Virginia. "Originally from everywhere," McBride was born in Heidelberg, Germany and lived in several different states until the age of 18.  She "low key practices Hoodoo and high key devours books (150 or so a year keep her well fed). In her spare time she enjoys pretending it is Halloween everyday, organizing her crystals, watching K-dramas and accidentally scrolling through TikTok for 3 hours at a time."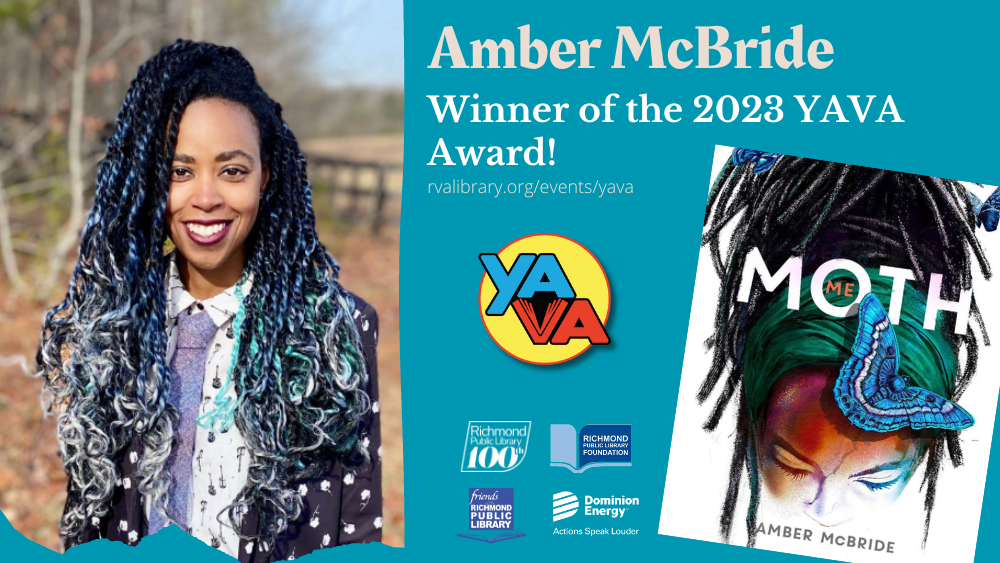 Me (Moth) is a novel in verse and McBride's debut novel. It is a story of identity, grief, first love, and "the ways that our memories and our roots steer us through the universe." It is both heartbreaking and uplifting, emotionally beautiful, and provides the most epic plot twist with an equally satisfying ending.
Here are some of the things our teen judges had to say about this novel…
"The poetry in Me (Moth) by Amber McBride is unique and meaningful, discussing topics of grief and depression through the eyes of Moth and Sani. Many aspects of this book are relatable to teens who struggle with mental health, making it the perfect recipient of this award."
"This book conveys deep emotions about grief and the struggles of losing family members. The growth and change of the characters throughout the book was truly fascinating. Overall, this book was very emotional and brought to light such depth of the importance of life."
"I feel as though Amber McBride's Me (Moth) should be the winner of the YAVA award because it made me feel so connected to the story in a way I haven't felt with a book in awhile. It is uniquely written in verse and the writing is so incredibly beautiful. The story is easy to understand and captures the reader from the beginning. Also, I think it did the best job of truly appealing to a young adult audience."
This year's runners up are Lauren Blackwood for her book Within These Wicked Walls and Pamela N. Harris for her book When You Look Like Us.
Lauren Blackwood is a Jamaican American who writes romance-heavy fantasy. When not writing, she's a musician (a violinist to be specific) and a self-proclaimed tiramisu connoisseur. Within These Wicked Walls is a magical, Ethiopian-inspired remix of Jane Eyre featuring a debtera- or exorcist- and the eccentric, but handsome man who hires her to cleanse his house of the Evil Eye. It is eerie, dark, and chilling…but also humorous, romantic, and swoony. According to author Jordan Ifueko, "This book leaves nothing wanting." It is a New York Times Bestseller and the Reese's Book Club Fall 2021 YA Pick.
Pamela N. Harris was born and "somewhat" raised in Newport News. Prior to becoming a professional writer, she was a school counselor. When Harris isn't writing, she loves watching (or re-watching) "Leonardo DiCaprio movies, spending time with her two children, and pretending to enjoy exercise." When You Looks Like Us centers around an all too familiar topic. It is about a teen who must take up the search for his sister when she goes missing from a neighborhood where black girls' disappearances are too often overlooked. It received the 2022 Odyssey Award for Excellence in Audiobook Production for Young Adults, the Golden Kite Award for Young Adult Literature by the Society of Children's Book Writers and Illustrators, and the NAACP Image Award for Outstanding Literary Work.
Our authors weren't the only winners that afternoon. Two lucky teen attendees won the book raffle and took home copies of all 13 of the YAVA Award nominated titles. In addition, Monica McLean, school librarian at George Wythe High School, won the educator raffle and will receive a school visit from winning author Amber McBride in the fall of 2023.
RPL's annual YAVA Award Celebration is always a sensational event! We hope you will join us next spring for the 2024 Celebration!
For more information on the entire YAVA Award process, visit rvalibrary.org/events/yava/