Harriet Tubman (c. 1820-1822 – March 10, 1913) is an icon of courage, a true American hero. Born Araminta "Minty" Ross, she was enslaved at birth in Maryland. In 1849 she escaped to Philadelphia, PA and changed her name to Harriet. She made at least 13 more trips to lead dozens of other enslaved Blacks to freedom in the northern U.S. and in Canada using the Underground Railroad, earning her the nickname "Moses".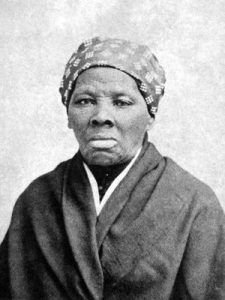 During the Civil War, Harriet Tubman worked for the Union as a cook, nurse, armed scout, and spy. As the first Black woman to lead a Civil War mission, she led the 1863 Combahee River Raid in South Carolina which freed more than 700 enslaved people. In her time, Harriet Tubman was well known as an abolitionist, suffragist, civil rights activist, and humanitarian. She is immortalized in many books and films, including the popular 2019 biographical film "Harriet". She passed away in Auburn, New York at the approximate age of 93.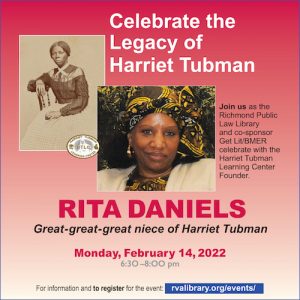 This year, as we celebrate Harriet Tubman's legacy of courage with a virtual presentation by her great-great-grandniece, Rita Daniels on February 14, 2022, learn more about Harriet Tubman from some of the many resources available at the Richmond Public Library.
BOOKS
Harriet Tubman, Secret Agent: How Daring Slaves and Free Blacks Spied for the Union during the Civil War by Thomas B. Allen
The Tubman Command: A Novel by Elizabeth Cobbs
Bound for the Promised Land: Harriet Tubman, Portrait of an American Hero by Kate Clifford Larson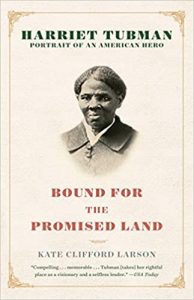 Harriet Tubman: Imagining a Life by Beverly Lowry
Rebels Against Slavery: American Slave Revolts by Patricia C. and Fredrick L. McKissack (A Coretta Scott King Honor Book)
Harriet Tubman, The Moses of Her People by Sarah Hopkins Bradford (ebook)
The Agitators: Three Friends who fought for Abolition and Women's Rights by Dorothy Wickenden
PICTURE BOOKS
Chasing Freedom: The Life Journeys of Harriet Tubman and Susan B. Anthony, Inspired by Historical Facts by Nikki Grimes, Illustrated by Michele Wood
Minty : a story of young Harriet Tubman by Alan Schroeder, Illustrated by Jerry Pinkney
Before She Was Harriet by Lesa Cline-Ransome, Illustrated by James E. Ransome
Harriet Tubman: Toward Freedom by Whit Taylor & Kazimir Lee (Graphic Biography)
Harriet Ross Tubman by Don Troy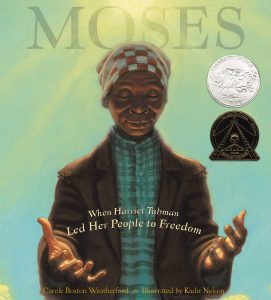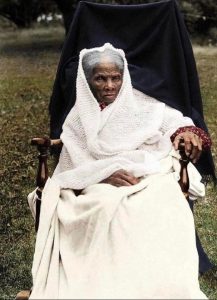 FILM
Harriett (Kasi Lemmons, Dir., Drama 2019)
A Woman Called Moses (Paul Wendkos, Dir., Drama 2001)
Also, check out these informative YouTube videos:
"Harriet Tubman: Journey to Freedom" https://youtu.be/KNLLbhiSvco (Newburgh Free Library, NY)
"Harriet Tubman's Legacy" https://youtu.be/nJH_tDX9Vq0 (WMHT, Auburn, NY)
New York Senator "DeFrancisco Honors Pauline Copes Johnson" https://youtu.be/Tm4R_hznZmY (2017)
"Sitting down with Harriet Tubman's great-great-grandniece, Pauline Copes Johnson" https://youtu.be/fJAlHajbeB4 (NewsChannel 9 WSYR Syracuse Auburn, NY)