Music Of The Month is a monthly round-up of RPL's music-related programs and resources.
The 2020-2021 Gellman Room Concert season is complete, but you can always watch past concerts on RPL's YouTube page. If you watched April 24's concert by River City Opera, check out the list of pieces they performed here.
The 2021-2022 Gellman Room Concert season is nearly upon us! Live concerts return in September!
SATURDAY, September 4, 2021, at 2:00 pm:
"Going Off Script: The Ornamented Suites for Cello" – Internationally-acclaimed cellist Juliana Soltis breaks with two hundred years of tradition to revive the long-lost practice of spontaneous improvisation in J.S. Bach's beloved cello suites. Performed entirely on historical instruments, including the rarely-heard violoncello piccolo, this is an interactive concert experience you won't soon forget.
SATURDAY, September 18, 2021, at 3:00 pm.
The Chamber Music Society of Central Virginia presents "Our Places" with Christopher Whitley, violin, Kumiko Sakamoto, violin, Luis Bellorin, viola, and Titilayo Ayangade, cello, of the Thalea String Quartet -Please note the time is 3:00 pm[/vc_column_text][/vc_column_inner]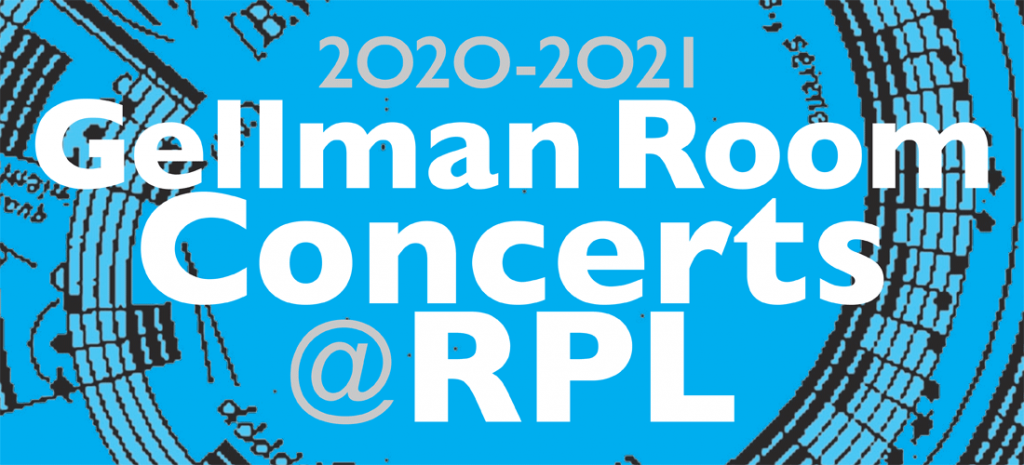 [/vc_row_inner]

RPL is hosting author David L. Robbins at the West End location to celebrate the launch of his new book, Isaac's Beacon, on August 10, from 6:00 pm to 8:00 pm. Isaac's Beacon is a historical novel about Israel's founding. Check out the event listing for more details.

Robbins said that writing this book gave him "the opportunity to look at the moral implications of such grand themes as love, homeland, violence, passion, and the endless battle for a patch of land at the end of the Mediterranean, between friends and enemies across millennia." In honor of those themes, here are some items from RPL's extensive music collection related to Jewish, Palestinian, Arab, and middle eastern musical traditions.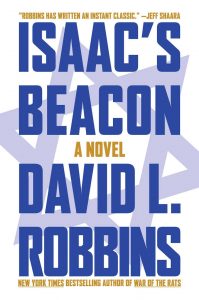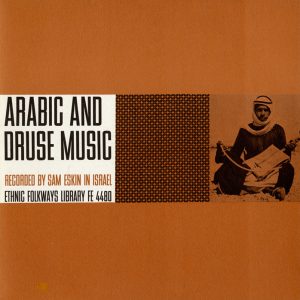 The track featured from this record is a Druze Wedding Song recorded in Isfya, a town in Northern Israel that is home to a significant Druze population. Today, the Druze are a religious minority in Israel. This 1957 release, recorded in Israel, features the music of the Druze people, which is fundamentally Arabic in character. The liner notes provide an explanation of its characteristics, such as its scale system, the maqam'at, and rhythmic modes, iqa'at, as well as notation for the tracks and translations of lyrics. Selections include classical oud music, Bedouin songs, eulogies, and wedding music.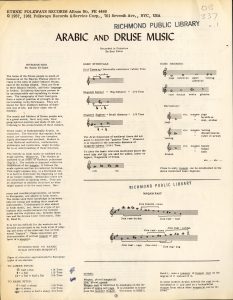 Folkways Records often included anthropological or musical information with their recordings. In the above document included in the record sleeve, Halim El-Dabh explains basic vocabulary and notation of Arabic and Druze Music, with special attention to the different notes and intervals used that are distinct from those found in Western European Classical music.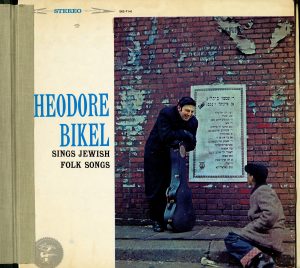 Theodore Bikel's recording of "Lomir Zich Iberbeten" ("Come Let Us Be Friends Again") is from his 1958 album Sings Jewish Folk Songs on Elektra Records. Eastern European folk songs in Yiddish are part of Israel's diverse, eclectic musical culture.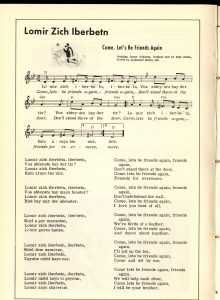 In 1965, Oak Publications published Jewish Folk Songs in Yiddish and English, compiled and edited by Ruth Rubin, with guitar arrangements by Ethel Raim. Books like this were part of the mid-century folk music boom that combined historical collection of folk songs that may have gone unrecorded with a play-it-yourself American trend of musicianship.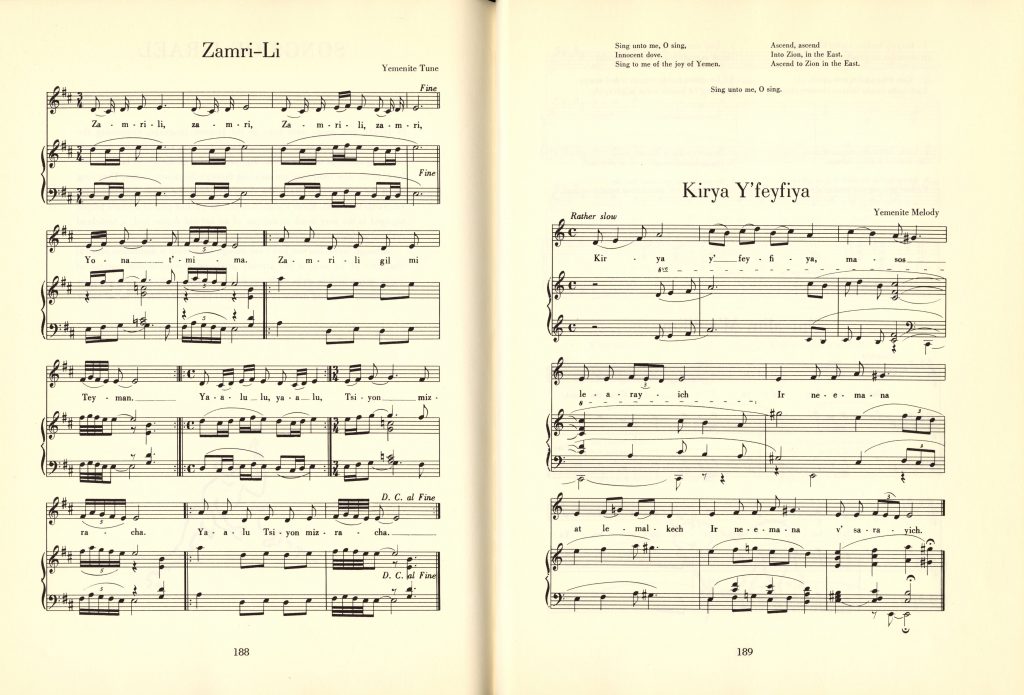 Schocken Books' A Treasury of Jewish Folk Song was also selected and edited by Ruth Rubin, with piano setting by Ruth Post. The two songs shown here have "Yemenite" melodies or tunes. Although the world's largest Jewish populations are now basically divided between Israel, North America, South America, and Europe, in the mid-1960s there were still significant populations of Jewish people in multiple Middle Eastern and North African countries.

[/vc_column][/vc_row]

Lisa C. reminded the author of this post that the Richmond Folk Festival is a wonderful resource for finding music from around the world. She recommends these livestreamed performances:

Rahim AlHaj – "A 5,000-year-old musical tradition from the heart of Mesopotamia is alive and well in Albuquerque, New Mexico, the adopted home of renowned Iraqi oud virtuoso Rahim AlHaj. AlHaj is a cultural ambassador for the deep musical heritage of his homeland. His music evokes the experience of exile, new beginnings, and 'the message of peace and compassion and love' that he shares with audiences to heal a world beset by conflict.

"The oud is a fretless, short-necked Arabian lute central to Iraqi music. It is an ancestor of the lute family of instruments that includes the guitar. Traditional Iraqi music is organized into a series of maqamat, or modes. Each maqam has a distinctive scale and specific melodic formulae, and is often associated with a certain mood or season. Unlike western music, which is based on whole and half tones (12 semitones altogether), Iraqi music is based on 24 quarter tones." – from RichmondFolkFestival.org

Aleppo Ensemble – "The Aleppo Ensemble is a New York-based group devoted to performing and preserving the rich heritage of wasla music, song, poetry, and dance from Aleppo. The group's mission has been made all the more urgent in recent years with the physical and cultural destruction of Aleppo, long the cultural capital of Syria where Muslim, Christian, and Jewish traditions came together. Through their work, they strive to reach Syrian refugees as well as Syrian Americans whose history in the U.S. goes back over a hundred years, two groups that share the fear that they are witnessing the destruction of their homeland. The Aleppo Ensemble's music and story is a timely reminder that cultural traditions are often deeply held across time and place, often in spite of historic humanitarian crises.

"The wasla is a musical suite that is the focal point for evening gatherings devoted to traditional Arab classical music. Dating back hundreds of years, the Aleppian wasla is heard at both Sufi religious events and secular performances. Based on various Syrian and Arabic maqams (modes), the wasla includes both improvised and composed instrumental and vocal pieces." – from RichmondFolkFestival.org

Check out some oud music on Hoopla!