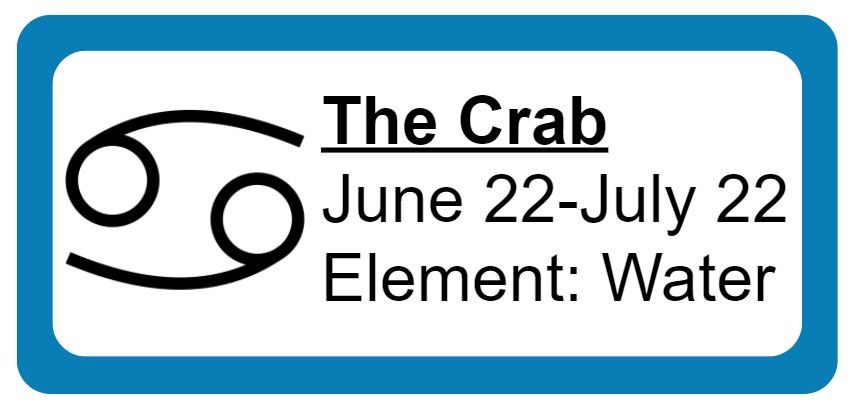 "Underlying the beauty of the spectacle there is meaning and significance. It is the elusiveness of that meaning that haunts us, that sends us again and again into the natural world where the key to the riddle is hidden. It sends us back to the edge of the sea, where the drama of life played its first scene on earth and perhaps even its prelude; where the forces of evolution are at work today, as they have been since the appearance of what we know as life; and where the spectacle of living creatures faced by the cosmic realities of their world is crystal clear."
―  The Edge of the Sea by Rachel Carson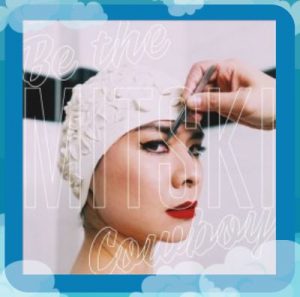 It's Cancer season! Have you cried yet? Have you been drawn to the sea? Plunged your feet into the sand until the ocean waves knock you over and take you? A Cardinal Water sign, Cancer brings in the start of Summer, and is driven by bonds and feelings, initiating emotional ties. Like the ocean tides, their ruling planet is The Moon. Cancers are known to be full of feelings. They are often moody but not fickle, since their love is real and effusive. Those lucky enough to be loved by a Cancer know it.
[While writing this post I am listening to Mitski to get in the mood, and also because it is a favorite of one of my Cancer-loves. Mitski's voice is often raw, at turns open and honest, at other times closed off, defensive, explaining.]
"Your Sun in Cancer holds all memory. Cancer is the primordial waters of creation, the womb of humanity that carries with it our entire human story and every feeling we've had about it. If you have the Sun in Cancer, your waters run deep."

– You Were Born for This by Chani Nicholas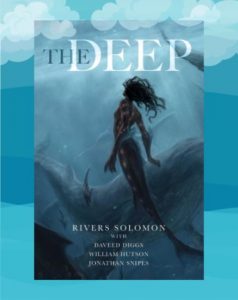 Rivers Solomon is a non-binary author whose pronouns are both they/them and fae/faer. They write about "life in the margins" and, in addition to personal experience, they have a BA in Comparative Studies in Race and Ethnicity. Fae's work always feels both fresh and familiar, with surprising prose, honesty, and beautiful depth.
The Deep is no exception. This novella is about generational trauma and memory. The Wajinru, mermaid-like descendants of pregnant African slave women thrown overboard by slavers, live far below the ocean's surface. They live an idyllic life, forgetting their too traumatic past – except for the historian. Yetu alone remembers their ancestry and the violent tragedy that brought them into the world under the sea. Yetu, chosen to be the historian of her generation, is already over-sensitive to all vibrations in the water and is being eaten alive by the visceral memories. In a desperate move to escape the pain and her responsibilities to her people, Yetu travels to the surface where she learns more of their past and sees a new future for her and the Wajinru.
[The Deep was written based on the song of the same name and in collaboration with the experimental rap group, clipping. Although we don't currently have that specific album available, check out the group's other tracks on Hoopla.]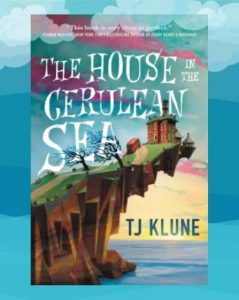 What could be more right for a Cancer, than a book about discovering found family, love, and a home? In The House in the Cerulean Sea by T.J. Klune, a contemporary fantasy story wrapped up in career disillusionment, we follow Linus, a case worker at the Department in Charge of Magical Youth. This means that he checks on the well-being of children housed in the government-sanctioned orphanages. Linus has always intended to take a vacation to the sea, but instead he lives his life and job going through the motions. He tries to do everything strictly by the book, which means never getting emotionally involved with any of his cases…until he is given a highly classified assignment. Linus travels to Marsyas Island Orphanage where six children are secluded for how dangerous they are deemed to be. Linus must decide how truly dangerous they are, if they might bring about the end of days, and if their caregiver, Arthur Parnassus, is taking care of his wards properly. As Linus gets to know Arthur and the children (including Lucy, the Antichrist!), he has a harder time keeping everything at arm's length and not wanting more from his own life.
"If you took the monsters' point of view, everything they did made perfect sense. The trick was learning to think like a monster."
― The Soul of an Octopus by Sy Montgomery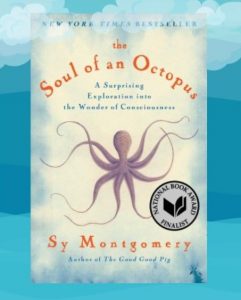 The Soul of an Octopus: A Surprising Exploration Into the Wonder of Consciousness by Sy Montgomery is part memoir, part scientific observation. Cancers are known for being caring and for connecting with others, and that often moves outside human relationships into interspecies interactions. The Soul of an Octopus is mostly about how intelligent and adaptable octopodes are. (Yes, "octopodes" is an acceptable plural if, like me, you strongly dislike "octopuses".) Sy writes about many different and varied interactions with octopodes, showing that each of these animals is unique and has their own personalities. This is a fun, touching, and profound little book.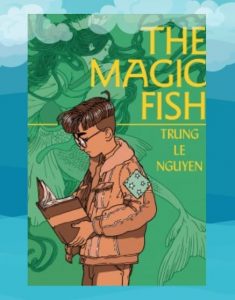 Full of gorgeous, detailed artwork, and thoughtful dialogue, The Magic Fish is a story about language, familial relationships, and coming out. Trung Le Nguyen weaves together different versions of fairytales with a story about a mother and son. Tiến and his parents read library books out loud to each other not only for the shared experience but so that his parents can practice English. With his mother still learning to grasp English and Tiến not sure if there are Vietnamese words for what he is going through, he and his mother fall back on the fairytales to communicate. This is a tender and touching story about both homeland and diaspora, of the past moving into the future, and the care it takes for two people to understand each other. A book any Cancer should appreciate!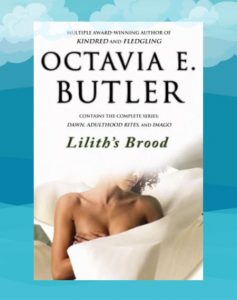 This list would be lacking if it didn't include anything by Cancer-trailblazing-talent, Octavia E. Butler. Butler's writing is superb, imaginative, sharp, and full of empathy. Lilith's Brood, the collected Xenogenesis trilogy, is no exception. The main premise is that alien beings, the Oankali, have an irresistible drive to heal others. They come to Earth after a human war has destroyed it, resurrecting Lilith and others, and then genetically merging with mankind to save the dying planet. What results is the remaining humans having to learn to share the planet with uncanny creatures…who happen to be their own children. Several themes show up that are common to Butler's work: questioning hierarchies, gender roles, and different ways to form families, and, as always, that change is necessary.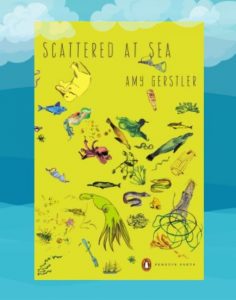 In Scattered At Sea by Amy Gerstler, humor rubs up against new spiritualism. It is sometimes moving and other times just bizarre. Gerstler draws on biblical, environmental, and social themes, going from personal then expanding out to the concerns of human kind as a whole, like in the poem "On the Idea the Dead May Live Vicariously Through Us". The collection is a sea itself, full of so many different species of words and thoughts. There are ones that pull on your heartstrings, like "A Suicide's Wife", or selections that are mostly hilarious but also feel very true. Such as a god answering a human in "Rumbles from a Minor Deity". (Thanks for the badass offering!… / Leave off seeking what wounds you. I won't warn you again.) As well as the one of a human talking to a god in "Gratitude Prayer". (Thanks for the rickety body, which lends us form! / And for what we believe can't be scattered at sea.)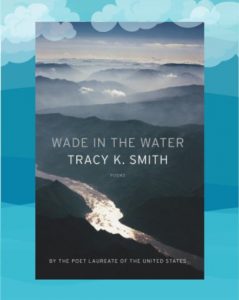 I'm going to sneak in one more poetry collection to close this list: Wade in the Water by Tracy K. Smith. In this one the theme of motherhood is also prominent. As the inside cover says, this poetry collection is about "what it means to be a citizen, a mother, and an artist in a culture arbitrated by wealth, men, and violence." The poem I want to point to specifically, though, is "Ash" because the concept of home is so important to Cancers.
"…

House with hands. House of guilt. House

That other houses built. House of lies

And pride and bone. House afraid to be alone.

House like an engine that churns and stalls.

House with skin and hair for walls.

House the seasons singe and douse.

House that believes it is not a house."
+++++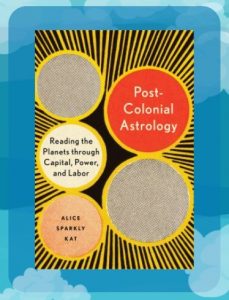 We have a new astrology book in our collection! Postcolonial Astrology: reading the planets through capital, power, and labor by Alice Sparkly Kat is a thoughtfully written exploration of the history and transformation of astrology. The way it has been dominated and re-shaped by Western ideals, yet how our understanding and relationship can still shift to prioritize more marginalized communities, rather than using astrology in the individualistic way that is characteristic in the West. The writing is dense, yet fully approachable. It's the sort of impressive prose that tempts you to highlight each individual phrase.
As explained on the author's website, "Astrology is a language that millennials, Gen Zers and many others continue to build fluency in, and look to to inform their everyday lives, decisions and relationships. But so much more than a fad, astrology is an intersectional, political and magickal language with a cross-cultural history that informs our relationships to the planets. According to Brooklyn-based astrologer Alice Sparkly Kat, astrology is the ideal magical lens through which we can parse the harsh neoliberal and colonial systems of power that harm marginalized people. It's these very systems that misappropriate the language, symbols and wisdom of the planets to prioritize self over the collective."
+++++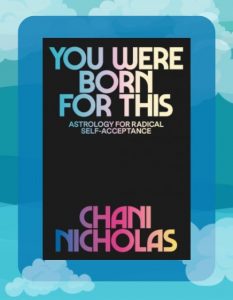 As always, I heavily relied on Chani Nicholas' You Were Born for This when researching this blog post, but we also have many other titles that talk about astrology. Nicholas' writing is easily accessible for both astrology newbies (like me) and veteran chart readers alike. If you want to learn more about your birth chart or try a hand at writing your own horoscopes, I highly recommend checking out a copy of this book.
>> Last Post: GEMINI

>> Next Up: LEO!