Now that the weather seems to be (finally) turning, let's dive into all things cozy with these mysteries. This is a continuation of the Antidote for Reality blog post series where we discuss escapist reads, explore stories that take you away from your daily life and let you get lost in a good book.
Cozy mysteries are the more friendly member of the mystery family. Usually, all the murder happens off page (if there is a murder at all). The tone is light and optimistic, and you spend your read with an amateur detective and an amusing cast in a close setting.
It gives you thrills without the chills!
Some of these choices may skirt the definition, slightly, but dedicated and new fans of cozies will find something to try and enjoy. This is a great place to start if you are looking for a read in the genre that diverges from the homogenous villages that dominate the cozy mysteries' shelves.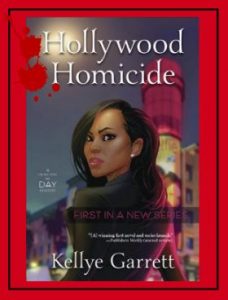 Hollywood Homicide (Book 1 in Detective by Day series) by Garrett Kellye
The semi-famous but mega-broke Black actress, Dayna Anderson, witnesses a hit and run. When a reward is offered for identifying the culprit, Dayna figures it isn't the worst way to get a paycheck between acting gigs. What starts out as a clear-cut incident turns into a full on investigation and Dayna becomes invested in discovering the murderer.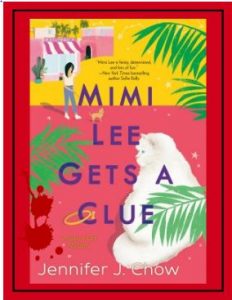 Mimi Lee Gets A Clue (Book 1 in  A Sassy Cat Mystery series) by Jennifer J. Chow
Mimi is overwhelmed by her Los Angeles pet grooming business, Hollywoof, her mother constantly setting her up on (disastrous) dates, a talking cat, and a murder! The day after chewing out local breeder, Russ, for abusing the chihuahuas in his care, Russ shows up dead. Determined to clear her name, Mimi teams up with her dreamy lawyer neighbor, Josh, to solve the murder.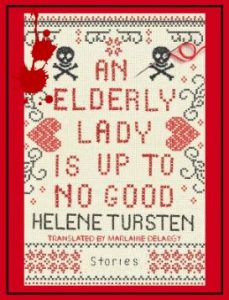 An Elderly Lady Is Up to No Good by Helene Tursten
This funny story collection follows the misadventures of Maud, a 88-year-old Swedish woman. Unlike many mysteries, these stories follow Maud as she foils an engagement and commits murder. Helene Tursten ends up pitting her own detective character, Irene Huss, against Maud. A delightful, quick read. (Also available as an audiobook through hoopla.)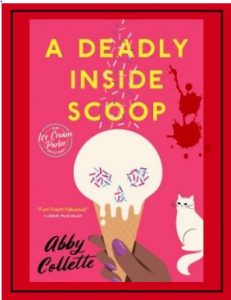 A Deadly Inside Scoop (Book 1 in Ice Cream Parlor Mystery) by Abby Collette
Recent MBA grad, Bronwyn Crewse, returns to her hometown in Ohio to take over her family's ice cream parlor. Her grand plans to open in the Summer with tasty homemade flavors is spoiled by construction delays. Instead she opens her ice cream shop in the cold of winter. Bronwyn's day get worse when she discovers a dead body in the snow… and the victim has connections to her family. A contemporary cozy mystery full of quirky characters.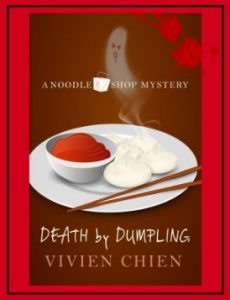 Death by Dumpling (Book 1 in the Noodle Shop Mysteries Series) by Vivien Chen
"Welcome to the Ho-Lee Noodle House, where the Chinese food is to die for. . ."
Lana Lee returns home to Cleveland to wait tables at her family's restaurant after her life is blown up by an awful breakup and then a dramatic workplace walkout. Lana is expecting the only problem to be dealing with her matchmaking mother, but when the restaurant's property manager dies from a known shrimp allergy after ordering takeout from the Ho-Lee Noodle House, Lana has much more to worry about… including the distracting handsome police detective.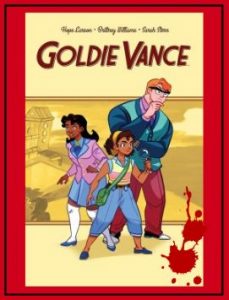 Goldie Vance vol. 1 by Hope Larson
Teenager Marigold "Goldie" Vance is determined to be the in-house detective at the Florida resort that her dad manages and where she valets (when she isn't running off to solve everyday mysteries). When a German rocket scientist comes to stay and gets kidnapped by unknown agents, Goldie joins current detective, Walter, to try to crack the case. This is a lighthearted, brightly colored Young Adult Graphic Novel.
>>> Last Blog Post
This was the final post in the Antidote for Reality blog series. We hope you enjoyed them!