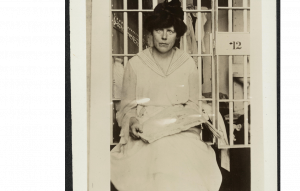 A 1981 presidential proclamation for a "Women's History Week" in early March was the beginning for Women's History Month.  By 1987, the entire month was designated to honor women.   RPL staff can always help you find books by and about women, biographies of women both famous and infamous, as well as information about women who have been largely forgotten by history.
But if you're looking for something a little different this March, try some fictional titles featuring women who are hateful, hated, or just plain obnoxious.  Maybe they are misunderstood, or maybe they are just Really Bad Girls.
— Suzanne is part of a free-spirited group of, well, not exactly popular girls, but compelling.  Evie loves the way they dress, the way they inhabit their bodies with joy and verve, the way they embrace Life with a capital-L.  They are everything that lonely, careful Evie is not, and she wants what Suzanne and the other girls have.  She wants in.  Northern California at the end of the 1960s is chaotic and strange and Evie feels like she has maybe found her "tribe".
But Suzanne is part of something much darker and uglier than carefree California dreamin'.  Just as she has mesmerized and intoxicated Evie, Suzanne is in thrall to … Charles Manson.  Evie doesn't know it, but she will soon come to a life-altering crossroads in The Girls by Emma Cline.
— Shelley Stone has it all – she is the CEO of a fabulously successful Silicon Valley tech company.  She travels the world, does TED talks, has a handsome and supportive husband and two Instagram-ready and gifted children.  She can power nap in elevators and lives by her calendar.   Her company has developed a tiny device called Conch that sits in her ear and does everything from remind her of appointments to whispering background information on people she meets.  Since every moment of her life is scheduled – from her middle-of-the-night "me time" to spontaneous romantic interludes with her husband, the Conch is indispensable.
On a business trip to Spain, her  impeccably curated and regimented life takes a strange turn.  She meets a young woman who looks eerily familiar, and who says that her name is Shelley Stone.  This stranger has no ID, but she does have the same childhood accident scar on her shoulder.  Who is she?  What does she want?   Could she really be past-Shelley come to give Future-Shelley some sort of message?  Current-Shelley really does not have time for this.  Read The Glitch by Elisabeth Cohen to find out if the young woman is a memory, a warning, or a symptom of a mental breakdown.
— Like many young people, Judith Rashleigh supplements her meager London art auction house paycheck with a side hustle.  Unlike most struggling recent college graduates, she sidelines at a very very (very!) exclusive club for very very (very!) rich folks with … exotic sexual appetites.  Of course, her nightlife eventually collides with her day job in a calamitous mess of sex, drugs, stolen art, and … murder.
The book is Maestra by L.S. Hilton.  Judith Rashleigh is just unbearably awful.  I really really (really!) disliked her.  I mean, A LOT.  I also could not put the book down, and I was hatefully delighted to encounter her again (under a new name!) in Domina, the sequel, and found her even more repellent.  I still didn't like her in the third book, Ultima.  I hope there are more books in this series, because I want Judith to get her … comeuppance.
— Everyone knows that "Lizzie Borden took an ax / and gave her father forty whacks.  / When she saw what she had done / She gave her mother forty one."  Or did she?  While Lizzie was found "not guilty" of the ghastly murders of her father and step-mother, history has been undecided, and there are many theories as to what really happened.  See What I have Done by Sara Schmidt gives us a fictionalized account of what could have happened.  The book is feverish and fragmented, and full of the heat and confusion (and, oh! the smells!) of that sweltering August in Fall River, Massachusetts.  Lizzie's memory of the day of the murder is fuzzy and images come back to her in fragments.  Was she guilty?  Was she protecting someone else?  Read the book, and you decide.
Click here for some more fictional Bad Girls and Nasty Women