Like many, many other people, I visited the Edward Hopper exhibit now on display at the VMFA over Thanksgiving. Hopper is one of my favorite artists so I was especially excited for this one. I love the sense of ennui and urban isolation, with heavy shadows and often harsh unnatural indoor lighting, the eerie voyeuristic feeling one gets when looking at his vignettes of modern life, but mostly what I love about his work is the haunting narrative contained in his paintings that leads the viewer to wonder about the drama under the surface. When we peer into one of his rooms, onto his lonesome, pensive subjects, we see so many possible stories unfolding. We see melancholy scenes with travelers and city dwellers perched on hotel beds, subjects painted in action, mid-gesture and unposed, often alone, peering out of a window while the viewer peers in. Sometimes mundane, sometimes a little ominous, their gazes directed at what, the viewer will never know.
I've put together a short list of works sure to entice fans looking for more after walking out of the museum. Raymond Carver is an obvious choice, given that his short stories are often compared to Hopper's paintings. John Cheever, the "chekhov of the suburbs" and Richard Yates will satisfy fans of Hopper too. Psycho by Robert Bloch is obvious, especially for the film it inspired. The isolation of the roadside hotel, Hitchcock's blonde on the run from her petty crime and her personal demons, are elements straight out of Hopper's world.
Night Boat to Tangier by Kevin Barry
"In the dark waiting room of the ferry terminal in the sketchy Spanish port of Algeciras, two aging Irishmen — Maurice Hearne and Charlie Redmond, longtime partners in the lucrative and dangerous enterprise of smuggling drugs — sit at night, none too patiently. It is October 23, 2018, and they are expecting Maurice's estranged daughter (or is she?), Dilly, to either arrive on a boat coming from Tangier or depart on one heading there. This nocturnal vigil will initiate an extraordinary journey back in time to excavate their shared history of violence, romance, mutual betrayals and serial exiles, rendered with the dark humor and the hardboiled Hibernian lyricism that have made Kevin Barry one of the most striking and admired fiction writers at work today."
Duplex by Kathryn Davis
"Mary and Eddie are meant for each other—but love is no guarantee, not in these suburbs. Like all children, they exist in an eternal present; time is imminent, and the adults of the street live in their assorted houses like numbers on a clock. Meanwhile, ominous rumors circulate, and the increasing agitation of the neighbors points to a future in which all will be lost. Soon a sorcerer's car will speed down Mary's street, and as past and future fold into each other, the resonant parenthesis of her girlhood will close forever. Beyond is adulthood, a world of robots and sorcerers, slaves and masters, bodies without souls. In Duplex, Kathryn Davis has created a coming-of-age story like no other. Once you enter the duplex—that magical hinge between past and future, human and robot, space and time—there's no telling where you might come out."
Revolutionary Road by Richard Yates
"In the hopeful 1950s, Frank and April Wheeler appear to be a model American couple: bright, beautiful, talented, with two young children and a starter home in the suburbs. Perhaps they married too young and started a family too early. Maybe Frank's job is dull. And April never saw herself as a housewife. Yet they have always lived on the assumption that greatness is only just around the corner. But now that certainty is now about to crumble. With heartbreaking compassion and remorseless clarity, Richard Yates shows how Frank and April mortgage their spiritual birthright, betraying not only each other, but their best selves."
Tony And Susan by Austin Wright
"Receiving a manuscript and request for feedback from her vengeful ex-husband of fifteen years, Susan Morrow is drawn into the life of the story's fictional character and confronts a devastating parallel darkness from her own past. Austin Wright's novel is a disturbing and dazzling work: it describes a special reading experience, combines the suggestiveness of a thriller and the depth of a psychological novel. He talks about fear and regret, revenge and maturation, marriage and failure."
The Museum of Modern Love by Heather Rose is the ultimate voyeuristic art experience.
"She watched as the final hours of The Artist is Present passed by, sitter after sitter in a gaze with the woman across the table. Jane felt she had witnessed a thing of inexplicable beauty among humans who had been drawn to this art and had found the reflection of a great mystery. What are we? How should we live? If this was a dream, then he wanted to know when it would end. Maybe it would end if he went to see Lydia. But it was the one thing he was not allowed to do. Arky Levin is a film composer in New York separated from his wife, who has asked him to keep one devastating promise. One day he finds his way to The Atrium at MOMA and sees Marina Abramovic in The Artist is Present. The performance continues for seventy-five days and, as it unfolds, so does Arky. As he watches and meets other people drawn to the exhibit, he slowly starts to understand what might be missing in his life and what he must do."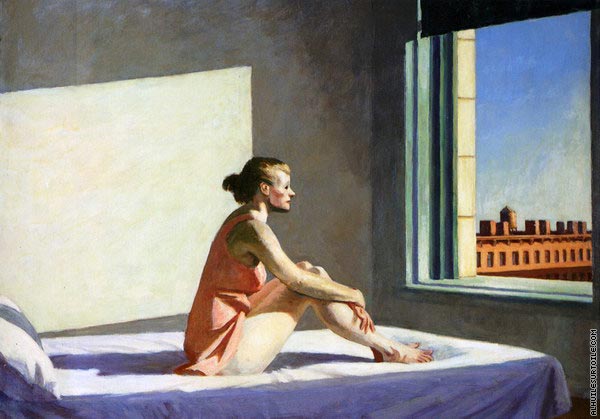 My Year of Rest and Relaxation by Ottessa Moshfegh
You can easily picture the lone figure of Moshfegh's protagonist staring through the windows of her NYC apartment, much like the lone woman in pink in adjacent painting.  "This is a novel about a young woman's efforts to duck the ills of the world by embarking on an extended hibernation with the help of one of the worst psychiatrists in the annals of literature and the battery of medicines she prescribes. Our narrator should be happy, shouldn't she? She's young, thin, pretty, a recent Columbia graduate, works an easy job at a hip art gallery, lives in an apartment on the Upper East Side of Manhattan paid for, like the rest of her needs, by her inheritance. But there is a dark and vacuous hole in her heart, and it isn't just the loss of her parents, or the way her Wall Street boyfriend treats her, or her sadomasochistic relationship with her best friend, Reva. It's the year 2000 in a city aglitter with wealth and possibility; what could be so terribly wrong? My Year of Rest and Relaxation is a powerful answer to that question. Through the story of a year spent under the influence of a truly mad combination of drugs designed to heal our heroine from her alienation from this world, Moshfegh shows us how reasonable, even necessary, alienation can be"
Silver Girl by Leslie Pietrzyk
"It's the early 1980s. Ronald Reagan's economy will trickle down any day now, and Chicago's Tylenol Killer has struck: an unknown person is stuffing cyanide into capsules, then returning them to drugstore shelves.
Against the backdrop of this rampant anxiety, one young woman, desperate to escape the unspoken secrets of her Midwestern family, bluffs her way into the fancy "school by the lake" in Chicago. There she meets Jess, charismatic and rich and needy, and the two form an insular, competitive friendship. Jess' family appears perfect to the narrator's wishful eye, and she longs to fit into their world, even viewing herself as a potentially better daughter than the unappreciative Jess. But the uneven power dynamic chafes the narrator, along with lingering guilt about the sister she left behind. Her behavior becomes increasingly risky – and after Jess' sister dies in murky circumstances and the Tylenol killer exposes the intricate double life of Jess' father, she finds herself scrambling for footing. Nothing is as it seems, and the randomness of life feels cruel, whether one's fate is swallowing a poisoned Tylenol or being born into a damaged and damaging family."
Next Life Might be Kinder by Howard Norman
"After my wife, Elizabeth Church, was murdered by the bellman Alfonse Padgett in the Essex Hotel, she did not leave me."
Sam Lattimore meets Elizabeth Church in 1970s Halifax, in an art gallery. The sparks are immediate, leading quickly to a marriage that is dear, erotically charged, and brief. In Howard Norman's spellbinding and moving novel, the gleam of the marriage and the circumstances of Elizabeth's murder are revealed in heart-stopping increments. Sam's life afterward is complicated. For one thing, in a moment of desperate confusion, he sells his life story to a Norwegian filmmaker named Istvakson, known for the stylized violence of his films, whose artistic drive sets in motion an increasingly intense cat-and-mouse game between the two men. For another, Sam has begun "seeing" Elizabeth—not only seeing but holding conversations with her, almost every evening, and watching her line up books on a small beach. What at first seems simply hallucination born of terrible grief reveals itself, evening by evening, as something else entirely."
Devil in a Blue Dress by Walter Mosley
"In Los Angeles of the late 1940s, Easy Rawlins, a black war veteran, has just been fired from his job at a defense plant. Easy is drinking in a friend's bar, wondering how he'll meet his mortgage, when a white man in a linen suit walks in, offering good money if Easy will simply locate Miss Daphne Monet, a blonde beauty known to frequent black jazz clubs."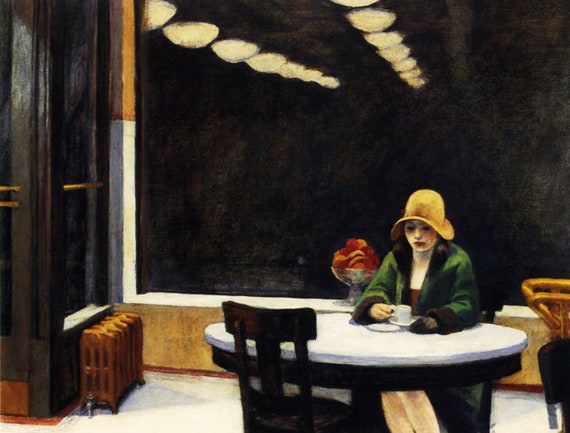 Dragonfish by Vu Tran is a dark and moody noir mystery full of long shadows.
"Robert, an Oakland cop, still can't let go of Suzy, the enigmatic Vietnamese wife who left him two years ago. Now she's disappeared from her new husband, Sonny, a violent Vietnamese smuggler and gambler who's blackmailing Robert into finding her for him. As he pursues her through the sleek and seamy gambling dens of Las Vegas, shadowed by Sonny's sadistic son, "Junior," and assisted by unexpected and reluctant allies, Robert learns more about his ex-wife than he ever did during their marriage. He finds himself chasing the ghosts of her past, one that reaches back to a refugee camp in Malaysia after the fall of Saigon, as his investigation soon uncovers the existence of an elusive packet of her secret letters to someone she left behind long ago. Although Robert starts illuminating the dark corners of Suzy's life, the legacy of her sins threatens to immolate them all."
Manhunt by Jaime Fountaine
"In Jaime Fountaine's Manhunt, an unnamed narrator experiences a summer on the cusp of womanhood, exploring her own sexuality, the deep cuts of her teenage years, and the extreme ennui of suburban decay." Extreme ennui of suburban decay? Yes, please!