Music of the Month is a monthly round-up of RPL's programs and resources related to music.
April 2021 Gellman Room Concerts @ RPL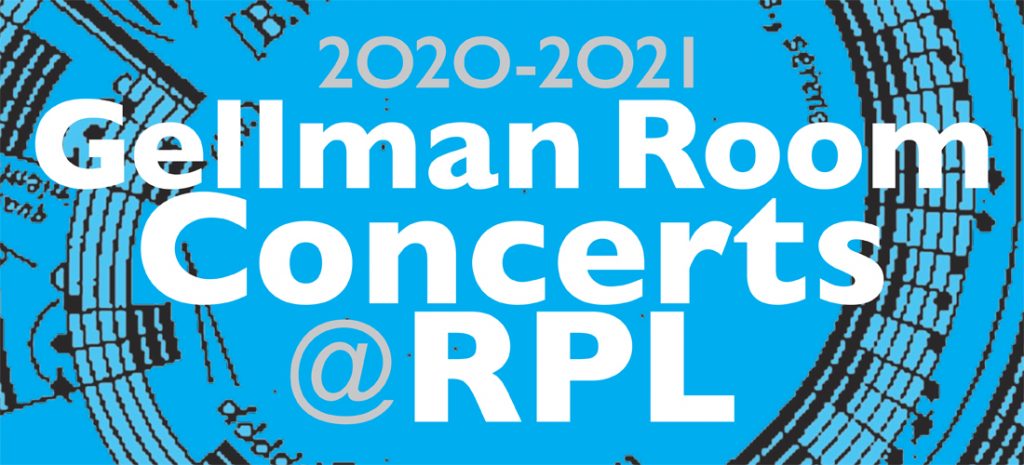 Saturday, April 10, 2021, at 2:00 pm, livestreamed from the Gellman Room:
"Moises Cunha & Friends: Connecting the World through Music — music by Beethoven, Sibelius, and Mozart presented by Moises Cunha, violin, Jake Fowler, cello, Luke Fleming, viola, and Tyler Sieh, viola.
Saturday, April 24, 2021, at 2:00 pm, livestreamed from the Gellman Room:
"The Art of Perseverance: And Still the Flowers Bloom" — an afternoon of diverse music, art songs, and poetry that explores the many facets of the rich, human experience together — presented by River City Opera with soprano, Christine Lyons, & pianist, Jonathan Heaney.
Past Gellman Room Concerts are available on RPL's YouTube page.
From Our Collection
This edition of Jean Sibelius' Finlandia by Hawkes Pocket Scores is from RPL's large collection of scores and books related to music from all over the world. Try following along while listening to the recording below. It is not too challenging for the first part of the piece. The wind instruments are the top 2/3 of the page and the strings are on the bottom 1/3. All of the parts are arranged by the overall range of the instruments, from high to low, within their sections. Even if you do not know how to read music, it might still possible to understand the general flow of the piece as it is written!
Finlandia-Sibelius-HawkesPocketScores

This recording of Finlandia was transferred from a vinyl record in the library's collection. It is a performance from 1985 by The London Symphony Orchestra conducted by Gennadi Rozhdestvensky.
For biographical or historical information on Jean Sibelius, check out some of these titles from our collection.
Staff Playlist
Lynn V.'s long career at RPL has made her knowledgeable about our music and arts collection, which was once one of three major departments at the main library. The collection is still large, though it gets much less use than it used to. Lynn's highlights from our collection relate to the art songs that will be presented in "The Art of Persistence" at the River City Opera's Gellman Room Concert. Digital versions of many of the pieces can be found through Hoopla Digital, which has thousands of albums you can borrow.
The River City Opera will be performing pieces that combine poetry with melodies from various poets and composers, among them Ned Rorem, Vincenzo Bellini and Franz Liszt. For information about some of the women composers who will be featured, including Lili Boulanger, check out Sounds and Sweet Airs: The Forgotten Women of Classical Music by Anna Beer. Below is a collection of printed and recorded music that feature combinations of poetry and music.
A collection of Ned Rorem's melodies paired with poems by Sylvia Plath:
Rorem-Plath-Opera

A recording of Bellini's "Il fervido desiderio" performed by soprano Veronika Kincses and pianist Loránt Szűcs (transferred from vinyl record):
Thirty Songs for High Voice by Franz Liszt:
Liszt-Opera