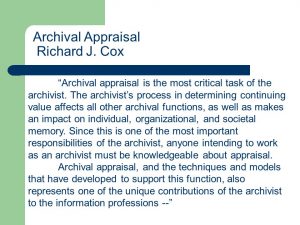 According to a 2005 survey, American institutions retain over 4 billion items like books, manuscripts, photographs, oral history, maps, sound recordings, and digital collections. Libraries own 63 percent of them. About 630 million items need immediate attention and care because they are deteriorating. However, not all records merit permanent retention. The National Archives has determined that after appraising the federal government's records "only about 3 percent are so important for legal or historical reasons that they are kept forever." This is generally true on the state level.
An appraisal archivist spends most of her time assessing records by reading, evaluating, and researching records series retention and disposition schedules. A schedule, prepared by a records manager, is essentially a short summary of a records series ( a grouping of records), the recommended disposition, and legal justification. Daily examination of schedules could lead an archivist into thinking she is just shuffling papers about records. Yes, the schedules represent records, and yes, the disposition recommendations mean the life or death of those records, but oh to actually see and handle the records behind the schedules is –Wow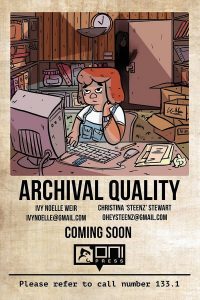 ! That happened when I donned unusual work attire-jeans, an old shirt, and tennis shoes-and toting a flashlight, entered a warehouse filled with over 50 years of state forestry records. It was a dirty but rewarding experience.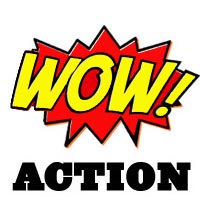 It all began when the South Carolina State Archives received a call from the state Forestry Commission. The commission had a warehouse it needed to use but it was full of old records. At the time, I was working at the state archives as the appraisal archivist. It was my job to conduct a preliminary review of the warehouse records. From that review, it was clear to me that the warehouse held some priceless documents of archival (permanent) value. What to do about that tattered, 10 foot tall Smokey the Bear? He was my first fright. The Forestry Commission gave the state archives one week to get the records out! That meant I with the help of some records mangers had to move quickly. The volume of records, their fifty-year time span, the Forestry Commission's reorganizations along with some of the agency's indifference had resulted in a time consuming schedule review and approval process. Now it was time to put those schedules into ACTION!
I along wit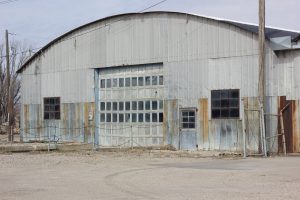 h some records managers entered the warehouse armed with 137 schedules, our notes, flashlights, and a little trepidation. Smokey was gone. In his place, were collapsing and crushed boxes of filthy records, loose records in disarray on the grubby cement floor, large, grimy map cases, and cabinets bulging with old records. It was almost impossible to move between the rows of metal and wooden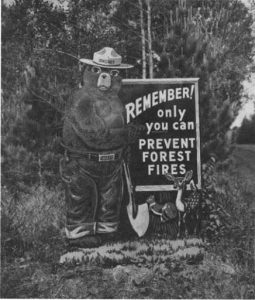 file cabinets.
Feeling a little overwhelmed by the approximately 900 cubic feet of documents, we began our task of sorting through the mass of identified (a rare surprise), unidentified, and disheveled material. The only light was a droplight, two flashlights, and the sun—when it chose not to hide. After some initial confusion, we developed a systematic approach. This meant crawling over boxes and wooden crates, on top of cabinets and into cobwebs, and pulling and tugging at rusty drawers to verify the contents. A knife came in handy when we had to open the cardboard tops of two cubic foot cabinet drawers which refused to budge after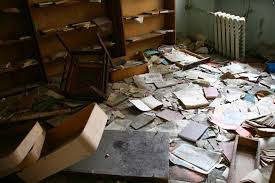 years of peaceful neglect. Pliers and even a hatchet helped us to pry open a huge wooden crate sealed like a time capsule for posterity. We owed thanks to Forestry Commission personnel ever ready with the right tool. Knives, pliers, and hatchets certainly are not the usual trade tools of an archivist!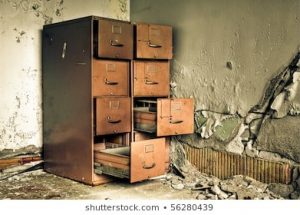 First, we tagged records clearly not deemed of historical value. A flatbed truck was to carry those away. It seemed like every voucher from the 1930s to the 1970s had been saved! We knew this information was documented in other permanently valuable records. So, it was safe to destroy them. Other material earmarked for destruction included purchase orders, requisitions, travel reimbursements, equipment and supply order forms, and the decomposing skin of a rabbit or opossum—it was hard to tell which. We loaded the truck three times!
Then began the task of sorting through the containers of records we had set aside for further review–after the Forestry Commission sprayed them to minimize the bugs, removed wooden strips from records stored in wooden crates, and removed mud dauber nests. Fortunately, no mold was found.
We spent four days in that warehouse working with the records as best we could, given the bizarre conditions. We uncovered records about the Forestry Commission's diverse programs including evidence its early administration of the state park system. There was proof that forest fire protective associations formed by groups of landowners and the commission had begun in 1928 (the first organized effort in South Carolina to combat forest fires) and the program's evolution into a countywide system. The state's reforestation program had started also in 1929 with legislation authorizing the commission to establish nurseries. It expanded in 1961 to include seed orchards, the active forestry management program which offered direct assistance to farmers beginning in 193. All this history needed to be saved.
We were concerned about documenting the commission's numerous reorganizations and its financial administration. Short-lived or temporary programs such as the New Deal's Civilian Conservation Corps (CCC) warranted preservation. The CCC started land restoration by building extensive terraces and planting over 56 million tree seedlings. Many of the records in the warehouse verified that history. There were records of the CCC's projects at the state parks and wayside parks and its county timber-type surveys. They had to be saved for posterity. The state's current wide-ranging forests are thanks to the CCC's ground-breaking conservation work and its imaginative planning. We worked closely together to review the schedules, matching them with the records stored there so long ago. We knew the permanent preservation of many of these records-some fragile-was critical to safeguarding the state's forestry history and the lessons they provided for today's conservation efforts.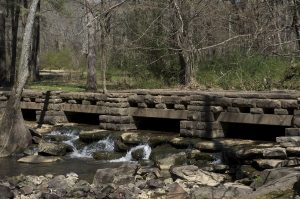 We had to check gaps in documentation and find out how the Forestry Commission's records complimented other state agency's records. For instance, the Department of Parks, Recreation and Tourism had assumed administration of the state park system in 1967. In short, this was a comprehensive inventory, review, and appraisal of an agency with a broad range of programs, an agency whose diversified records fortunately dated from two years after its beginning in 1929 to the warehouse review.
Among these records were some real treasures — the master plans of early state parks and state forests, meeting minutes, bylaws, and correspondence of the early forestry protective associations and county forestry boards. There were even forestry rangers' radio talks on topics ranging from soil conservation to the World War II timber conservation effort and forestry surveys complete with photographs! The CCC records included a set of rare timber-type county survey maps; camp task completion reports and correspondence; and a priceless photographic volume of projects like landscaping, excavation, building and bridge construction, transplanting trees, clearing nature trails, quarrying rock, sodding, erosion control, and dam preservation at selected parks.
Dusting ourselves of, we were ready to transport 220 cubic feet of records dating from the early 1930s to the mid-1970s to the state archives. There they were to be fumigated and then further screened. Some records, especially the fragile CCC photographic volume, needed immediate conservation attention. In the end, the personal annoyance of cobwebs, bugs, nests, a decomposing skin, strained eyes, and dirt was overshadowed by the significant and diverse records recovered just in time from that warehouse. It was truly an exceptional story in records preservation.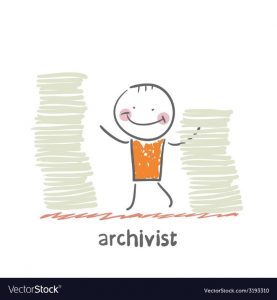 Sources
Learn more about research at the National Archives (YouTube video).
Learn more about the SC Forestry Commission.
Find out more about the Civilian Conservation Corps in South Carolina