Welcome back to the next installment in our new series of blog posts featuring children's books we're currently loving! "Book Chat with the Youth Services Team" features one book recommendation from each of our Youth Services team members. We cover a variety of books from fiction to non-fiction, picture books to chapter books, graphic novels and more! We hope that this month's reading recommendations get you excited about some awesome new books we've added to our collection as well as some oldies but goodies. Enjoy!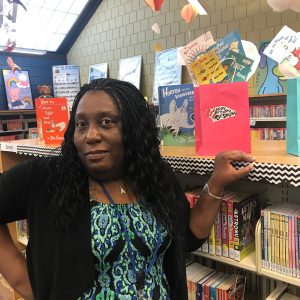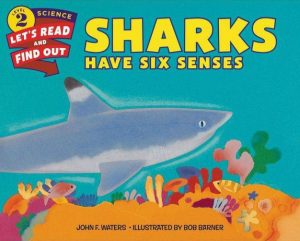 April recommends: Sharks Have Six Senses by John F. Waters (ages 4-8)
Sharks Have Six Senses is a non-fiction children's book that fits perfectly with our summer reading theme (Oceans of endless possibilities). This book is a terrific read if you are intrigued to know more about sharks. This book is full of fascinating information and you will learn a lot about the different types of sharks, their eating habits, and how they use their six senses throughout the day. As I was reading Sharks Have Six Senses, I found myself wanting to learn more and more about this powerful and impressive sea creature.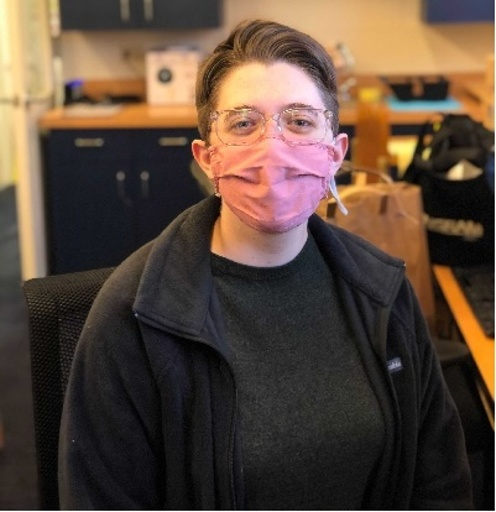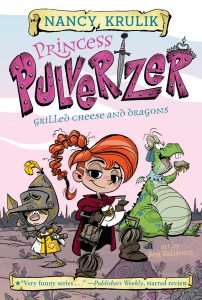 Ashley recommends: Princess Pulverizer by Nancy Krulik (ages 6-8)
Princess Pulverizer is a fun chapter book series about a princess who'd much rather be a knight. Serena, aka Princess Pulverizer, has finally gotten permission from her dad, the king, to attend knight training school, but there's a catch: she must first complete a Quest of Kindness. If she can complete eight good deeds and prove she has what it takes to be a hero, Princess Pulverizer can become a knight. She sets off on her quest with knight-in-training Lucas and a dragon named Dribble in search of ways to prove herself and save the day!

This story is about a 15 year old girl who always asked questions.. Where do stars go when they die and Why aren't Black people treated the same as white people? She loved learning in school and church and the questions kept coming. One day she was sitting on the bus, in the middle to the back, and more white people got on. The bus driver and white lady told Claudette she had to move. Claudette refused. She recited the Constitution of the United States that she had learned in school. "It is my constitutional rights to sit here as I paid my money like everyone else." She was arrested, kicked, and taken to jail. Her family had to get her a lawyer to help fight these charges. Reverend Johnson from her church came and spoke to her. She went to trial and had most of the charges dropped. After that she met with people from the NAACP. The youth leader was Rosa Parks. She met a young minister by the name of Martin Luther King, Jr. Claudette didn't know it at the time, but she was the one to help start a civil rights movement in Alabama. It was her brave deeds that inspired others to not give up their seat like Rosa Parks that sparked the Montgomery Bus Boycott and the Civil Right movement in the south.

Heather recommends: The Smart Cookie by Jory John and Pete Oswald (ages 4-8)
Just as there are many different varieties of baked goods, there are many different ways to be smart, a lesson that Jory John and Pete Oswald deliver in The Smart Cookie in the cute and colorful style they're known for. Cookie, the main character, does not feel smart. They are always making mistakes in school and feel like they just can't get anything right. Alas, a poetry assignment emerges that showcases a talent they never knew they had. The Smart Cookie is a colorful and confidence inspiring story that does an excellent job reminding readers that everyone is smart in their own way…and it just happens to be a great read for poetry month!

Jenn recommends: Willowdeen Katherine Applegate (Ages 10-12)
This is an adorable story about protecting our earth. Willowdeen is an 11-year-old girl who loves animals and nature and spending her time outside observing and documenting what she sees. Lately, nature has seemed angry. There have been more fires and the beloved local species, the hummingbear, is quickly dwindling in numbers. The villagers begin to focus their anxiety, and blame, on a strange (and smelly) creature called a screecher. But Willowdeen knows the screechers are innocent and she is determined to prove their importance. It is time the villagers learn to respect nature, for the earth is older and wiser than any of us.
 
Joan recommends: Knight of the Cape by Terry Catasús (ages 7-9)
Third grader Dominguita loves to read, especially the classics that she used to read with her abuela before she moved away. One of her favorites is Don Quixote, which tells of a brave knight who tries to do good deeds. When the class bully makes fun of her and tells her that girls can't be knights, Dom is determined to prove him wrong by becoming a knight and doing good deeds around her community. She convinces her older brother to help make a book of her adventures, to be shared with Abuela. Dominguita gears up with a bucket for a helmet and an old rain poncho for a cape. She adopts a local stray dog as her steed. While seeking to serve her community she also builds new friendships with local kids Pancho Sanchez (her squire) and Steph (her master of the cookies). After this book, check out the rest of the books in the series: Captain Dom's Treasure, All for One, and Sherlock Dom!

When Amari Peters discovers a mysterious package from her brother, who has been missing for six months, she finds her entire world turned upside down in ways she never could have imagined. Amari and the Night Brothers is a Middle Grade book featuring a great cast of characters, a compelling world, and an engaging plot. B. B. Alston takes familiar Middle Grade fantasy ideas and makes them feel relatable to everyone. Full of great scenes, a fantastic protagonist, and a wonderful world, Amari and the Night Brothers is an excellent read for any Middle Grade lover of fantasy!

April recommends: Tidy by Emily Gravett (ages 4-8)
Maybe you're a free spirit who lets things lie where they fall, or maybe you're a Virgo (like me) who wants everything in its place. If you're the anxious kind, you'll probably relate to the main character of this story, a badger named Pete. Pete is tired of the forest and his friends being so messy. He decides to make everything neat—by making it all go away. Of course, forests aren't meant to be treeless and covered in concrete. Soon, Pete learns that the best thing nature can be is UNtidy after all.
 
Nico recommends: Never Caught, the Story of Ona Judge by Erica Armstrong Dunbar and Kathleen Van Cleeve (ages 9-12)
Ona was born into slavery on George Washington's residence. This book follows her life from the shadows to running away to reach Philadelphia's free black community. It's fascinating as well as eye opening. I hope you like it as much as I do.
 
Nicole recommends: Stack the Cats by Susie Ghahremani (ages 4-8)
One, two, three—four cats stacked! What happens when you try to stack your cats? Absolute mayhem of the cutest, fluffiest order. See how high these cats can stack while also helping your kiddo practice their counting. This story also comes as a sturdy board book, so don't be afraid of rips or tears—let your littles pet and poke the pages to their hearts' content!

Summer recommends: Nosotros Means Us by Paloma Valdivia (ages 3-5)
Written in English and Spanish, the words and sentences are simple enough for caregivers who are monolingual. The sweet, touching story illuminates the special relationship between mother and child, and how we both change over time.
Well young readers, that's a wrap. Check back again next month for some more fabulous reading recommendations. Until then, happy reading!