I admit it, I am the sort of person who shares YouTube videos of favorite authors talking and reading at university lecterns, or hanging out in nice chairs on stages at big libraries.
I live for this stuff.
Most recently this tendency manifested as me sending a video of Ocean Vuong in conversation with Jacqueline Woodson at The Strand bookstore to several of my friends and colleagues, followed by a string of crying emoji. It should come as no surprise then that I spent roughly 16 hours in October at author events around the city. If I could be in two places at once, I would have gone to more. This post is a poor attempt at unpacking the immense pleasure of taking in so many literary events all at once.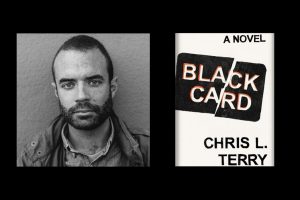 First stop was a chance encounter with Chris Terry, courtesy of Chop Suey Books and Babes of Carytown. Fun fact: Chris is the son of a former RPL librarian!  The author of Zero Fade, his debut YA novel, was at Babes to discuss his new novel for adults, Black Card. Black Card is about a mixed-race punk bassist with a black imaginary friend. It's funny, and as a former grungy 90s punk rock kid, a nostalgic joy to read. As an added treat, Chris was interviewed by a music journalist (sorry, he was terrific but I've completely forgotten his name and publication in the frenzy of October) after his reading. I love a good reading but the interview or on-stage conversation format for author speaking engagements adds a whole other level to the experience of seeing a newly discovered or dearly beloved author speak; it feels intimate, candid, and becomes a once in a lifetime experience because an interview can't be too rehearsed. The Q&A was lively and the company was excellent. Babes is a warm and intimate setting to hear from local authors and I highly recommend you check out Chop Suey's calendar for the next visit.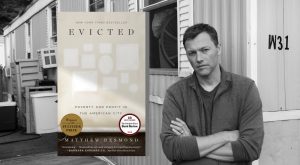 Next stop: 3 uncommon conversations with Matt Desmond.
The goal of the Common Book program is to "welcome new students to the vibrant intellectual culture of VCU and to provide them with an opportunity to explore complex social issues through an interdisciplinary lens" by reading and discussing the same book. It's like book club only way bigger. This year we had the opportunity to partner with VCU's University College which chose Evicted by Pulitzer-prize winning author and Princeton University professor of sociology, Matt Desmond, as their common book.  As a result I've had to eat, breathe, and (fitfully) sleep Evicted. The book has some pretty obvious relevance to the community we serve so this partnership was especially  meaningful for us. We facilitated surprising and eye-opening discussions around the book with incoming freshman at VCU, which was delightful. 10/10, would do it again. We spread the word, and some free books, to book clubs (does your book club need copies? HMU), and we worked with Housing Opportunities Made Equal, with help from the National Building Museum and the VCU Library Workshop, to develop an interactive, multimedia exhibit that will be on display at the Main Library beginning in January. If that isn't enough, I went on a whirlwind tour of conversations with the author at VCU. I attended (crashed?) a conversation between Tressie McMillan Cottom and Matt Desmond that was so good on so many levels. I attended the big Siegel Center Common Book program with Q&A led by Ben Teresa and Kathryn Howell of RVA Eviction Lab, and here at the library we hosted a conversation with Desmond for housing advocates and professionals in the community to discuss how the issue impacts us here and what we can do about it.
As you would expect if you've read Evicted, Matt Desmond is as down to earth as they come. A well-crafted narrative in nonfiction like Evicted is a gift and the unique experience of hearing him speak three times in a row, getting a different talk each time, added another layer of understanding to the text I had read a few times by that point.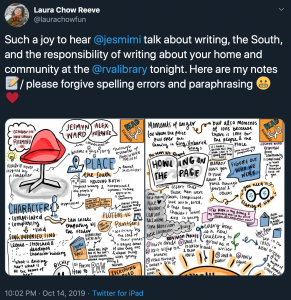 On to the inaugural Read Up, Richmond program presenting Jesmyn Ward & Alex Kotlowitz in conversation! As one of the organizers of the event I was afraid I'd be too preoccupied with the organizing and fretting and such to truly enjoy it. Thankfully I was wrong. Kotlowitz's thoughtful questions hit on major themes in her writing and her responses provided deeper insight into her characters and how home influences her work. She was gracious, honest, and eloquent and I was so completely absorbed I lost track of time (it was my job to keep track of time).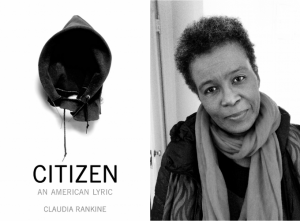 Now, we arrive at Claudia Rankine's glorious presentation at the Institute for Contemporary Arts. Dr. Rankine's work is a consciousness raising experience that brings together poetry, essay, contemporary art , theater, and popular culture, and the ICA was a great venue for her. I am having trouble finding words hip enough to describe the thrill of seeing her. Read Citizen if you haven't already, and go check out White Card, a new play written by her.
And finally, though it would have been neat to book end my month with White Card when it started with Black Card, I got lucky and slipped in a visit to the Virginia Museum of History and Culture to hear Ta-Nehisi Coates and Manisha Sinha in conversation just two days later. Coates is a MacArthur Fellow and multiple award-winning author of Between The World And Me and, most recently, The Water Dancer, a novel. Sinha is the the Draper Chair (no relation) in American History at the University of Connecticut, and author of The Slave's Cause: A History of Abolition, which won the Frederick Douglass Book Prize. Moderated by the CEO of the American Civil War Museum, Christy Coleman, Legacies of Emancipation was a thought-provoking discussion followed by a great Q&A. Sometimes the Q&A portion is the best part of the evening so don't leave early!
I may have trouble recalling the plot of even my most beloved books after I've closed the covers, but the feeling the books gave me will always remain. I will always cherish the experience of having attended these conversations about race and history, culture, society, and our shared future happening through discussions of literature at community gatherings. If you get the chance, go. Even if you aren't familiar with the author or their work. You may discover something new, and it is always a once in a lifetime experience.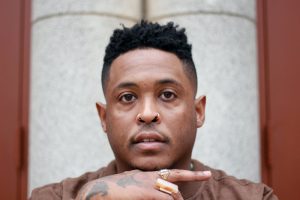 Shameless plug time! Mark your calendars for the next big literary event to hit Richmond: Danez Smith will be with us in May to read from their latest collection, Homie, and answer audience questions after. Danez Smith is a Black, Queer, Poz writer & performer from St. Paul, MN. Danez is the author of "Don't Call Us Dead" (Graywolf Press, 2017), winner of the Forward Prize for Best Collection, the Midwest Booksellers Choice Award, and a finalist for the National Book Award; they also wrote "[insert] boy" (YesYes Books, 2014), winner of the Kate Tufts Discovery Award and the Lambda Literary Award for Gay Poetry. They are the recipient of fellowships from the Poetry Foundation, the McKnight Foundation, the Montalvo Arts Center, Cave Canem, and the National Endowment for the Arts. Danez's work has been featured widely, appearing on platforms such as Buzzfeed, The New York Times, PBS NewsHour, Best American Poetry, Poetry Magazine, and on the Late Show with Stephen Colbert. Danez is a member of the Dark Noise Collective and is the co-host of VS with Franny Choi, a podcast sponsored by the Poetry Foundation and Postloudness. Danez's third collection, "Homie", will be published by Graywolf in Spring 2020. Find more at www.danezsmithpoet.com