Is your favorite Christmas movie Gremlins, or Die Hard?
Well, we're here today with 5 gif reasons why your favorite should be Desk Set. For those not yet in the know, Desk Set is the 1957 romantic comedy about a news librarian (Katherine Hepburn) afraid a new computer will automate her out of a job. Spencer Tracy plays the computer expert, so I'm sure you can imagine how their story ends up.
#1 Killer 1957 fashion
#2 Plenty of drinks
#3 Awesome 1950s room-sized computers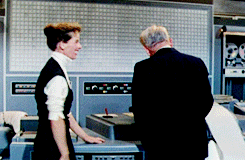 #4 Two Words: Katherine. Hepburn.
#5 Accurate depictions of library life
Desk Set fun facts:
It was written by Nora Ephron's parents!
The tag line from the film's poster read: "Meet the Desk Set…From 9 O'Clock Coffee to 5 O'Clock Cocktails — And, Oh, Those Fabulous Christmas Parties!"
If you think you know your holiday movie trivia, join two librarians for 3rd Thursday Trivia at Twisted Ales on December 21st @ 6:30. You can win stuff that you can treasure forever, or re-gift in a pinch (like pint glasses and Friends of the Library book sale gift certificates!)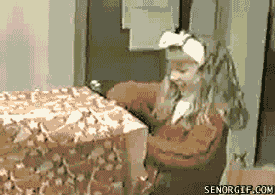 And, if you need a gift idea, here's a few new books we think would go nicely under a tree.
Tequila Mockingbird: Cocktails with a Literary Twist by Tim Federle
The title kind of says it all.
Obama: An Intimate Portrait: The Historic Presidency in Photographs by Pete Souza
During Barack Obama's two terms, Pete Souza was with the President during more crucial moments than anyone else–and he photographed them all. Souza captured nearly two million photographs of President Obama, in moments highly classified and disarmingly candid.
Party in the Back by Tino Razo
Celebrated skateboarder Tino Razo has documented — and shredded — abandoned backyard swimming pools in Southern California since the inception of the rogue sport. This thrill-seeking book juxtaposes renegade sessions by world class skateboarders with dramatic architectural photographs of a lost American dream.