#1 Libraries only have books
In addition to books (both large-print and standard) we have audio book cd's, DVD's, graphic novels for all ages, sheet music, music cd's, zines, book club kits, Virginia State Park backpacks, and magazines for you to check out. All branches have public use computers and usually a notary on staff (please call ahead of time for this free service and don't sign anything until the notary gives you the okay). Most branches have daily newspapers you can read in-house; Richmond Times Dispatch, Wall Street Journal, New York Times, and Washington Post. Some branches have activities like puzzles, coloring pages, and board games out for patrons (you lovely people, our community) to use there. The Main Library also has both an Innovation Lab and a Memory Lab available for booking which has a 3D printer, Cricut, sewing machines, Adobe Creative Cloud, Lego Robotics kits, and digitization equipment for a wide range of possibilities. Have an idea you want 3D printed? We got you! Submit your request here, only $0.20 per gram!
#2 Libraries are only for kids
While admittedly a huge focus is on making sure children learn to read and hopefully learn to enjoy reading, that doesn't make libraries a place only for kids. There's monthly programs for teens and tweens as well as multiple programs for adults of all ages. Summer Reading isn't just for kids either, any aged person can participate and earn entry to prizes. English as a Second Language classes? We got them. Book clubs galore? Yup, those too. We have game nights, movie showings, author visits, art classes, and so much more!! If you don't see a program you like, please let us know what you would like to see and we'll do our best to accommodate. When our community tells us their needs we can better meet those needs.
#3 Libraries are quiet places
Libraries in general are becoming more and more of a community center for people and that's fantastic. Whether its classmates meeting up for study sessions, colleagues meeting to work on a project, adults bringing their children to socialize with friends in the children's sections, people trying to stay out of the weather and charge their electronics, we welcome you all! We do kindly ask that you take phone calls outside that last over a minute, but overall conversations are encouraged and you don't have to whisper. So few institutions these days allow you to just exist without the expectation of an exchange of money. You don't need a library card to use our meeting rooms or study rooms (though they do need to be booked in advance), to read books in our cozy seating, to flip through magazines or newspapers, and you definitely don't need one to use the restroom facilities. Here, you can exist and be welcome.
#4 Libraries don't matter because everything is online
I might be biased but LIBRARIES ABSOLUTELY MATTER!! Yes, more and more items and services are available online but not everyone has a computer or access to internet where they live. We have multiple online services free for you too ranging from education and entertainment to business and research. But, that being said, libraries are a place you can trust to have the most accurate and up-to-date information possible, not everyone able to distinguish trustworthy sites from untrustworthy ones so we are able to help. Like referenced in the myth above, we are also heating stations in winter and cooling stations in summer. We are safety and reliability for anyone who doesn't have access to temperature controlled environments, internet, computers, or books. While digital books are great, I personally have hundreds on my Kindle, nothing will ever replace the feeling of having a book in my hands and turning the pages myself. I know I'm not the only one who feels this way.
#5 Librarians read all day
While majority of library workers would love to do just that, it happens way less frequently than imagined. Besides checking in items returned and checking them out to you, we shelve items returned, grab and prepare items put on hold, host programs, assist patrons on our computers, answer questions in-person and over the phone, put together timely displays (holidays, new releases, notable deaths & events, upcoming programs & author talks), connect with schools and other local businesses, and repair some books/damaged disks. Big programs like Summer Reading and Young Adult Virginia Author (YAVA) Awards take nearly a year of monthly meetings to plan and organize so that patrons can easily enjoy the opportunities offered. Someone has to design and update our website; someone has to order the books; someone has to receive, then put barcodes, labels, stamps, and stickers on those books; someone connects with authors for events like Read Up Richmond or an Urban Fiction Experience, someone keeps an eye on our social media, multiple someone's keep our blog and youtube channel going; multiple someone's fill Bookologist requests; someone makes sure all library buildings have power and heat or cooling; someone has to transport the books between branches. There's so many things going on in the background of libraries that it's hard to describe them all. We have lots of hard workers at RPL.
#6 Everyone who works in the library is a Librarian
While most of us will answer to being called a Librarian, a person needs a masters degree in library science for that capital L in Librarian, believe it or not. We at RPL have titles like library technician, library technician senior, library associate, Community Services Manager, Librarian Senior, Library Support Supervisor, Management Analyst Associate, Maintenance and Facilities Manager, Technology Coordinator, Office Assistant, Executive Assistant, Deputy Director, and Director. Even though several people can have the same job title, what they actually do within the library or their branch can vary greatly!
#7 A library card costs money
It won't cost even a single penny to get an RPL library card! There is a $1 replacement fee if your card gets lost or worn out but even that is waived in September every year because it is National Library Card Sign Up Month. We are always able to look up your account with your picture ID to help you check out items or get on the computers if your library card is temporarily missing or forgotten at home. There's no age limit either. Babies to adults 100+ years can all get a card. Informationally, library cards within a family unit aren't linked together in our system. Instead, for individuals under the age of 18, there is an adult listed as guardian to be contacted if anything happens to items checked out or overdue.
#8 Need to live in Richmond to get an RPL library card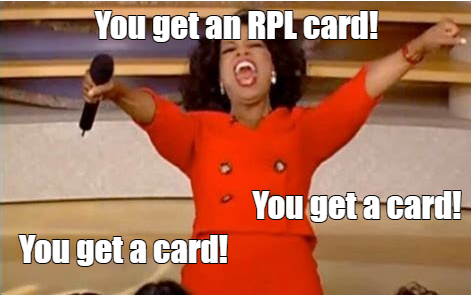 Residents of the cities of Richmond, Hopewell, Petersburg, and Williamsburg as well as residents of the counties Charles City, Chesterfield, Dinwiddie, Goochland, Hanover, King William, New Kent, Powhatan, and Prince George can ALL get a free library card at RPL with just photo ID and something with your name on it showing your current address!
#9 Need a permanent address to get an RPL library card
Passing through the area and just need to use a computer? Our PC Guest cards are for you! They're good for 90 days and are renewable, just bring in current photo ID. Living in a temporary shelter? We can help you, too! Verification of residency must be presented in the form of a letter, on agency letterhead, from the director of the shelter in which the applicant resides. A card will be issued with a limit of two (2) items checked out at any one time for as long as this patron is registered at this address.
#10 Can only ask book or library related questions
Our communities are important to us here at RPL. While we absolutely answer questions about book renewals, finding materials, location hours, or upcoming programs we can also help with other things. Need to know where you go to vote? We can help! Looking for the closest post office to change your address? We'll get you the address and their hours of operation. Wondering when the deadline is to file your taxes? We can find out!
#11 Will be charged if items are returned late
In June 2019 we did a trial-run of fine free library cards for youth. It was so successful in both items and patrons coming back to the library that as of February 2020 we made all library cards at RPL fine free permanently! We forgave past late fees at that time as well. Now, we only charge if an item is damaged or lost.
#12 Items are checked out for two weeks
Seeing as there's no more late fees, we saw no reason not to go ahead and turn on automatic renewals. Now, as long as no one is waiting for that item, everything automatically renews four times, each time two more weeks! If someone has put a hold on an item that you have checked out, it will be due at the end of the most recent two week period. Return to any Richmond Public Library at your convenience, outside book-drops are available 24/7 at all locations.
#13 New books are available immediately after publishing
Unfortunately, RPL doesn't currently get new releases right away like Henrico. In Henrico County Public Library system, they have a sort of contract with publishers that lends them multiple best-sellers for a limited amount of time. They do still purchase some of those best sellers but they don't all make it to their permanent collection. Since we just order items standardly, it can take a bit longer to get them in. However, on the plus side, once we get the items in, they're in our collection to stay until damaged beyond repair or no one checks it out for multiple years.
#14 If RPL doesn't have an item, there's no way to get it
Inter-Library Loan is a magical (my opinion) service that is available to patrons in good standing. For example, say there's a DVD you want to watch or an obscure book that's from the 80's. We don't have it in our collection anymore and neither does Henrico or Chesterfield. But, it is available in say the… Boston Public Library system. This handy form can be filled out, we request the item on your behalf starting with the closest available library system that'll lend it for free, then it can be mailed to us and we send it to the branch you prefer for you to check it out! It's not fast, but it IS reliable. Wanna find out which closest library has the item you're looking for? Check out this fancy website.
#15 Audio books don't count as reading
Audio books definitely count! One wouldn't tell a blind person that reading in braille doesn't count or tell a deaf person that watching someone use Sign Language to sign lyrics during a concert doesn't count as a musical experience. Different people absorb information in different ways. None of which is better or worse than the others. Whether its graphic novels, audio books, flipping through magazines, reading a newspaper, or listening to an audio book recording via Bluetooth-capable hearing aid devices, it all counts as reading.
Happy reading folks!!