What Does July 4th Mean?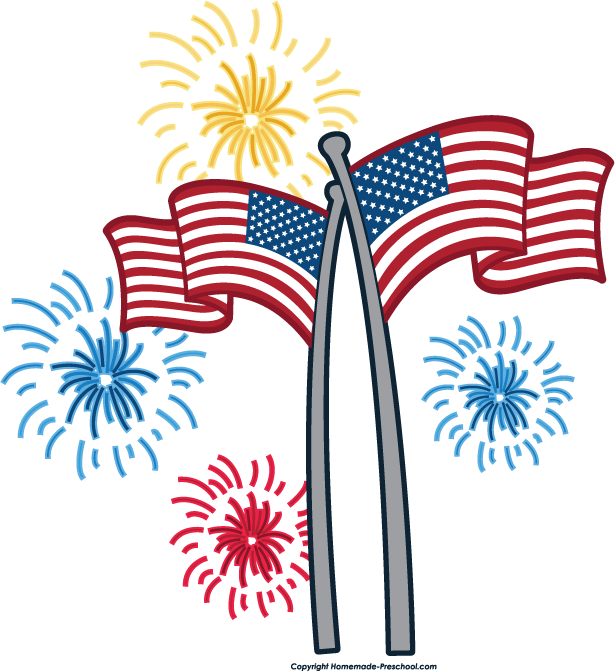 Some might say it is a holiday, a time for fireworks and grilling. Other people might reply "it's when the Declaration of Independence was signed." Most people know that Thomas Jefferson drafted the document and recall the huge John Hancock signature. And numerous people can recite the popular part of the preamble: "We hold these truths to be self-evident, that all men are created equal, that they are endowed by their Creator with certain unalienable Rights, that among these are Life, Liberty and the pursuit of Happiness."
Where Did Those Words Come From?
Typically credit is given just to Jefferson. But, there is someone else all but forgotten to a lot us who first crafted those ideals. Hint: he has a university named for him in Virginia. It's George Mason. His Virginia Declaration of Rights was the prototype for the Declaration of Independence and the Bill of Rights.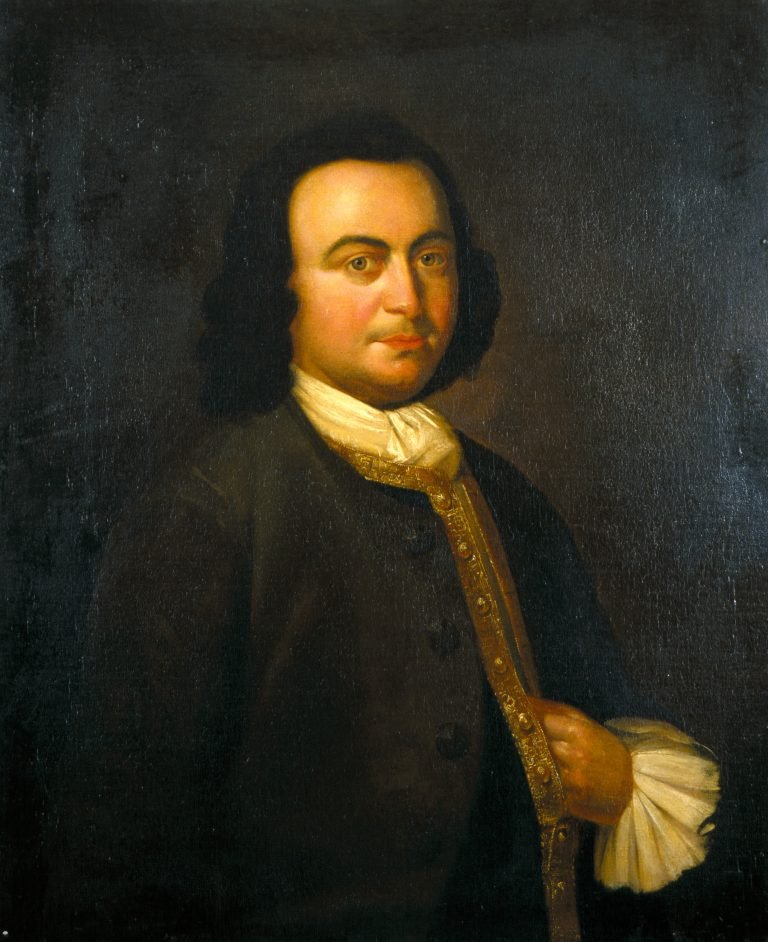 As early as 1769 Mason, a rich planter and a prominent lawmaker from Fairfax County publicly began protesting how Britain controlled the colonies. He assisted in organizing a nonimportation movement, objecting to what many colonists considered Great Britain's unfair, heavy-handed governance. Then in 1774 Mason together with George Washington's assistance took an even bolder step when they (mainly Mason) wrote the Fairfax Resolves, defying Parliament's power over American colonies. Fairfax County landholders "expressed a desire to remain subjects of the British Empire, but they insisted that 'we will use every means which Heaven hath given us to prevent our becoming its slaves.'" [https://en.wikipedia.org/wiki/Fairfax_Resolves] Its twenty-four propositions '"articulated the very groundwork principles of the Colonial arguments against the Parliament's tyrannical taxation, and usurpation of the privileges granted by charter to the colonies." [https://landmarkevents.org/george-mason-and-the-adoption-of-the-fairfax-resolves-1774/]
The Resolves even included "a condemnation of the practice of importing slaves as a 'wicked, cruel, and unnatural trade'; its termination was urged." [https://en.wikipedia.org/wiki/Fairfax_Resolves]
In 1775, Mason represented Fairfax County in Virginia's third revolutionary convention and in the 1776 fifth convention. That's where he wrote the colony's first state constitution and the Declaration of Rights. Compare Section 1 to the preamble for the Declaration of Independence cite above:
That all men are by nature equally free and independent and have certain inherent rights, of which, when they enter into a state of society, they cannot, by any compact, deprive or divest their posterity; namely, the enjoyment of life and liberty, with the means of acquiring and possessing property, and pursuing and obtaining happiness and safety. [https://www.archives.gov/founding-docs/virginia-declaration-of-rights]
Does that sound familiar? Thomas Jefferson said Mason '"…was one of our greatest men, and of the first order of greatness.'" [https://landmarkevents.org/george-mason-and-the-adoption-of-the-fairfax-resolves-1774/]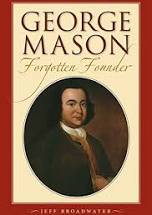 Who Shared in Those Ideals?
Who was "equally free and independent"? Who was "created equal"? Some say these words include all humanity while others think Jefferson and many of the Founding Fathers meant to include only all free, white property-owning men.
And who celebrated? Were enslaved people at the festivities? If so, were they celebrating equally or were they there serving those who were celebrating? No doubt we know the answers because for centuries enslaved African Americans, immigrants, and other social and cultural minorities, including women, were deprived of equality and civil rights.
Seizing the Ideals
Over time Americans like the suffragists, politicians, political activists, and civil rights activists such as Reverend Dr. Martin Luther King, Jr., used the Declaration of Independence, with its roots in Mason's Declaration of Rights, to demand equality for those left behind. They seized the ideals expressed in those living documents. Former President Barack Obama captured that spirit when he delivered his 2013 second inaugural address: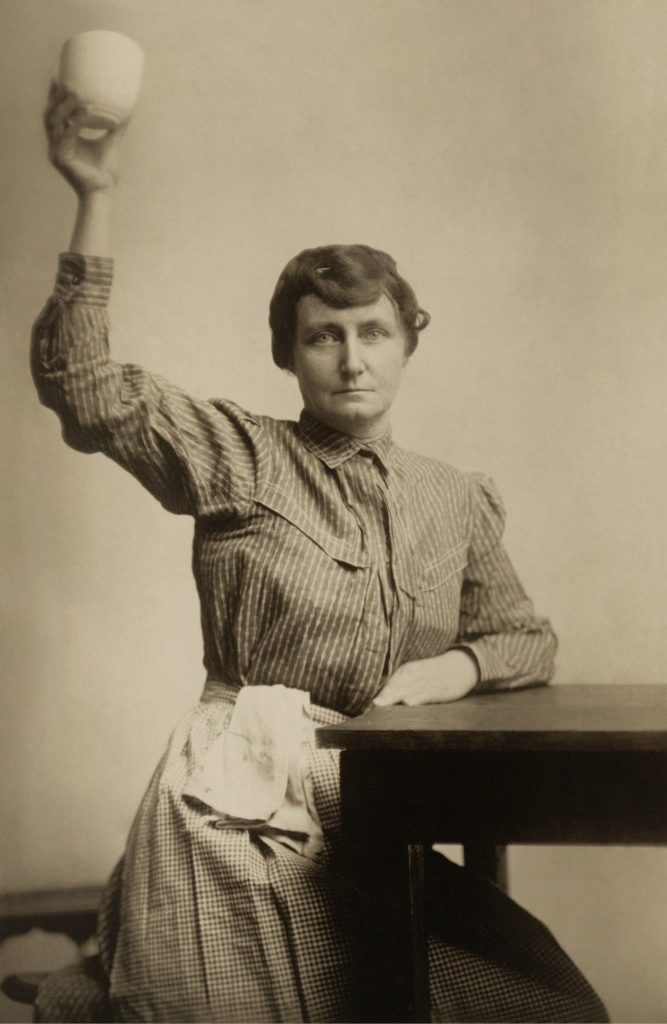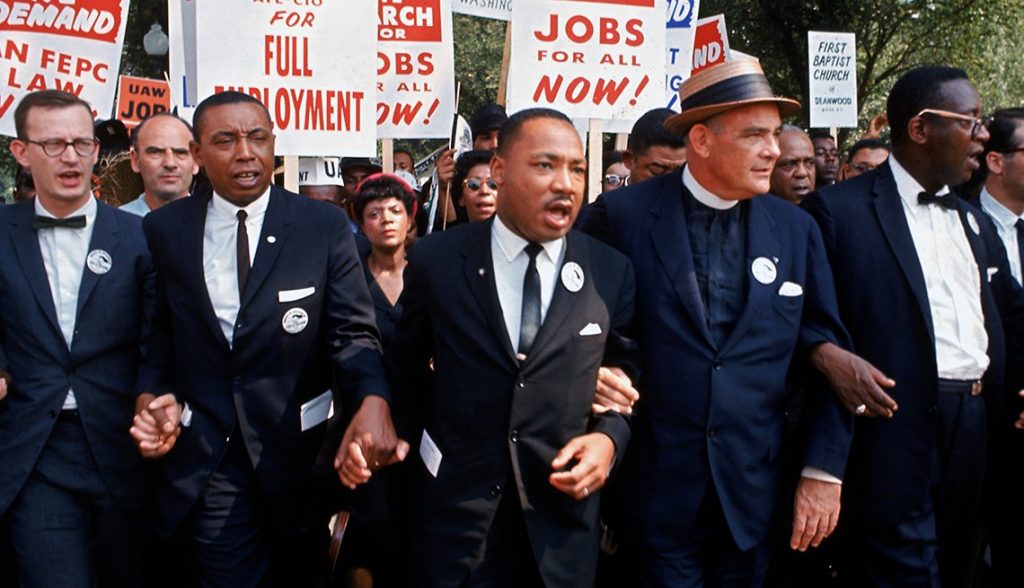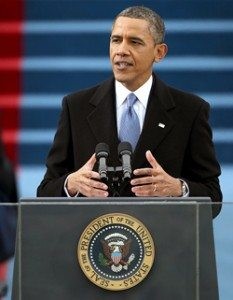 Today we continue a never-ending journey to bridge the meaning of those words with the realities of our time. For history tells us that while these truths may be self-evident, they've never been self-executing; that while freedom is a gift from God, it must be secured by His people here on Earth. https://obamawhitehouse.archives.gov/the-press-office/2013/01/21/inaugural-address-president-barack-obama
Hope for Freedom From the Pandemic
Over the last 15 months Americas and people around the world have been besieged by the deadly coronavirus (COVID-19). We have lost over 600,000 people.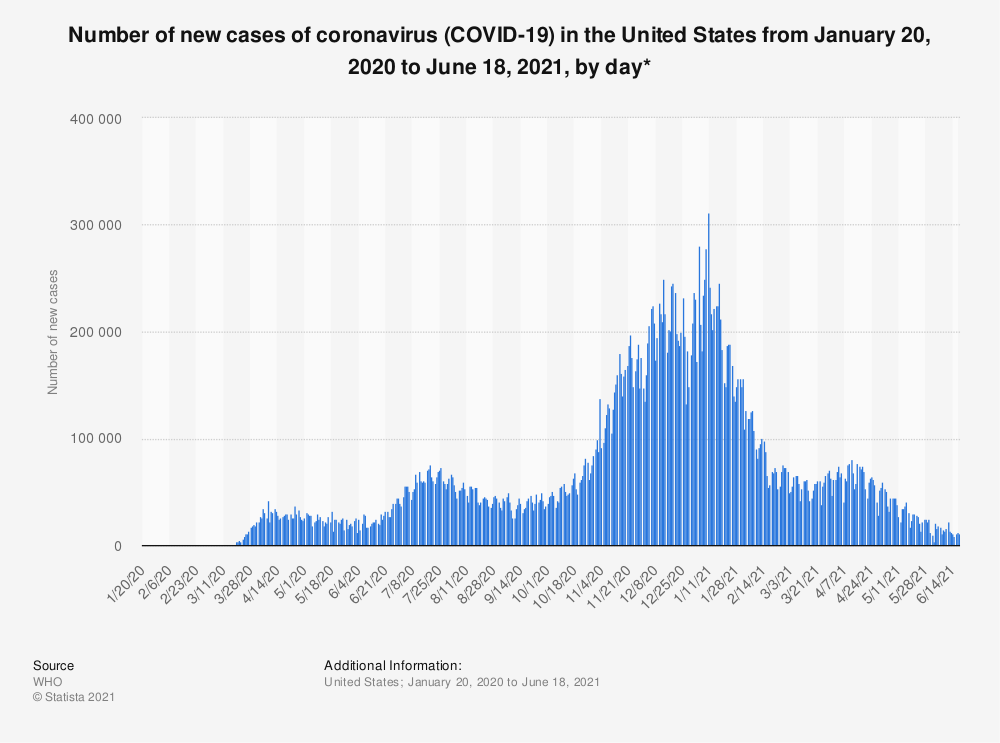 https://www.statista.com/statistics/1102816/coronavirus-covid19-cases-number-us-americans-by-day/
At this time in 2021, we face the approaching, much anticipated hope for freedom from the Pandemic. Again the most vulnerable and disadvantaged in our society (e.g., the elderly, the poor, the mentally ill, African Americans, Native Americans, and Latinos) have suffered the most loss, exemplifying inherent health and social inequities. According to Dr. Kirsten Bibbins-Domingo, Chair of UC San Francisco's Department of Epidemiology and Biostatistics:
The pandemic exposed the many vulnerabilities in our society, our inequities along age lines, along economic lines, along racial and ethnic lines. These were all factors that fueled the spread of the virus, and then led to disproportionate harms to these same communities that also were experiencing the effects of the economic crisis. [https://www.ucsf.edu/news/2021/03/420101/how-inequities-fueled-covid-19-pandemic-and-what-we-can-do-about-it]
Hope in Sharing the Delaration's Ideals
Does it have to be this way? Are those left behind forever excluded from "certain unalienable Rights, that among these are Life, Liberty and the pursuit of Happiness" proclaimed in theDeclaration of Independence? The simple, optimist answer is no. But, of course, the answer is more complex. We need a social, cultural, and political overhaul to uplift us all. As young Amanda Gorman read her inspiring poem, The Hill We Climb, at Joe Biden's January 20, 2021 Presidential Inauguration:
The Hill We Climb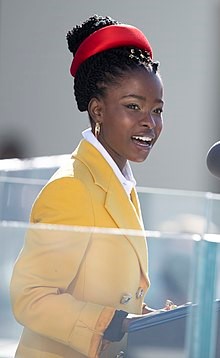 When day comes we ask ourselves,
where can we find light in this never-ending shade?….
We've learned that quiet isn't always peace
And the norms and notions
of what just is
Isn't always just-ice
And yet the dawn is ours….
a nation that isn't broken
but simply unfinished….
If we're to live up to our own time
Then victory won't lie in the blade
But in all the bridges we've made
That is the promised glade
The hill we climb….
It's because being American is more than a pride we inherit,
it's the past we step into
and how we repair it….
You can hear Amanda Gorman read her poem at https://youtu.be/LZ055ilIiN4.
Hope of Expanding the Ideals Expressed in the Declaration of Independence to All Americans
The June 29th article in The Washington Post, "The Justice Department is suing Georgia. Don't expect Garland to end there," gives us hope of expanding the Ideals expressed in the Declaration of Independence to All Americans.
https://www.washingtonpost.com/outlook/2021/06/29/merrick-garland-suing-georgia-voting/
Why? Attorney General Merrick B. Garland took the unsual step of using "his statutory authority to protect the right to vote: He announced he was suing the state of Georgia for enacting a law he said the legislature passed to deny Black people that right."
https://www.washingtonpost.com/outlook/2021/06/29/merrick-garland-suing-georgia-voting/
The purpose of the act is to "comprehensively revise elections and voting…." Among its numerous effects, the law: makes it more difficult to cast an absentee ballot; shifts early voting days; revamps how elections are run; limits drop boxes; bans voting buses; pool wathcers have more access to ballot counting; requires different forms of ID for absentee voting; bans handing food and drinks to voters waiting in line; requires a second Saturday of early voting in general elections; shortens early voting before runoffs, and orders faster vote-counting.
Before a 2013 Supreme Court decision in Shelby v. Holder Georgia first would have had to get the Justice Department's approval before implementing S.B. 202 in what was called preclearance. The Supreme Court decision "gutted Section 5" of the 1965 Voting Rights Act. In her dissent, "Justice Ruth Bader Ginsburgopined that 'throwing out preclearance when it has worked and is continuing to work to stop discriminatory changes is like throwing away your umbrella in a rainstorm because you are not getting wet.'" Obviously, Garlands thinks this is voter suppression. "Garland characterized the lawsuit as the 'first of many steps.' He intends to challenge other state laws that discriminate against minority voters."
https://www.washingtonpost.com/outlook/2021/06/29/merrick-garland-suing-georgia-voting/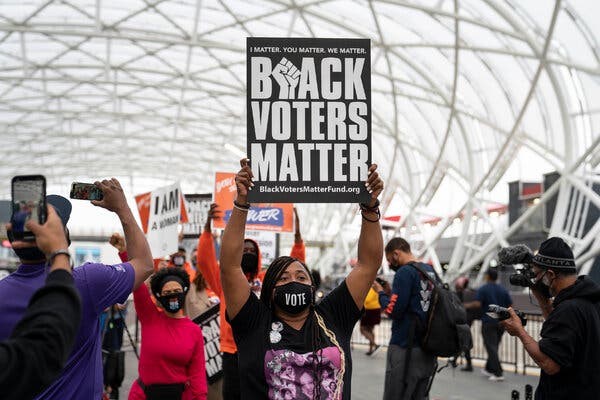 We are striving to forge a union with purpose
To compose a country committed to all cultures, colors, characters and conditions of man
And so we lift our gazes not to what stands between us
but what stands before us….