News of Slavery's End
Juneteenth, celebrated annually on June 19, is the oldest national c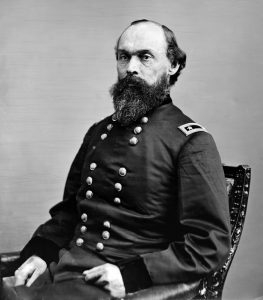 elebration of slavery's end in the United States. On June 19, 1865 Union Major General Gordon Granger and over 2,000 Union soldiers reached Galveston, Texas. Texas was the most western Confederate state. Granger publicly read General Order No. 3:
The people of Texas are informed that, in accordance with a proclamation from the Executive of the United States, all slaves are free. This involves an absolute equality of personal rights and rights of property between former masters and slaves, and the connection heretofore existing between them becomes that between employer and hired labor. The freedmen are advised to remain quietly at their present homes and work for wages. They are informed that they will not be allowed to collect at military posts and that they will not be supported in idleness either there or elsewhere.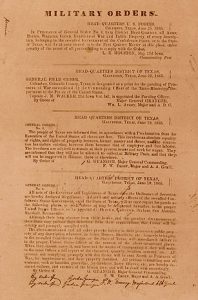 For the first time, the 250,000 former slaves in Texas learned that President Abraham Lincoln's Emancipation Proclamation, issued over two and a half years earlier on January 1, 1863, had freed them. Since there had been a relatively small number of Union troops in Texas to enforce it, the Emancipation Proclamation had a negligible effect on Texans until the arrival of Granger's regiment. Then there were enough forces to impact and overpower any resistance. Some of the former slaves were shocked, others were in disbelief, and many probably were apprehensive about their future. The rejoicing unshackled slaves of Texas started a tradition known as Juneteenth.
Theories
Why did it take so long for the slaves of Texas to hear the news of their
freedom? One of the theories is news just traveled slowly. Consider it took two months for Confederate soldiers in western Texas to learn of Robert E. Lee's surrender. What was behind the 30-month delay between Lincoln's proclamation and news of the enslaved people of Texas' freedom? Another theory is that various Texans suppressed the announcement. Others conjecture that the initial messenger was murdered to stop the news from getting to Texas or maybe the US government purposely delayed the news so that Texas slaveowners could harvest one more cotton crop. Perhaps a more credible reason is that Lincoln's proclamation just was not enforceable in the Confederacy until the war ended.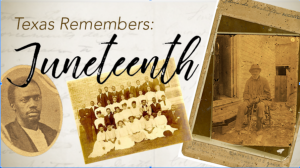 Juneteenth received its name by combining June and 19. The day also is known as "Juneteenth Independence Day," "Freedom Day" or "Emancipation Day." Texans quickly began Juneteenth celebrations. In time, bordering Southern states like Arkansas and Louisiana adopted the custom. As African Americans migrated from Texas, Juneteenth spread to other regions of the country. Over time its popularity has fluctuated as our society experienced Reconstruction, Jim Crow laws, the Civil Rights movement and other struggles combating racism.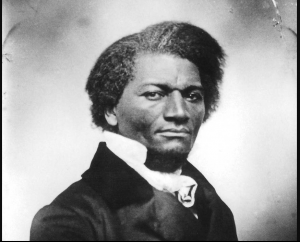 Many African Americans and others consider Juneteenth essentially as a second Independence Day. Abolitionist and escaped slave Frederick Douglass asked in his 1852 Independence Day oration: "What, to the American slave, is your 4th of July? I answer: a day that reveals to him, more than all other days in the year, the gross injustice and cruelty to which he is constant victim." According to Reverend Ronald V. Meyers, chairman of the National Juneteenth Observance Foundation, Juneteenth is a poignant holiday, "a time of celebration, but also a time of reflection, healing, and hopefully a time for the country to come together and deal with its slave legacy."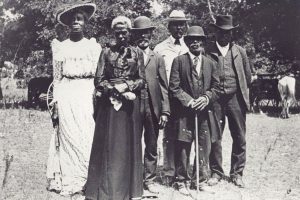 In 1872, some African-American ministers and businessmen in Houston bought 10 acres of land, creating Emancipation Park to host the holiday. While many African Americans in the late nineteenth century observed Juneteenth, Reconstruction and the Jim Crow era left few former Confederate states wanting to recognize it. Then with numerous African Americans migrating north Juneteenth "became a largely forgotten vestige of the Civil War era."
Juneteenth Celebration, 1905, in Richmond, VA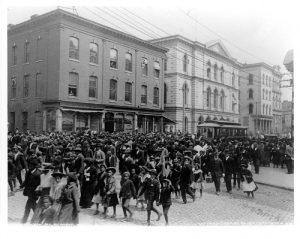 However, that has changed. Juneteenth.com tracks celebrations. Celebrations range from praying, making a pilgrimage to Galveston, to festivals, pig roasts, rodeos, and parades to public readings of the Emancipation Proclamation, singing traditional songs, reading the works of notable African-American writers like Ralph Ellison and Maya Angelou. San Francisco boasts one of the country's biggest Juneteenth celebrations. In the past, Minneapolis, Minnesota has enjoyed a large Juneteenth festival.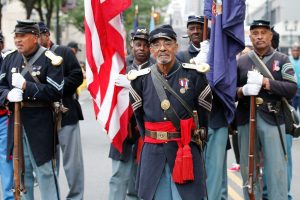 Houston, TX 2017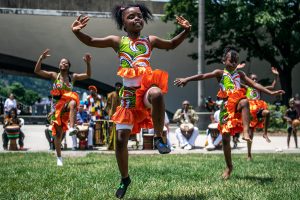 The Sankofa Village for the Arts drum and dance group performing during the Jubilee of Freemen Parade to celebrate Juneteenth at Point State Park in Pittsburgh. (Alexandra Wimley/Pittsburgh Post-Gazette, via Associated Press)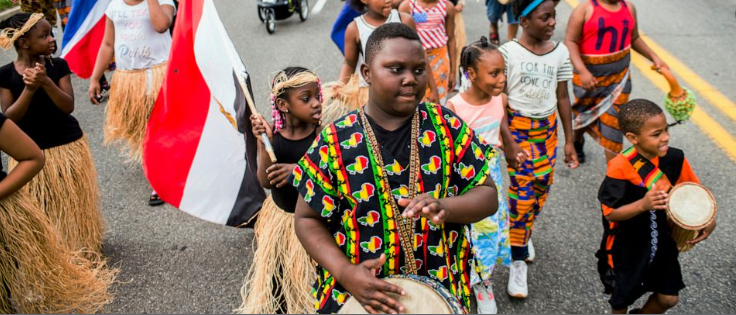 June 19, 2018, Zebiyan Fields, 11, drums alongside more than 20 kids at the front of the Juneteenth parade in Flint, Michigan.
Juneteenth Official Holiday
On January 1, 1980, through the work of Al Edwards, an African American state legislator, Texas became the first state to make Juneteenth an official state holiday. The National Juneteenth Observance Foundation reported that 45 states and the District of Columbia had enacted legislation by 2017 formally acknowledging the holiday. At a coronavirus briefing on June 16, 2020, Virginia Governor Ralph Northam announced that he plans to introduce legislation to make Juneteenth, a paid, state holiday. Edwards worked to make Juneteenth a national holiday. As a senator, Barack Obama co-sponsored similar legislation.
Juneteenth is assuming renewed prominence in 2020 especially given the death of George Floyd at the hands of Minneapolis police officers, the deaths of Breonna Taylor, Ahmaud Arbery and other African-Americans, prompting nationwide protests over police inhumanness and the Black Lives Matter Movement. "In recognizing the history of American freedom, advocates say, Juneteenth is as deserving of recognition as Independence Day." Reverend Meyers believes, "We [blacks and whites] may have gotten there in different ways and at different times, but you can't really celebrate freedom in America by just going with the Fourth of July." "Together we will see Juneteenth become a national day of observance in America!"
According to JUNETEENTH.com, "Juneteenth today, celebrates African American freedom and achievement, while encouraging continuous self-development and respect for all cultures. As it takes on a more national, symbolic, and even global perspective, the events of 1865 in Texas are not forgotten, for all of the roots tie back to this fertile soil from which a national day of pride is growing."
Juneteenth 2020 in Virginia
One Juneteenth event in Virginia is on June 20 at the Booker T. Washington Monument (12130 Booker T Washington Hwy, Hardy, VA 24101) from 11:00 am to 4:00 pm.
"Booker T. Washington National Monument hosts the annual Juneteenth Celebration of Freedom and Gospel Music. Everyone is invited to share in the fellowship, fun, and festivities as our community comes together to celebrate one of the most important moments in our nation's history, the moment of emancipation."
On Saturday, June 20 at 5 pm, the "Elegba Folklore Society will present "Juneteenth 2020, A Freedom Celebration" virtually from Richmond, Virginia. The theme, Independence Day Our Way, invites attendees to have a good time at a holiday backyard party, to engage in culture and history, to circle up in community, feel empowered, feel joyful and consider what matters. The platforms will be Facebook, YouTube and Vimeo. The event will feature performances by Plunky Branch, Sam Reed and Elegba Folklore Society's African dancers and drummers with theatrical performances featuring J. Ron Fleming. Attendees can enjoy cooking demonstrations and tastings, shopping, of course, ceremonies, craft making for children and the Get Woke Youth Summit, commentaries, some cameo appearances from our international family and an Independence Day Our Way musical blend by celebrity music meister, DJ Drake keeping the party going in the backyard."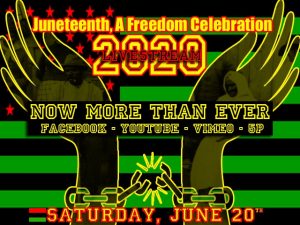 "Montpelier, OCAAHS, and OCA have created a website featuring the performers, vendors, reenactors, and historical information that make up the core of the Juneteenth Celebration. Learn about African American history at Montpelier and throughout Orange County; celebrate Juneteenth by watching and interacting with performers, musicians, historical interpreters, and artists; support local artists and businesses by buying from Juneteenth vendors; reunite with family, teammates, scouts, and friends; and connect with local community groups. The website can be found at https://ocaahsjuneteenth.org/."
"Also as part of Juneteenth, Montpelier will host three virtual events: a book talk on June 18 with birder, naturalist, and hunter-conservationist Dr. Drew Lanham, who will discuss his book The Home Place: Memoirs of a Colored Man's Love Affair with Nature and his collection of poems from Sparrow Envy and elsewhere; a walking tour on June 20 of sites of Emancipation at Montpelier with Dr. Matthew Reeves, Montpelier's Director of Archaeology and Landscape Restoration; and a book talk on June 25 with descendant, author, and historian Dr. Bettye Kearse, who will discuss her book The Other Madisons: The Lost History of a President's Black Family. To register for any of these events, visit either the Juneteenth website at https://ocaahsjuneteenth.org/celebrate/ or Montpelier's website at https://www.montpelier.org/events."
Selected Sources
https://www.usatoday.com/story/news/nation/2020/06/13/what-juneteenth-holiday-celebrates-end-slavery-us/5333204002/
CHECK OUT SMITHSONIANMAG.COM AT
https://www.smithsonianmag.com/history/juneteenth-our-other-independence-day-16340952/
History of the Modern Juneteenth Movement
http://nationaljuneteenth.com/Juneteenth_Movement.html
Juneteenth: Our Other Independence Day, https://thumbs-prod.si-cdn.com/a7py0iURNAuurdfUYNRkfclDtL4=/800×600/filters:no_upscale()/https://public-media.si-cdn.com/filer/9b/84/9b847d55-6014-4542-9641-e46e75f97d33/emancipation_day.png
See Juneteenth Event, https://www.virginia.org/Listings/Events/JuneteenthEvent/, for slides of the Booker T. Washington Monument annual event in Virginia.
Click here https://efsinc.org/events/festivals/juneteenth/ for a look at past Elegba Folklore Society celebrations
Watch a video of Montpelier's 2017 celebration at https://www.montpelier.org/events/2nd-annual-juneteenth-celebration-at-james-madison-s-montpelier
What is Juneteenth? It could become a state holiday in Virginia,
https://www.wsls.com/news/local/2020/06/16/what-is-juneteenth-it-could-become-a-state-holiday-in-virginia/
Northam announces support for Juneteenth as official Virginia holiday celebrating the end of slavery
https://www.washingtonpost.com/local/virginia-politics/northam-juneteenth-holiday-slavery-virginia/2020/06/16/4b7da72a-afdd-11ea-8f56-63f38c990077_story.html
https://www.washingtonpost.com/video/local/northam-calls-for-making-juneteenth-a-state-holiday/2020/06/16/0b7185e5-2e25-4412-a915-92469d862df8_video.html
https://www.wtvr.com/on-air/virginia-this-morning/elegba-folklore-society-to-host-virtual-juneteenth-2020-celebration-saturday