This week for our By Teens, For Teens blog post, VolunTEEN Elaina S., age 15. has written two book reviews for you. Although both of these books are classified as "adult" books, they (obviously) have teen appeal. Check them out!
---
Book Review: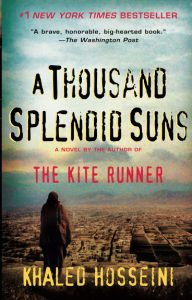 A Thousand Splendid Suns by Khaled Hosseini
Rating: 5 out of 5 stars
A Thousand Splendid Suns by Khaled Hosseini was originally a book that I was assigned to read for school and didn't think I would end up enjoying; however, I was wrong. A Thousand Splendid Suns is a novel that takes place over multiple decades and tells the story of two women, Mariam and Laila. Throughout the novel, the women are brought together by the destruction from the Taliban in Afghanistan, and together fight to survive and thrive in a home that only challenges them.
After reading this book, I rate A Thousand Splendid Suns 5 stars out of 5 stars. This book was beautifully written and portrayed and brought so many emotions out of me. Before reading the book, I knew a little about the history of Afghanistan, but this book helped paint a picture of the results and destruction that the Taliban takeover in Afghanistan caused. A Thousand Splendid Suns opened my eyes to the experiences that different people in different countries face and allowed me to empathize with the Afghan people and want to learn more about events going on around the world. The book reveals the oppression of women in Afghanistan and the tragic ways in which they are treated. I commend Hosseini for portraying the characters as he did, showing the true internal strength and resilience that women have. This portrayal is truly moving and remarkably inspiring.
One of my favorite aspects of A Thousand Splendid Suns is the relationship that develops between Mariam and Laila. They become each other's family and help each other get through the challenges that they face.  A Thousand Splendid Suns is a tragic, heart-wrenching, yet breathtaking book that evokes so many emotions. I don't usually cry while reading books, but this book changed that. Overall, I would highly recommend reading A Thousand Splendid Suns by Khaled Hosseini, and once you do, you will rank the book 5 stars too.
---
Book Review: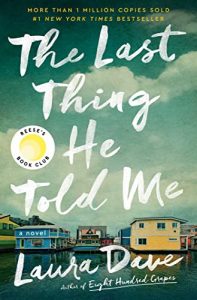 The Last Thing He Told Me by Laura Dave
Rating: 3 out of 5 stars
The Last Thing He Told Me by Laura Dave is about a woman, Hannah, whose husband, Owen, goes missing right after he gave Hannah a note that said: "protect her." The story involves Hannah and her stepdaughter, Bailey, discovering the truth behind Owen's past. After finishing the book, I would rate this story 3 stars out of 5 stars. My favorite aspect of the book was the developed relationship between Hannah and Bailey. Their relationship was very touching, especially with how they relied on each other and Bailey opened up to Hannah and vice versa. The growing bond between the two ladies that started as problematic and mistrust turned into something heartwarming and I thoroughly enjoyed it.
I loved how the story incorporated flashbacks to tell the past of Owen and these flashbacks made the book more interesting.  I thought that certain aspects of the book were captivating and intriguing, however, some parts of the book felt flat and slow, with unrealistic and unbelievable aspects as well. But overall, I was attached to the plot and wanted to know what happened on the next page. I was disappointed by the ending and expected something more impactful. I also thought that Hannah, the main character, was a bit bland and lacked depth.
Overall, I would rate The Last Thing He Told Me 3 stars because it was not an awful book and there were aspects that I enjoyed. But I also feel as though nothing causes this book to stand out and it falls flat in the middle. In conclusion, I would recommend trying out The Last Thing He Told Me because it was enjoyable and had certain aspects that I might not like, but other people might love. If you love reading mysteries, I would recommend this book.
If you would like to contribute to our blog or learn more about becoming a VolunTEEN visit https://rvalibrary.org/teens/volunteen/ for all the info and to apply!