By now I hope you've read our previous By Teens, For Teens blog posts and are starting to look forward to them! This series is all teen-created content and makes it that much more awesome (IMHO). This month we have a two-for-one deal with a book review and read-alikes list both by Elaina S., age 15. Please enjoy!
---
Book Review:
The Chase by Elle Kennedy
Rating: 4 out of 5 stars
The Chase by Elle Kennedy is about a wealthy college student, Summer Heyward-Di Laurentis, and her life living with her crush, Colin Fitzgerald. As someone whose favorite genre of books is realistic fiction and as someone who also loves romantic books, I enjoyed The Chase. One of my favorite aspects of the book was the constant push and pull and the slow burn between the two characters. There are times where they help each other out and progress their relationship further. Then there are other times where both Colin and Summer cause a digression in their relationship. This push and pull made the story very interesting and pushed me to continue to read the book. I also really loved this book because of how much I related to Summer. Throughout the story, Summer suffers from a lot of insecurities and this plays a part in how she made her decisions. For instance, Hunter, one of her other roommates, has a crush on her. Colin does not make it apparent that he has feelings for Summer, so Summer decides to take a chance with Hunter. Even though she does have feelings for Hunter in the way that she has feelings for Colin, she still goes along with it. All she ever wanted was to be wanted by somebody, which is something that I can heavily relate to. However, this aspect of Summer annoyed me because she is leading Hunter on even when she knows that Colin was the one who truly has her heart. There were also aspects of Colin's character that I did not enjoy and I wish he could have been portrayed in a better light. The last part of the book in my opinion was a lot better than the earlier parts, which is another reason why I gave it the rating I did. Overall, I thoroughly enjoyed the romance and the fighting off feelings between both characters and the whole book in general.
---
Read-alikes List:
Karen M. McManus's book, One of Us Is Lying, has been described by School Library Journal as "A smart, twisted, and unpredictable YA mystery that will have readers guessing until the very end." If you loved this title (or love books like this), then check out this read-alikes list full of suspenseful thrillers!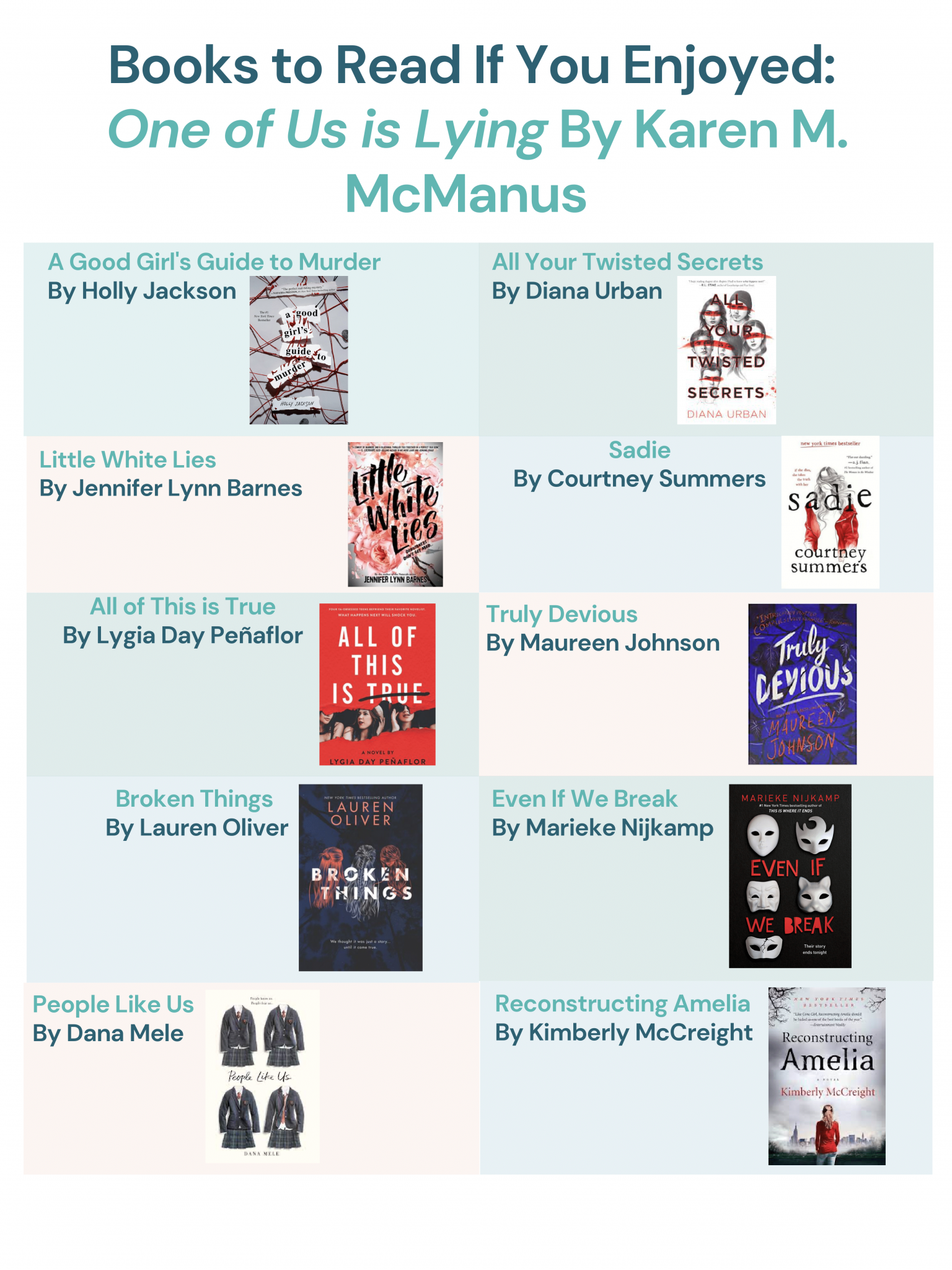 A Good Girl's Guide to Murder by Holly Jackson
Little White Lies by Jennifer Lynn Barnes
All of This is True by Lygia Day Peñaflor
Broken Things by Lauren Oliver
People Like Us by Dana Mele
All Your Twisted Secrets by Diana Urban
Sadie by Courtney Summers
Truly Devious by Maureen Johnson
Even if We Break by Marieke Nijkamp
Reconstructing Amelia by Kimberly McCreight
If you would like to contribute to our blog or learn more about becoming a VolunTEEN visit https://rvalibrary.org/teens/volunteen/ for all the info and to apply!