MUSIC OF THE MONTH IS A MONTHLY ROUND-UP OF RPL'S MUSIC-RELATED PROGRAMS AND RESOURCES.
Gellman Room Concerts
The 2021-2022 Gellman Room Concert season is here! You can always watch past concerts on RPL's YouTube page.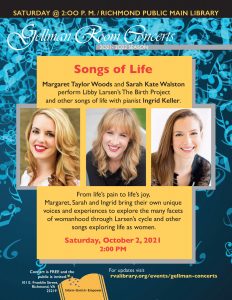 SATURDAY, October 2 at 2:00 pm:
"The Birth Project" by Libby Larsen (a Richmond premiere) and songs of life presented by Margaret Taylor Woods, soprano, Sarah Kate Walston, soprano, and Ingrid Keller, piano. The concert is free and open to the public. Livestreaming will not be available.
From Our Collections
Each year, Hispanic Heritage Month runs from September 15th to October 15th. RPL's collections contain many interesting sources for learning about music from multiple places in our hemisphere where the Spanish language is spoken, along with many other indigenous and European languages. Broadly speaking, there is very little music that comes from somewhere in the Americas that is not influenced by a Spanish language tradition. Examples abound, from the Afro-Caribbean beats developed in Cuba that undergirded Bo Diddley's rock n' roll and Mexican folk music whose influence observed no borders in the Southwest, to the classical compositions of Latin American-born composers of the 19th and 20th centuries and the heavy influence of salsa and Caribbean dance music on pop music.
RPL has tons of resources related to music from the Spanish-speaking world. You can begin your search here, but don't forget about Hoopla's huge music collection!
"Las Mañanitas" is a folk song of Mexican origin sung during birthdays and other celebrations. Below is a recording of "Las Mañanitas" by the Roger Wagner Chorale on Songs of Latin America, a vinyl record in the library's collection and sheet music for the song from 25 Favorite Latin-American Songs arranged for voice and piano by Miguel Sandoval.
LasMananitas

Staff Playlist
Nae D. shared: "The first Spanish song that I remember falling in love with was "Suavemente" by Elvis Crespo. Since then, Shakira, Don Omar, Louis Fonsi, Daddy Yankee, Pitbull, Kris y Angel, and Bad Bunny have been favorites. I am also completely OBSESSED with the entire movie and soundtrack to In The Heights. (actually listening to an "In The Heights" station on Pandora right this moment!) Anything written by Lin Manuel Miranda es perfecto."
Laura P. shared: "My favs: Vicente Fernández, Celia Cruz, Maná, Juan Luis Guerra, the soundtrack from Amores Perros, Victor Manuelle, and the unmistakable sound of Chálino Sanchez. Paquita la del Barrio, Tito Puente, Aventura!"
And Lisa C. shared: "Can't leave out Carlos Santana and Ruben Blades. Los Lobos, The Mavericks and newly discovered (for me) Grupo Fantasma are faves."