Starting this past September we've been offering a virtual comics meeting where we talk about, share, and create comics together! If you missed the last Tween Comics Club or just want to see what we're all about, stay tuned.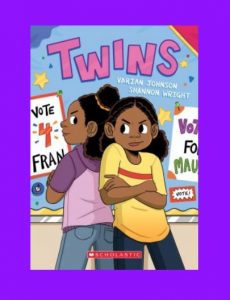 We were lucky enough to be joined by local illustrator and comics creator, Shannon Wright, at our October Tween Comics Club meeting. She talked to us about her creative process, getting inspired by life and her family, working as a comics artist, and co-creating Twins with Varian Johnson. 
Twins is a juvenile graphic novel that just came out this fall, about two twins and best friends, Maureen and Francine. But everything changes at the start of sixth grade. The girls are in different classes, different lunches and can't stop fighting. Francine becomes 'Fran' and changes her fashion to set her apart from her twin. Maureen just wants things to go back to how they were, but can the sisters reconcile when it's not just a differing schedule that keeps them apart, but secrets?
Check out the interview with Shannon below:
If you've already read Twins, here are some other graphic novels you might enjoy: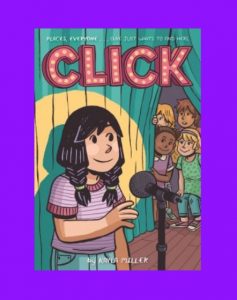 Just like Maureen and Francine, Olive in Click by Kayla Miller is trying to find where she belongs. Olive has never had difficulty making friends, but she doesn't have that 'best friend' like all of her classmates. When an upcoming school variety show highlights everyone else's cliques, Olive doesn't know how to feel or what to perform as her own talent.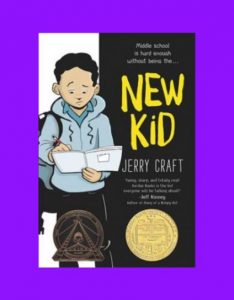 In New Kid by Jerry Craft, Jordan starts 7th grade at a new private school that is full of rich and mostly white privileged kids. Being one of the only black kids at the school doesn't make fitting in and going unnoticed any easier. Jordan gets through the day with a few close friends and drawing hilarious comics about his experiences.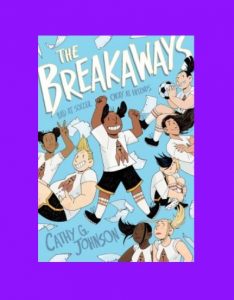 The Breakaways by Cathy G. Johnson also starts at the beginning of a new school year. Faith is anxious about fitting in at Middle School, but is quickly roped into joining the soccer team by a popular 8th grader. But, since Faith has never played soccer before, she is put on the C team with the rest of the ragtag misfits. They may be bad at soccer but they're okay at friendship!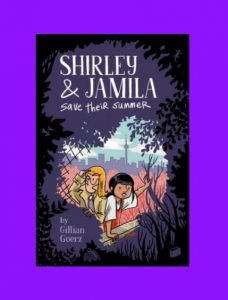 The namesakes of Shirley & Jamila Save Their Summer by Gillian Goerz, meet after Jamila and her family move to the neighborhood. Both destined to spend their summers at dreaded summer camps, the duo convinces their parents to let them spend their break together going to the local basketball court where Jamila shoots hoops and Shirley… solves mysteries for neighborhood kids!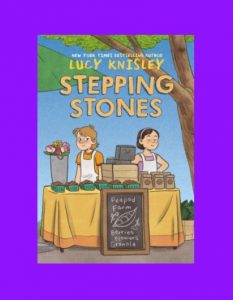 This is another story of two very different kids learning to get along. Stepping Stones by Lucy Knisley is about Jen being uprooted from the city and plopped in the country. Not only is she expected to learn farm chores, but she has to put up with her new perfect-at-everything "sister".
[Want to see the next interview we did with Paulina Ganucheau and get some more graphic novel recommendations? Then check out this next blog post.]
+++++
If you'd like to attend the next club meeting where we talk to local illustrator, Paulina Ganucheau, reserve your spot through the RPL calendar.