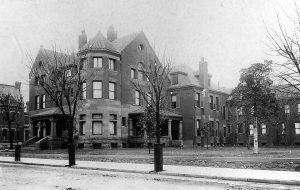 The history of Richmond Public Library began a century before the first library building opened. The library timeline is a fascinating glimpse of readers (and movers and shakers) of a bygone Richmond.
Although there were other libraries in Richmond, the first actual public library was located at 901 W. Franklin St., the former home of Major Lewis Ginter. It opened in 1924 with a collection of 20,000 volumes, donated by families, previous iterations of libraries, and collections that had been held, waiting for a "public" library in Richmond. The public library of early 20th century Richmond was very different from today's vibrant community hub. What was that first library like? The building now houses administrative offices for VCU. Many of the period details: "decorative woodwork, ornate fireplaces, stained glass windows, leather wallpaper, and historically significant wrought iron details" are still intact.
I wondered about the readers who frequented that intimidating building (leather wallpaper?!?) with its collection of books that had been waiting for a home. What books were they reading? Uplifting titles? Classic "lit-rah-chure"? Or something just for fun, perhaps. The bestselling fiction title for 1924 was So Big by Edna Ferber. RPL currently owns a copy of this book. The bestseller for 1925, the next year in the RPL Timeline was Soundings by A. Hamilton Gibbs. RPL has it. To my delight, RPL owns copies of the bestselling fiction title for every year listed in the RPL timeline.
An idea formed. Not just a booklist, but a snapshot of that year in Richmond: what fiction title was the bestseller that year? What was the top-grossing movie? The number one song? What event dominated the news in Richmond? What "future famous" people were born that year? How much did a gallon of gas cost?
You can find answers to all of those burning questions in the RPL Moments in Time booklist.