So when I say "slice of life," you might be wondering what that means in terms of genre. In slice-of-life fiction, the story focuses on a short episode in a character's life, usually incorporating mundane aspects of their daily routine as a way to discuss the character's interior world. It doesn't generally emphasize plot development (or it at least always plays second fiddle to character development). Slice-of-life graphic novels have this way of always feeling cozy; even when characters are dealing with tough topics, those topics are human-sized and usually catalyze growth and resilience. Here are some of my favorites (with an assist from comics extraordinaire Robyn W.) for kids, teens, and adults.
For kids: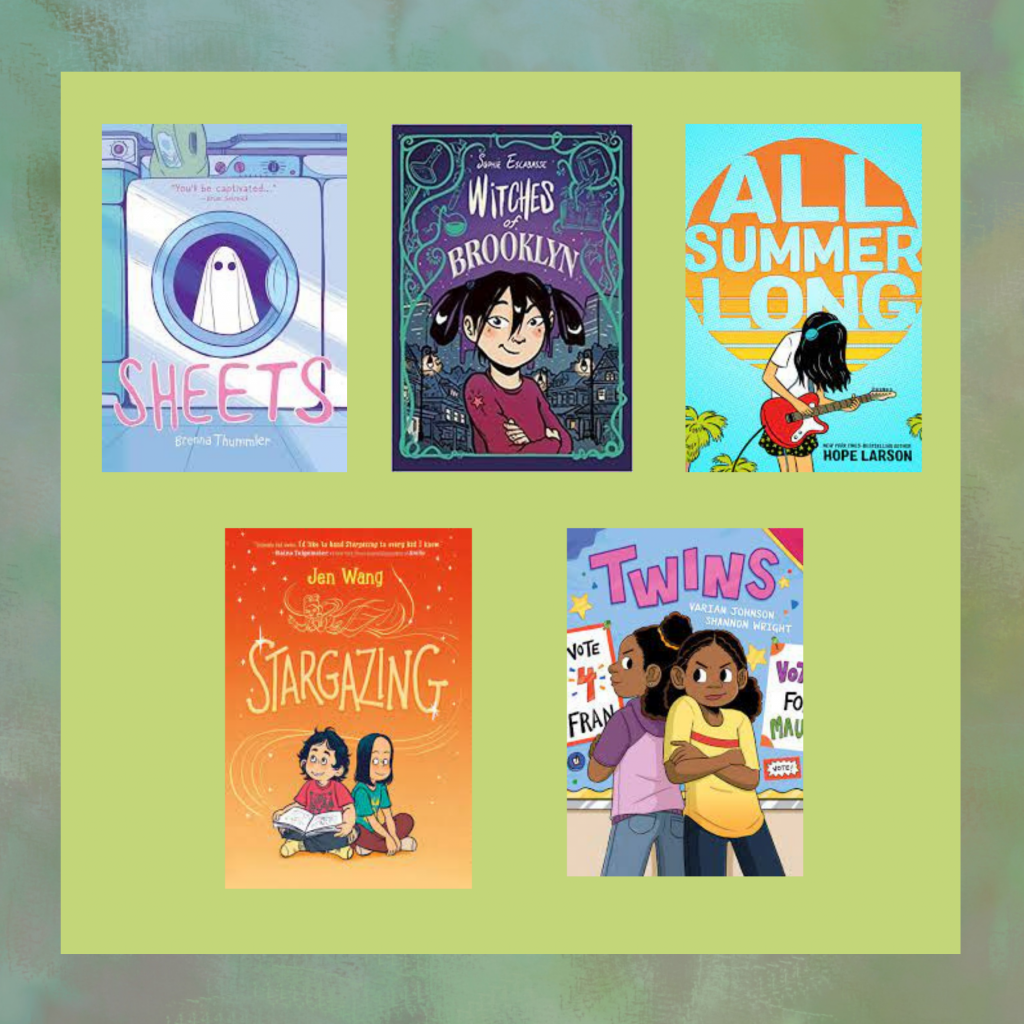 Sheets, by Brenna Thummler: Marjorie Glatt's got a lot going on: she manages her family's laundry business, takes care of her little brother, and tries to avoid the attention of the mean girls in her swim class. She just barely manages to balance all of her responsibilities–until a ghost moves into her family's shop, upending everything. Thummler's use of washed out color makes for a beautiful visual experience that mirrors Marjorie's feelings.
Witches of Brooklyn, by Sophie Escabasse: When Effie movies in with her aunts in Brooklyn, she learns her family's a lot more magical than she thought! While there's a fantastical bent to this one, Witches of Brooklyn is really about Effie's adjustment to her new school and home environment–and how her newfound knowledge of her family's history changes her memories of her mother.
All Summer Long, by Hope Larson: This is a fun little story about lifelong buddies Bina and Austin, who are spending their first summer break apart. Austin goes off to camp, leaving Bina to fend for herself. At first she's bored, until she starts making new friends. Can Bina and Austin's friendship withstand the summer?
Stargazing, by Jen Wang: Delightfully, vibrantly illustrated, Stargazing is a juvenile graphic novel about friendship, empathy, and understanding. At first nervous about the weird girl and her mom moving into the guest house, Christine and Moon soon become fast friends even though growing up in the same Chinese-American suburb seems to be the only thing they have in common. When their friendship is tested by a catastrophe, can Christine be the friend that Moon needs? At turns hilarious, heart-breaking, and heartwarming, this is a fantastic comic!
Twins, by Varian Johnson and Shannon Wright: Maureen and Francine have always been twins with a capital T. While they've always done everything together–school projects, hobbies–they've also always been their own people: Maureen is shy and studious, Francine is outgoing and confident. But when they get to middle school, their differences are thrown into stark relief–particularly when they both decide to run for class president.
For teens: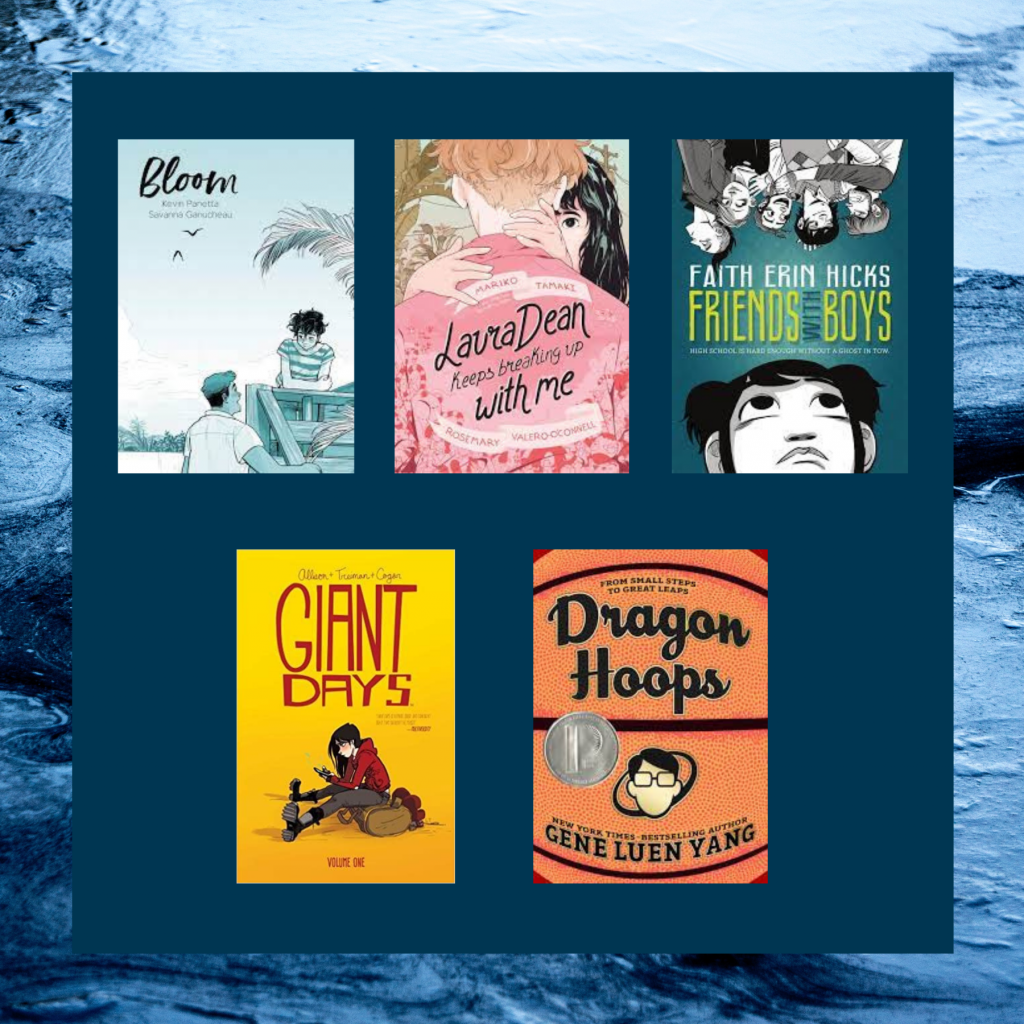 Bloom, by Kevin Panetta and Savanna Ganucheau: Ari is at a crossroads: Should he move to Baltimore with his band after high school, or keep working at his family's bakery? There's a lot to love about this book, including its serene color palette and its many images of tasty Greek pastries (why does cartoon food always look even more appealing than actual food?). But teen readers will also enjoy watching Ari figure out his future and his friendships at a time when life typically feels uncertain.
Laura Dean Keeps Breaking Up with Me, by Mariko Tamaki: With gorgeous artwork and charming use of spot-color, artist Rosemary Valero-O'Connell captures the feelings of infatuation, heart-break, and changing as one grows up that weave through Mariko Tamaki's young adult story. Freddy is stuck in a loop with her (incredibly cute, incredibly popular) on-again off-again girlfriend, Laura Dean. Her friends don't understand why Freddy keeps going back when Laura often treats her poorly, but all Freddy wants is for Laura Dean to stop breaking up with her!
Friends with Boys, by Faith Erin Hicks: Do you enjoy maritime ghosts? I know I do! They're a B-plot in this story about Maggie McKay, a brand-new high schooler who's leaving behind the world of homeschooling. Most of Maggie's hurdles are things we've all dealt with, like figuring out the territorial boundaries of the school cafeteria and finding our people. But Maggie also deals with some heavy stuff, like bullying and the recent absence of her mother. Lovely art in this one, enhanced by low-key ghost spookiness and beautifully illustrated autumn scenes.
Giant Days, by John Allison: Giant Days is technically a comic rather than a self-contained graphic novel, but at 54 issues, that just means there's more to love (although still not enough). It follows Esther de Groot, Susan Ptolemy, and Daisy Wooten through their college years at the University of Sheffield. This being a John Allison series, Giant Days has tons of witty banter and wacky hijinks, but with underlying themes of self-discovery and, y'know, friendship. (If you enjoy this, you'd probably also enjoy Bad Machinery, Steeple, or anything else John Allison has written in his whole life.)
Dragon Hoops, by Gene Luen Yang: This book is not about sports! But it's also kind of about sports–a little bit. That didn't stop me, an avowed "meh sports" person, from liking it. Yang is writing about a high school basketball team's quest for a state championship, but he's a lot more interested in talking about each teammate's background and aspirations, and how the game is a prism for achievement and collaboration for them.
For adults: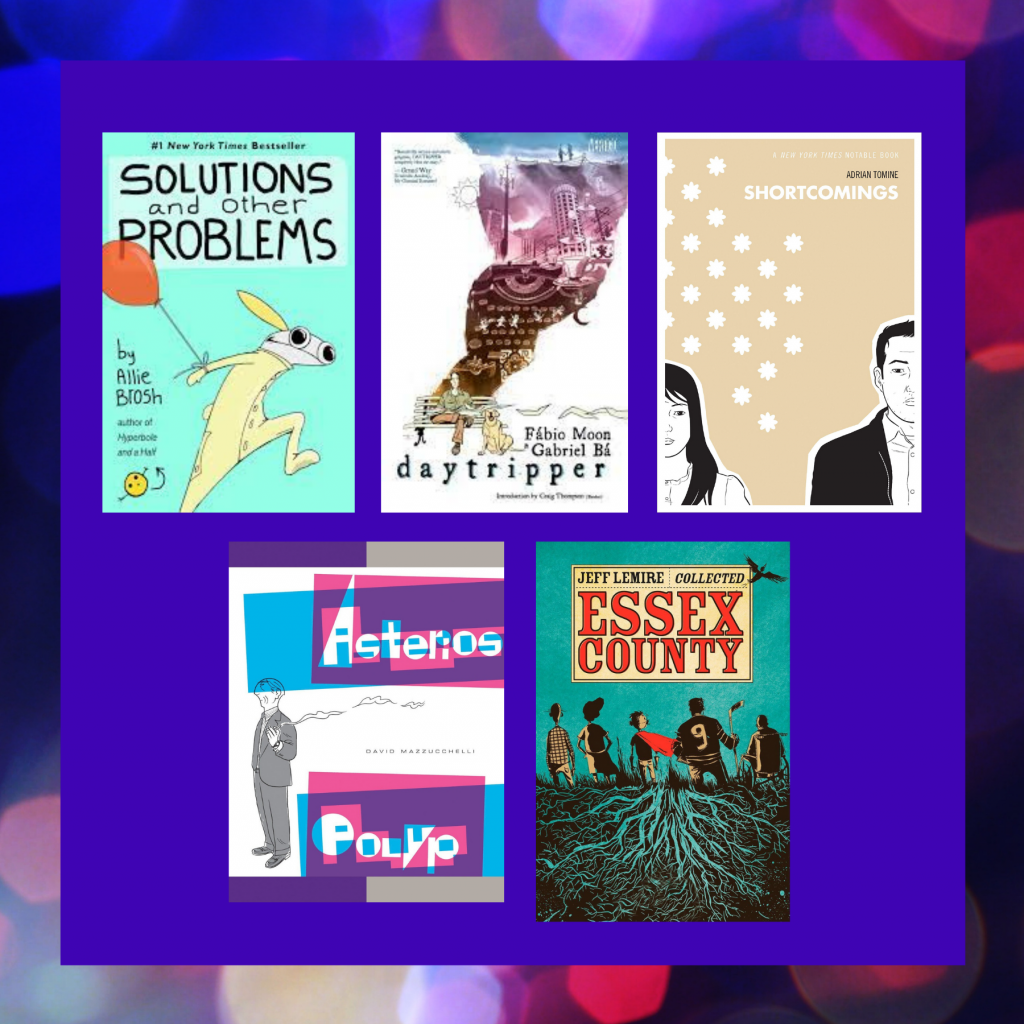 Solutions and Other Problems, by Allie Brosh: This the superb follow-up to Brosh's amazing Hyperbole and a Half. In this volume, Brosh has perfected the art of juxtaposing (what looks like) haphazard, childlike illustration with sophisticated humor. But like her first book, Brosh still sources a lot of her humor from universally understandable things: the incomprehensible weirdness of stuff you did as a kid, how pets are jerks sometimes, and grief. She also takes a couple hundred pages to get to the punchline of one of the book's best jokes, and you should pick it up for that alone.
Daytripper, by Fábio Moon and Gabriel Bá: We all sometimes wonder about the divergent paths our lives could take if we had just done this thing instead of that thing, or turned down X opportunity instead of taking it. In Daytripper, a story about the many lives and deaths of Brás de Olivias Dominguez, we get to glimpse his possible futures–if only he hadn't died at 21, or 32, or 41. The story is nonlinear, popping into Brás' life at pivotal points to show us how much his life evolves and deepens–how, when given the opportunity, he is able to move out from his famous father's shadow and become confident in his own talents. It's a dreamscape of a tale.
Shortcomings, by Adrian Tomine: Shortcomings is a tough one. It presents the reader with a character who is ultimately frustrating and unlikable, but his journey in this story is a very worthwhile meditation on race and its impact on romantic relationships and personality. Ben Tanaka and his girlfriend, Miko Hayashi, are on the rocks. The more Miko embraces her Asian heritage, the more Ben seems to pull away. Shortcomings discusses the extent to which those two developments are and aren't linked.
Asterios Polyp, by David Mazzucchelli: Asterios Polyp has a well-deserved reputation as one of the best graphic novels of all time. Asterios, the protagonist, is an uppity architect who reassesses his life choices and his own character flaws after losing everything in a fire. But to my mind, the beating heart of this book is his relationship with his former spouse, the kind and good-natured Hana. The lush visuals and the storyline in this book are a perfect marriage of form and content, working together seamlessly to build out these characters and their feelings about everything: each other, art, and life.
Essex County, by Jeff Lemire: Here, Lemire gives us three linked short stories: "Tales from the Farm," "Ghost Stories," and "The Country Nurse." All three take place in a fictionalized version of Lemire's small Canadian hometown, and all revolve in some way around the fractured LeBeuf family. In the first, we meet Lester, a lonely boy who lives on his uncle's farm and who befriends Jimmy LeBeuf, the owner of a local gas station. In the second, we meet the brothers LeBeuf, Vince and Lou, who leave their small town to play hockey in Toronto. And in the third, we meet Anne Queenville, a nurse acquainted with both Lou and Jimmy. All three stories address a central theme, though: how the great aspirations we have are often scaled down by the realities of life, but that doesn't mean they're forgotten.
Pick any of these up today at your local branch or on Hoopla. Happy reading!