National Hispanic Heritage Month was established in 1968 as "Hispanic Heritage Week" under President Lyndon Johnson and was expanded by President Ronald Reagan in in 1988 to cover a 30-day period starting on September 15 and ending on October 15.  It was enacted into law on August 17, 1988, on the approval of Public Law 100-402. 
Visit the official National Hispanic Heritage Month website to find out more information, including why the commemorative "month" starts on September 15th.
---
The mission of the Richmond Public Library is to inform, enrich, and empower Richmond's residents: to enrich lives and expand opportunities for all citizens by promoting reading and the active use of cultural, intellectual, and information resources through a dedication to excellence and professional service.

RPL has a lot to offer to all Richmond area residents, all year long.  Of particular interest during National Hispanic Heritage month:
Our BROAD ROCK branch library has 3 bilingual staff, a collection of books in Spanish, and a bilingual notary.
HISPANIC HERITAGE MONTH PROGRAMS include: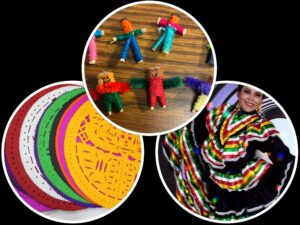 Make Your Own Papel Picado throughout Hispanic Heritage Month at the Belmont branch library children's department.  Create beautiful "cut paper" designs. (intended for grades K-6)
Mexican Folk Jarocho dance performance on Saturday, September 23rd from 3:00-4:00 at the Broad Rock branch library.  Bilingual event / Evento bilingue. (for all ages) 
Worry Doll Workshop on Monday October 2nd from 4:30-5:30  at the Broad Rock branch library. Learn how to make Guatemalan worry dolls. (intended for grades K-5)
---
The Richmond Public Library offers "premium content" resources available with a library card.  Don't have a Richmond Public Library card?  Find out how to get one here.  Resources of particular interest to patrons who speak Spanish (or want to learn or improve Spanish) include:   
HOOPLA borrow up to 8 items per month from a vast collection of audiobooks, eBooks, comic, movies, TV, magazines, and music.  Click on Explore Hoopla→Advanced Search→limit by language (Spanish) and find almost 55K eBooks and more. Don't forget to look for Binge Pass Cuentos Para Ninos en Español – one week of unlimited check outs!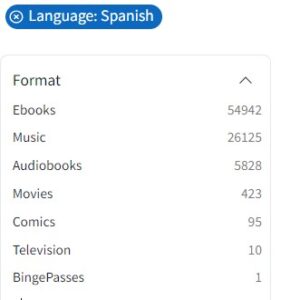 LIBBY (OVERDRIVE) click on search menu (three vertical bars "hamburger") to limit by subject, format, audience, and language, including Spanish.
MAGZTER the world's largest digital newsstand.  Many languages available, including Spanish.
HISPANIC LIFE IN AMERICA  comprehensive coverage of the Hispanic American experience from the early 18th century to the present.  Search instructions in English and Spanish.  
TRANSPARENT LANGUAGE ONLINE for English speakers looking to learn another language.  Available for adult learners or "kidspeak" mode for younger learners.  Create an account to keep track of progress.
BRAIN FUSE  on demand, anytime, elearning.  The Adult Learning Center includes preparing for US Citizenship test, and The Foreign Language Lab has Spanish-speaking support.
READ IT was created for those with a foundation in English grammar and reading skills, but articles are short and written to support emerging reading skills.
Looking beyond RPL, Richmond offers many programs and services to area residents, many of them of special interest to those of Hispanic heritage, including:
CITY OF RICHMOND – the city's official website is available in many languages, including Spanish (pull down menu at bottom of page "seleccione el idioma".  Of particular interest is the Office of Immigrant and Refugee Engagement – OIRE has a vision to be a model of a multicultural integrated city, and a mission to increase access to city and community services and resources.
LATINOS EN VA – RICHMOND – an information provider focusing on the Hispanic community in and around Richmond and central Virginia
RICHMOND LEAGUE OF UNITED LATIN AMERICAN CITIZENS – has a goal of improving the lives of the Latino community in Richmond, Henrico, and Chesterfield, with a specific focus on improving the education of Latino students in area schools.
VIRGINIA HISPANIC CHAMBER OF COMMERCE – with a mission to build economic bridges throughout the community in order to create, promote, and enhance new business opportunities for members and partners.
VIRGINIA HISPANIC FOUNDATION – the mission of the Virginia Hispanic Foundation is to provide the Hispanic community with education, information, and resources to successfully integrate themselves into the Commonwealth of Virginia. 
VIRGINIA NAVIGATOR  – a statewide nonprofit that helps Virginians access the information and services they need with a family of websites.
VIRGINIA DEPARTMENT OF HEALTH, DIVISION OF MULTICULTURAL HEALTH AND COMMUNITY ENGAGEMENT – a VDH office which develops programs and partnerships to … promote awareness of health inequities, with a goal to permanently change the conditions that produce differential health outcomes (in racial and ethnic minority communities).
---
And finally, try this booklist of popular adult titles available in both Spanish and English