April 15th will be here before you know it. That means it is time to <cue spooky music> COMPLETE YOUR FEDERAL TAX RETURNS!! (Virginia tax returns aren't due until May 1st). But where do you turn if you need help?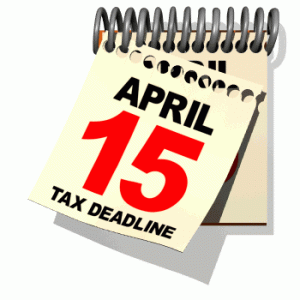 The AARP (American Association of Retired People) offers free tax return preparation through the AARP Foundation Tax-Aide Program. They have two locations in the city of Richmond – Southside Community Center (804) 646-1206 and Senior Connections (804) 343-3059 or (804) 343-3023. The complete listing includes Tax-Aide programs throughout the surrounding counties.
TAX COUNSELING FOR THE ELDERLY (TCE) – A federal grant program, TCE specializes in questions related to pensions and other retirement-related issues. While the free program is open to anyone, it's particularly helpful to taxpayers 60 and older. Volunteers are IRS-certified and often retired themselves. Call (800) 906-9887 for more information.
IRS VOLUNTEER INCOME TAX ASSISTANCE (VITA) – a United Way program. IRS-certified VITA volunteers provide tax-preparation services to older Americans, low and moderate-income filers, people with disabilities and those with limited English language skills. Generally, taxpayers must have an annual income below $56,000 to qualify. Call (800) 906-9887 to find a nearby VITA site or check online here. Henrico County Public Library is offering VITA tax assistance at their Libbie Mill Library and Fairfield Area Library. More information, including dates and times can be found here.
You can DO IT YOURSELF – if your adjusted gross income is $69,000 or less, you can use use IRS Free File tax software to file your 2019 federal return for free. You can request tax forms and booklets to be mailed to your house, print out tax forms, look through tax booklets, check your refund status and more at the IRS website and the Virginia Department of Taxation. If you're not sure where to start, look at the IRS "News Release" page for the most up-to-date information.
All Richmond Public Library locations have computers that patrons can use. While software cannot be downloaded to library computers, patrons using an online portal to file taxes can use library computers. (Be aware that there may be time limits for using library computers, and information cannot be saved to computers. USB <thumb> drives are available for purchase.
The City of Richmond also offers real estate tax relief up to 100% for the elderly and disabled. You can find their brochure here, and the program application here. For assistance or questions and concerns about this program, please contact Tax Relief Staff via email at taxrelief@richmondgov.com or by phone at (804) 646-6015.