May is Asian American and Pacific Islander Heritage Month. This monthly celebration recognizes people from the East, the Southeast, the Indian subcontinent and the Pacific Islands.  Although we sometimes group these peoples together, it is important to remember that they have distinct cultures, nationalities, languages and histories. These nations and their members have a rich history with the United States and those who immigrated here have enriched our country over generations. Sadly, Asian Americans and Pacific Islanders are experiencing a sharp increase in anti-Asian discrimination and violence since the start of the coronavirus pandemic. That is why it is so imporant to educate yourself on these cultures and play an active roll to #StopAAPIHate. I created this book list in an effort to do just that.
Book Pairing #1: History

The first thing I'd like to cover is some of the complicated history between the United States and Asian countries. One of the more shameful moments in our country's past is the internment of Japanese-American citizens during WWII. Its impacts are far reaching as evidenced in the following two books. Readers may know author George Takei from his time as Hikaru Sulu, helmsman of the USS Enterprise on Star Trek, or for his human rights activism on social media. But long before this, Takei was a four year old child imprisoned in the American concentration camps during World War II. In They Called Us Enemy, Takei gives a first hand account of his time spent in these so-called "relocation camps," growing up under legalized racism. He challenges readers think about what it means to be an American and who gets to decide. Although these events happened over 60 years ago, there are strong ties to what we are experiencing in America today. This is evident in Misa Sugiura's book This Time It Will Be Different. CJ Katsuyamas's family owns a flower shop and it is there CJ discovers her talent for floral arrangement and learns the language of flowers. But when CJ's mom decides to sell the shop to a family who swindled CJ's grandparents when Japanese Americans were sent to American internment camps, the past threatens to drive a rift in her family and her community.
Another harrowing time in U.S. history was the Vietnam War. Spanning 20 years, this war caused tensions among Americans of all ancestries and caused many Vietnamese to immigrate to the United States. Thi Bui's graphic memoir The Best We Could Do, although an adult book, tells the story of young Bui who was just five years old when she was forced to flee Vietnam with her family in search of a better future in the U.S. The "RUN-FLEE" refugee experience is palpable and readers will experience how difficult life is for refugees even when they reach "safety." Like Thi Bui's story, Thanhhà Lai's historical novel Butterfly Yellow tells the story of two siblings trying to escape the war in Vietnam. Unlike Bui's family, the main character Hằng is separated from her younger brother Linh and is forced to stay behind. Years later when they are reunited in Texas, so much has changed. Linh doesn't remember Hằng or their home country. This is the story of the strength of sibling love and its ability to bridge a gap spanning oceans.
Book Pairing #2: Current Struggles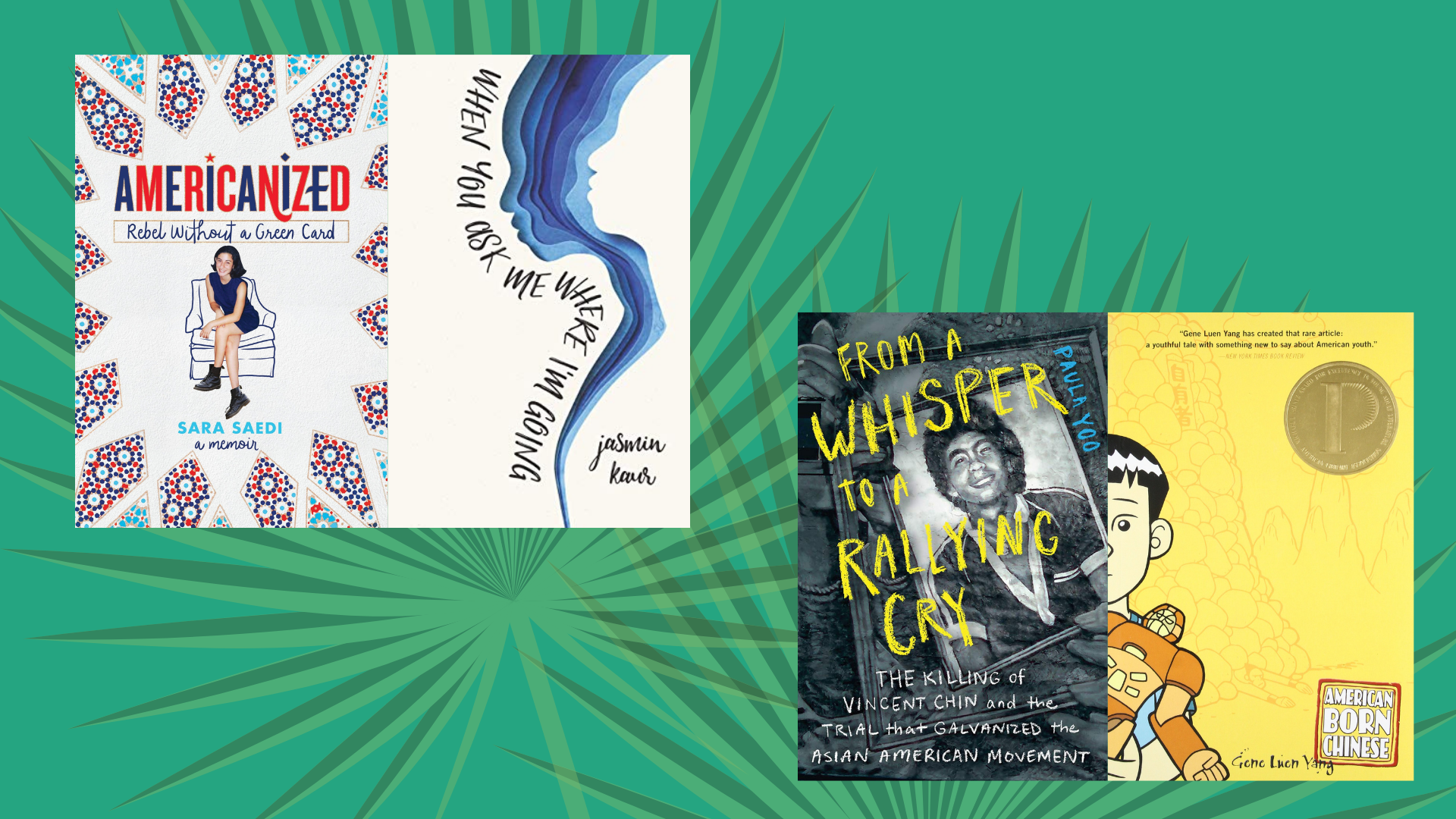 The next topic I'd like to cover envelops some of the more current experiences of Asian Americans in the United States. As I previously discussed, Asian Americans have immigrated to the U.S. for many reasons, often including war and other hardships. Sometimes this means they come to the United States without permission. Americanized: Rebel Without a Green Card by Sara Saedi tells the true story of the author's discovery that she is living in America as an undocumented immigrant. Her parents took her family and fled Iran two years prior but it is not until Saedi wants to get an after school job that she discovers their secret. Although Saedi's experiences are at times scary, she weaves humor throughout her memoir to remind readers that throughout it all, she is just an Iranian-American teen trying to figure out who she is and how to get through life. (This book is also in development as a television series from Reese Witherspoon's Hello Sunshine production company and ABC Studios so make sure to read it before you watch it!) Next up, part poetry, part prose, and part illustration, Jasmin Kaur's book When You Ask Me Where I'm Going tells the story of a Punjabi woman escaping persecution with her daughter and living undocumented in the United States. Although this is a work of fiction, it is raw and uncensored, vividly relaying the experiences of a Sikh woman both in her home country and as an immigrant in the U.S. Kaur leaves no topic unturned, exploring the subjects of trauma, feminism, mental health, and discrimination. But also resilience, hope, and faith. Fans of Rupi Kaur will want to check this book out.
Although technically this next book might be considered more historical, the fact that AAPI hate is still very real today (and needs addressed) makes it relevant in this section. From a Whisper to a Rallying Cry by Paula Yoo recounts the horrific 1982 murder of Vincent Chin when a bar fight turns into a hate crime. In the early '80s, Japanese car companies were on the rise and many Americans believed they were putting U.S. autoworkers out of their jobs. Anti-Asian American sentiments began to brew and eventually boiled over leading to hate crimes throughout the country, but especially in the midwest. When Chin's murderers pled guilty to manslaughter and received only a $3,000 fine and three years' probation, the lenient sentence sparked outrage. Protests broke out leading to a federal civil rights trial―the first involving a crime against an Asian American. This true crime story will give you a background to some of the AAPI hate we see today. Although From a Whisper to a Rallying Cry tells an extreme account of AAPI hate, it is important to remember that racism comes in many forms, including micro-aggressions. American Born Chinese by Gene Luen Yang has become required reading in many American classrooms and for good reason! Yang uses the traditional fable format, puts it in graphic form, and tells the story of three seemingly unrelated characters dealing with cultural acclimatization and race-shame. It is perfect for middle schoolers and provides a great opportunity for discussion (hint, hint).
Book Pairing #3: Culture & Identity

Now, for something a little lighter, here are some books about Asian-American culture. If you are interested in reading about Asian foods, specificially Korean food, then I have the books for you! Cook Korean! A Comic Book with Recipies by Robin Ha is technically not a YA book but is certain to be a favorite with teens. Ha combines her signature light-hearted graphic style with her love of Korean cooking in this unique cookbook. Never cooked Korean food? No worries! You'll start with the basics, learn about various traditional ingredient and flavor profiles, and move on to 64 mouth-watering recipes. Each chapter also includes personal anecdotes and cultural insights from Ha so you'll learn a bit about the culture too! If you're looking for a little fiction mixed in with your food, check out Paula Yoo's debut novel Good Enough. This is the story of Patti, a high school student just trying to be the perfect Korean-American daughter. This means being a star student and getting into an IVY League school. This does not mean following her dreams of becoming a violinist. You may be wondering how food plays into this story. Well, apparently Koreans love SPAM and Patti's mom makes her a lot of SPAM-dishes. Bonus: Yoo includes the recipes in her book!
It's no secret, Americans have become pretty enamoured with Japanese culture. From kawaii to anime, from train sushi to Tokyo Tower, find it all in Cool Tokyo Guide! Author Abby Denson, her husband Matt, friend Yuuko and sidekick Kitty Sweet Tooth will introduce you to everything you need to know about Tokyo in all its glory. This book is perfect for future tourists and armchair travelers alike. Then, travel to Kyoto, Japan with Kimi, the main character of Sarah Kuhn's novel I Love You So Mochi. After an explosive fight with her mom, Kimi travels to Kyoto to visit her grandparts and loses herself in the art installations, outdoor markets, and cherry blossoms. She quickly falls in love with the city and Akira, a cute aspiring med student who moonlights as a costumed mochi mascot. This one is perfect for fans of Jenny Han.
Teens (or any readers of YA), I hope this post has given you some great doorways into reading books by and about AAPI people. As with any group, it is important to remember that just because two people may identify as the same race, or come from a similar background, it does not mean that their experiences are the same. That's why it is important to read widely. I've tried to give you books about a number of topics that will present you with a variety of perspectives. Now, it is up to you to read them 🙂
To learn more about AAPI Heritage Month visit https://asianpacificheritage.gov/ And, to learn how you can help stop AAPI hate, visit https://stopaapihate.org/
For more Shelf Respect posts related to Asian Americans and Pacific Islanders visit: