In honor of the Ides of March, I thought I'd put together a little booklist for you full of YA books all about revenge. Who does revenge better than a teen scorned? No one! Whether scorned by love, embroiled in an age-old feud, or taking a stance against the patriarchy, literary teens just have a way of exacting the most brutal forms of vengeance. I'm sure at one point or another, many of us have been wronged and fantasized about retribution. But, if you're like me, you would never actually go through with it. So let's live vicariously through these characters. Join them in these twisty tales that are sure to keep you on the edge of your seat.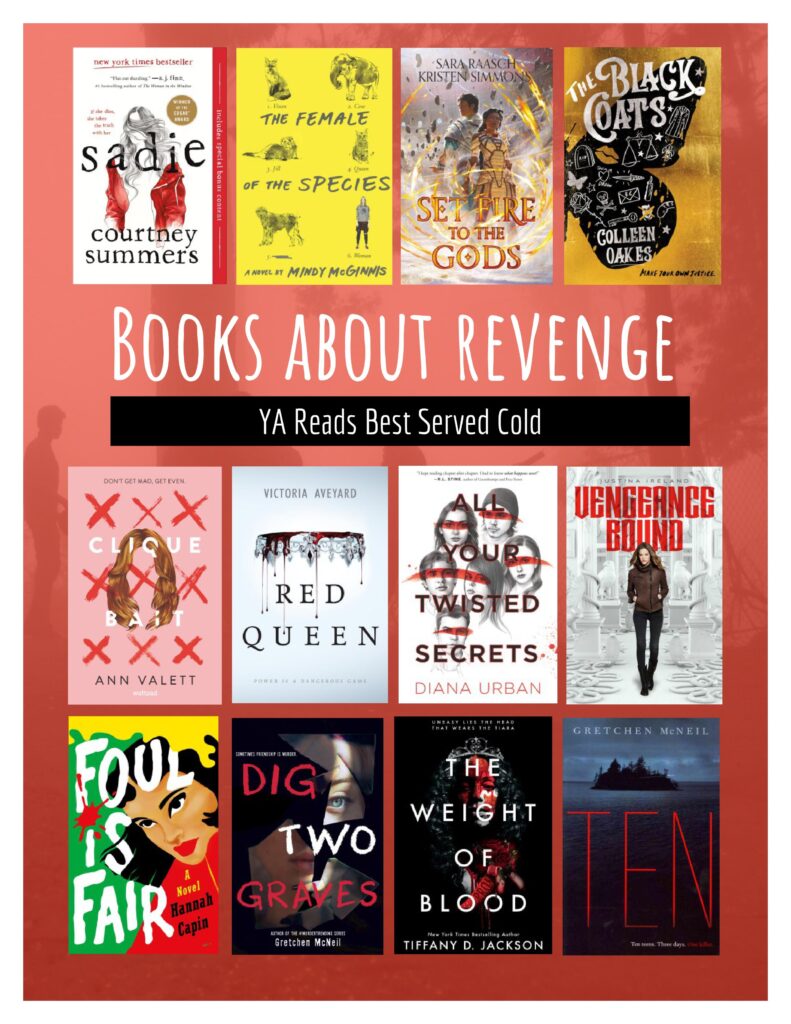 Sadie by Courtney Summers
Sadie's been raising her sister Mattie in an isolated Colorado town, trying her best to provide a normal life and keep their heads above water. When Mattie is found dead, and the police investigation is botched, Sadie is determined to bring her sister's killer to justice. She hits the road following a few meager clues.
When West McCray, a radio personality working on a segment about small, forgotten towns in America, hears Sadie's story, he becomes obsessed with finding the missing girl. He starts his own podcast as he tracks Sadie's journey, trying to figure out what happened, hoping to find her before it's too late.
Alex Craft knows how to kill someone. And she doesn't feel bad about it.
Three years ago, when her older sister, Anna, was murdered and the killer walked free, Alex uncaged the language she knows best–the language of violence.
While her own crime goes unpunished, Alex knows she can't be trusted among other people. Not with Jack, the star athlete who wants to really know her but still feels guilty over the role he played the night Anna's body was discovered. And not with Peekay, the preacher's kid with a defiant streak who befriends Alex while they volunteer at an animal shelter. Not anyone.
As their senior year unfolds, Alex's darker nature breaks out, setting these three teens on a collision course that will change their lives forever.
Ash is descended from a long line of gladiators, and she knows the brutal nature of war firsthand. But after her mother dies in an arena, she vows to avenge her by overthrowing her fire god, whose temper has stripped her country of its resources.
Madoc grew up fighting on the streets to pay his family's taxes. But he hides a dangerous secret: he doesn't have the earth god's powers like his opponents. His elemental gift is something else–something that hasn't been seen in centuries.
When an attempted revenge plot goes dangerously wrong, Ash inadvertently throws the fire and earth gods into a conflict that can only be settled by deadly, lavish gladiator games, throwing Madoc in Ash's path. She realizes that his powers are the weapon her rebellion needs–but Madoc won't jeopardize his family, regardless of how intrigued he is by the beautiful warrior.
But when the gods force Madoc's hand, he and Ash uncover an ancient war that will threaten more than one immortal–it will unravel the world.
ROSES ARE RED, VIOLETS ARE BLUE. IF YOU HURT US, WE'RE COMING FOR YOU.
The enigmatic Black Coats have been exacting vengeance on men who have hurt girls and women for years. The killer of Thea's cousin went free, and Thea has just received an invitation to join the Black Coats' balancings–acts of revenge meant to teach a lesson. Justice for Natalie has never felt so close.
But as the balancings escalate in brutality, Thea's clear-cut mission begins to unravel and she must decide just how far she is willing to go for justice.
Because when the line between justice and revenge is paper thin, it's hard not to get cut.
Chloe Whittaker is out for revenge.
Last year her best friend Monica's life was unceremoniously ruined by the most popular students at their high school, so this year Chloe plans to take each and every one of them down. She's traded in her jeans and T-shirts for the latest designer clothes, erased anything on social media that would tie her to Monica (and blow her cover), and carefully figured out how she will befriend the members of the clique, find out their deepest and darkest secrets, and reveal them to the world.
Chloe has the perfect plan . . . but there's one thing she didn't prepare for. And that's falling for someone she's determined to destroy. The closer she gets to uncovering the secrets the in-crowd is determined to cover up, the more she realizes that she is going to have to choose between betraying her oldest friend or the boy who's captured her heart
Red Queen by Victoria Aveyard
When her supernatural powers manifest in front of a noble court, Mare, a thief in a world divided between commoners and superhumans, is forced to assume the role of lost princess before risking everything to help a growing rebellion.
What do the queen bee, star athlete, valedictorian, stoner, loner, and music geek all have in common? They were all invited to a scholarship dinner, only to discover it's a trap. Someone has locked them into a room with a bomb, a syringe filled with poison, and a note saying they have an hour to pick someone to kill…or else everyone dies.
Amelie Ainsworth is not alone in her head. Bound to a deal of desperation made when she was a child, Amelie's mind houses the Furies–the hawk and the serpent–lingering always, waiting for her to satisfy their bloodlust. After escaping the asylum where she was trapped for years, Amelie knows how to keep the Furies quiet. By day, she lives a normal life, but by night, she tracks down targets the Furies send her way. And she brings down Justice upon them.
Amelie's perfected her system of survival, but when she meets a mysterious boy named Niko at her new school, she can't figure out how she feels about him. For the first time, the Furies are quiet in her head around a guy. But does this mean that Amelie's finally found someone who she can trust, or are there greater factors at work? As Amelie's mind becomes a battlefield, with the Furies fighting for control, Amelie will have to decide which is worse: denying the only man she might ever love, or subjecting him to the fate the Furies want for him?
Jade and her friends Jenny, Mads, and Summer rule their glittering LA circle. Untouchable, they have the kind of power other girls only dream of. Every party is theirs and the world is at their feet. Until the night of Jade's sweet sixteen, when they crash a St. Andrew's Prep party. The night the golden boys choose Jade as their next target.
They picked the wrong girl.
Sworn to vengeance, Jade transfers to St. Andrew's Prep. She plots to destroy each boy, one by one. She'll take their power, their lives, and their control of the prep school's hierarchy. And she and her coven have the perfect way in: a boy named Mack, whose ambition could turn deadly.
I did my part, BFF. Now it's your turn.
Seventeen-year-old film noir fan Neve Lanier is a girl who just wants to be seen, but doesn't really fit in anywhere. When Neve is betrayed by her best friend, Yasmin, at the end of the school year, she heads off to a girl's empowerment camp feeling like no one will ever love her again. So when she grabs the attention of the beautiful, charismatic Diane, she falls right under her spell, and may accidentally promise to murder Diane's predatory step-brother, Javier, in exchange for Diane murdering Yasmin. But that was just a joke…right?
Wrong. When Yasmin turns up dead, Diane comes calling, attempting to blackmail Neve into murdering Javier. Stalling for time, Neve pretends to go along with Diane's plan until she can find a way out that doesn't involve homicide. But as she gets to know Javier – and falls for him – she realizes that everything Diane told her is a lie. Even worse, she discovers that Yasmin probably wasn't Diane's first victim. And unless Neve can stop her, she won't be the last.
When Springville residents—at least the ones still alive—are questioned about what happened on prom night, they all have the same explanation . . . Maddy did it.
An outcast at her small-town Georgia high school, Madison Washington has always been a teasing target for bullies. And she's dealt with it because she has more pressing problems to manage. Until the morning a surprise rainstorm reveals her most closely kept secret: Maddy is biracial. She has been passing for white her entire life at the behest of her fanatical white father, Thomas Washington.
After a viral bullying video pulls back the curtain on Springville High's racist roots, student leaders come up with a plan to change their image: host the school's first integrated prom as a show of unity. The popular white class president convinces her Black superstar quarterback boyfriend to ask Maddy to be his date, leaving Maddy wondering if it's possible to have a normal life.
But some of her classmates aren't done with her just yet. And what they don't know is that Maddy still has another secret . . . one that will cost them all their lives.
Ten by Gretchen McNeil
Ten teens. Three days. One killer. It was supposed to be the weekend of their lives-an exclusive house party on Henry Island. Best friends Meg and Minnie are looking forward to two days of boys, booze, and fun-filled luxury. But what starts out as fun turns twisted after the discovery of a DVD with a sinister message: Vengeance is mine. And things only get worse from there. With a storm raging outside, the teens are cut off from the outside world . . . so when a mysterious killer begins picking them off one by one, there's no escape. As the deaths become more violent and the teens turn on one another, can Meg find the killer before more people die? Or is the killer closer to her than she could ever imagine?