MUSIC OF THE MONTH IS A MONTHLY ROUND-UP OF RPL'S MUSIC-RELATED PROGRAMS AND RESOURCES.
Gellman Room Concerts
The 2021-2022 Gellman Room Concert season is here! You can always watch past concerts on RPL's YouTube page.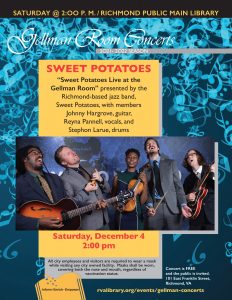 Sweet Potatoes
Saturday, December 4 at 2:00 PM
Sweet Potatoes is a Richmond-based jazz band featuring Johnny Hargrove (guitar), Reyna Pannell (vocals) and Stephon Larue (drums).
From Our Collection
The Music & Arts and Scores & Songbook collections contain tons of jazz-related materials. Here's a sample of a Duke Ellington composition interpreted for solo piano by Earl Hines. Even though Hines' version is instrumental, you can follow the melody and sing the lyrics with the sheet music below!
Staff Playlist
The full history and beauty of jazz cannot be found by only examining the lives and work of men. Though there are countless great jazz men, there are also many great jazz women. Check out these books for more on them:
Ben H. recommends Louis Armstrong Meets Oscar Peterson, anything by Ella Fitzgerald (especially with Joe Pass!), and Alice Coltrane.
Mary C. recommends Errol Garner.
Adam Z. recommends this clip of Ronnie Cuber playing baritone saxophone with the Charles Mingus Big Band.
Clay D. recommends Hank Mobley, Charles Lloyd, and Clifford Brown.
Lisa C. and the West End staff recommend Miles Davis, Chick Corea, Gary Burton, Keith Jarrett, and Herbie Hancock.
Josh B. recommends Sungazer.
Catherine B. recommends the 1938 Carnegie Hall Jazz Concert by Benny Goodman.