MUSIC OF THE MONTH IS A MONTHLY ROUND-UP OF RPL'S MUSIC-RELATED PROGRAMS AND RESOURCES.
Gellman Room Concerts
The 2021-2022 Gellman Room Concert season is here! You can always watch past concerts on RPL's YouTube page.
Mark Valenti
Saturday, February 12 at 2:00 PM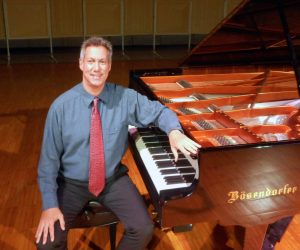 "Something for Everyone—Romantic, Impressionistic, Modern Virtuoso Piano Music"—works by Schubert, Rachmaninoff, Debussy, and Barber presented by Mark Valenti, piano.
Greater Richmond Children's Choir
Saturday, February 26 at 2:00 PM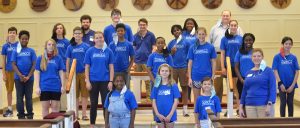 The Greater Richmond Children's Choir presents Lyrics & Laughter in the Library! Invite your young and young-at-heart friends to enjoy this performance by GRCC's training choirs under the direction of Crystal Jonkman and Pete Curry.
From Our Collection
Love songs are one of the oldest forms of popular music. When we think of "love songs" in English or other European-derived languages, we are usually referring to romantic love between individuals. This is a pretty modern understanding, emerging as the subject of European poets and lyricists in the Middle Ages. Prior to that, "love" tended to be understood in more mythological–or at least less individualistic and psychological–terms. To learn more about the history of "love songs" around the world, check out these books on music history, Ted Gioia's Music: A Subversive History or Great Courses: Music and the Brain.
Here are two selections from our collection of Scores and Songbooks from two decidedly different eras.
O gentle Love, ungentle for they deed/Thou makest my heart/A bloody mark/With piercing shot to bleed.
Shoot soft, sweet Love, for fear thou shoot amiss/For fear too keen/Thy arrows been/And hit the heart where my beloved is.
Too fair that fortune were, nor never I/Shall be so blessed/Among the rest/That Love shall seize on her by sympathy.
Then since with Love my prayers bear no boot/This doth remain/To cease my pain/I take the would, and die at Venus' foot.
"O Gentle Love" by George Peele (1854) from A Muse of Love: Five Elizabethan Love Lyrics by Martin Dalby
Don't need no copy of Vogue Magazine/don't need to dress like no beauty queen/High heels or sneakers, he don't give a damn/My baby loves me just the way that I am/My baby loves me just the way that I am.
He never tells me I'm not good enough/He just gives me unconditional love/He loves me tender, he loves me mad/He loves me silly and he loves me sad.
He thinks I'm pretty, he thinks I'm smart/He like my nerve and he loves my heart/He's always sayin' he's my biggest fan/My baby loves me just the way that I am/My baby loves me just the way that I am.
And when there's dark clouds in my eyes/He just sits back and lets 'em roll on by/Come in like a lion, go out like a lamb/My baby loves me just the way that I am/My baby loves me just the way that I am.
"My Baby Loves Me" by Gretchen Peters (1991) from Country Love Songs published by Hal Leonard
Staff Playlist
Here are some of RPL staff's favorite romantic music choices. Remember, the romance of a song can be about the mood it sets or memories (and nostalgia) it inspires! All of these songs are available via Hoopla with your library card!
Meg R. suggests Love Stinks by the J. Geils Band.
Ginter Park Library Staff suggest Ravel's Bolero and Rimsky-Korsakov's Scheherazade.
Beth M. suggests "All My Love" by Led Zeppelin.
Nan A. suggests "Unchained Melody" by the Righteous Brothers and "Wonderful Tonight" by Eric Clapton.
Lisa C. suggests "A Case of You" by Joni Mitchell.
Scott F. suggests "Can't Get Enough of Your Love, Babe" by Barry White.
Phil S. suggests "Harvest Moon" by Neil Young.
Adam Z. suggests "Something" by The Beatles. (While The Beatles original recordings are not on Hoopla, there are tons of fun cover and tribute albums from many artists that include their songs!)
Alfreda P. suggests "She Believes in Me" by Kenny Rogers, and "No One in the World" by Anita Baker.