Welcome back, readers, to this month's 2021 Teen Reading Challenge post! The prompt this month is to "read something recommended by someone you admire." Let me start off by saying that it was hard to come up with a reading list for this challenge. That is because 1) the word admire carries so much weight, 2) who you admire is a super personal decision and 3) people in the public eye need to start reading (and recommending) more YA! So, instead of creating a lengthy list like I normally do, this month I've decided to share just a few book recs from some people I admire. I've included people you are likely to know, but who you admire can range from celebrities, to friends, to neighbors, to teachers. There are so many options. Perhaps you admire some of the same people I do and can use a book off of this list for the challenge. Or, perhaps, the list simply inspires you. Either way, I hope you enjoy!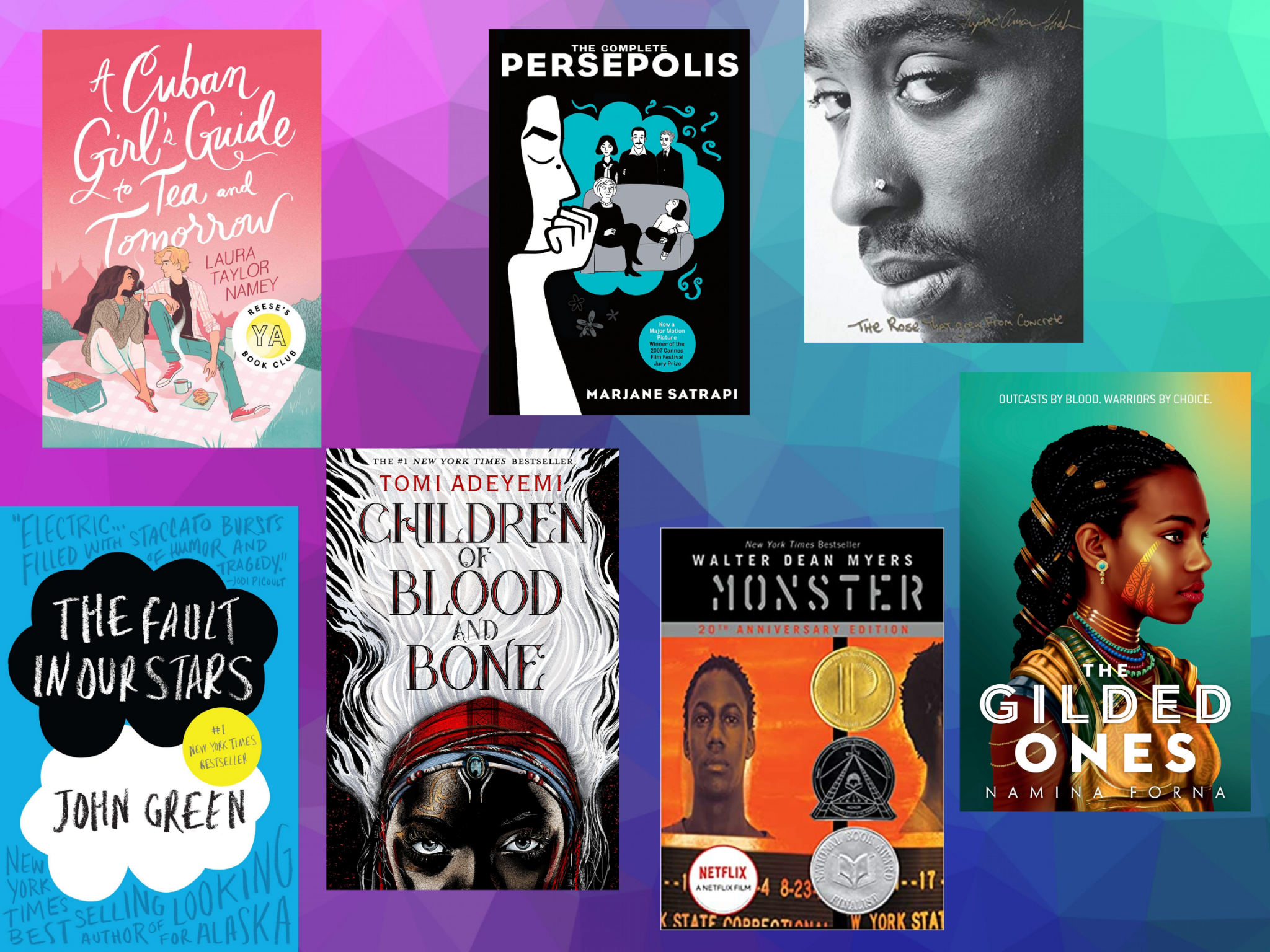 Summary – Seventeen-year-old Lila Reyes, furious when her parents send her to the English countryside to recover from grief and heartbreak, unexpectedly falls in love with a teashop clerk–and England, itself. After graduation, everything Lila Reyes had planned for her life fell apart. Her worried parents make a new plan for her: Spend three months with family friends in Winchester, England, to relax and reset. But with the lack of sun, a grumpy inn cook, and a small town lacking Miami flavor (both in food and otherwise), what would be a dream trip for some feels more like a nightmare to Lila. Until she meets Orion Maxwell. A teashop clerk with troubles of his own, Orion appoints himself as Lila's personal tour guide. Soon a new future is beginning to form in Lila's mind– one that would mean leaving everything she ever planned behind.
Reese Witherspoon is an American actress, producer, and entrepreneur. She also hosts an online book club that features monthly YA picks. 
Summary – A collection of verse by the late hip-hop star Tupac Shakur. It includes more than one hundred poems confronting such wide-ranging topics as poverty, motherhood, Van Gogh, and Mandela. His talent was unbounded, a raw force that commanded attention and respect. His death was tragic — a violent homage to the power of his voice. His legacy is indomitable — remaining vibrant and alive. Here now, newly discovered, are Tupac's most honest and intimate thoughts conveyed through the pure art of poetry — a mirror into his enigmatic life and its many contradictions. Written in his own hand at the age of nineteen, they embrace his spirit, his energy… and his ultimate message of hope.
Florence Welch is an English singer, the lead vocalist and primary songwriter of the indie rock band Florence and the Machine.
The Gilded Ones

by Namina Forna recommended by Stephen Curry
Summary – In this world, girls are outcasts by blood and warriors by choice. Get ready for battle. Sixteen-year-old Deka lives in fear and anticipation of the blood ceremony that will determine whether she will become a member of her village. Already different from everyone else because of her unnatural intuition, Deka prays for red blood so she can finally feel like she belongs. But on the day of the ceremony, her blood runs gold, the color of impurity–and Deka knows she will face a consequence worse than death. Then a mysterious woman comes to her with a choice: stay in the village and submit to her fate, or leave to fight for the emperor in an army of girls just like her. They are called alaki – near-immortals with rare gifts. And they are the only ones who can stop the empire's greatest threat. Knowing the dangers that lie ahead yet yearning for acceptance, Deka decides to leave the only life she's ever known. But as she journeys to the capital to train for the biggest battle of her life, she will discover that the great walled city holds many surprises. Nothing and no one are quite what they seem to be – not even Deka herself.
Stephen "Steph" Curry II is an American professional basketball player for the Golden State Warriors. He plays the point guard position. Many analysts and players have called him the greatest shooter in NBA history. He also has an online book club via Literati.
Summary – Persepolis is the story of Marjane Satrapi's childhood and coming of age within a large and loving family in Tehran during the Islamic Revolution; of the contradictions between private life and public life in a country plagued by political upheaval; of her high school years in Vienna facing the trials of adolescence far from her family; of her homecoming–both sweet and terrible; and, finally, of her self-imposed exile from her beloved homeland.
Emma Watson is an English actress and activist. She has gained recognition for her roles in both blockbusters and independent films, as well as her women's rights work. She also hosts an Instagram book club called Our Shared Shelf.
Summary – Sixteen-year-old Hazel, a stage IV thyroid cancer patient, has accepted her terminal diagnosis until a chance meeting with a boy at cancer support group forces her to reexamine her perspective on love, loss, and life.
Brené Brown is a research professor at the University of Houston. She is also a visiting professor in management at The University of Texas at Austin McCombs School of Business. She's spent the past two decades studying courage, vulnerability, shame, and empathy. She's the author of five #1 New York Times bestsellers and the host of the weekly Spotify Original podcasts Unlocking Us and Dare to Lead.
Monster by Walter Dean Myers recommended by Angie Thomas
Summary – This New York Times bestselling novel from acclaimed author Walter Dean Myers tells the story of Steve Harmon, a teenage boy in juvenile detention and on trial. Presented as a screenplay of Steve's own imagination, and peppered with journal entries, the book shows how one single decision can change our whole lives. Monster is a multi-award-winning, provocative coming-of-age story that was the first-ever Michael L. Printz Award recipient, an ALA Best Book, a Coretta Scott King Honor selection, and a National Book Award finalist. Monster is now a major motion picture starring Jennifer Hudson, Kelvin Harrison, Jr., Nas, and A$AP Rocky.
Angie Thomas is a former teen rapper. She holds a BFA in creative writing from Belhaven University. Her award-winning, acclaimed debut novel, The Hate U Give, is a #1 New York Times bestseller and major motion picture from Fox 2000.
Summary – Seventeen-year-old Zélie, her older brother Tzain, and rogue princess Amari, fight to restore magic to the land and activate a new generation of magi but they are ruthlessly pursued by the crown prince who believes the return of magic will mean the end of the monarchy.
Lin-Manuel Miranda is an American actor, singer, songwriter, rapper, producer, and playwright. He created and starred in the Broadway musicals In the Heights and Hamilton.
Again, these are just a few examples to get you started on this prompt.  I hope you are able to discover many more from the people you admire.
If you are a teen, you can join the conversation taking place on our Discord server. We have a designated channel for readers to chat all month.  Not a member of the server yet?  Fill out this form and we'll send you an invite.  Also, feel free to tag us on social media and share what you're reading #2021rplteenreadingchallenge
Happy reading!
To visit (or revisit) my previous posts on the 2021 RPL Reading Challenge, follow these links:
The original post with info on how the challenge works.
Prompt 1 – Immigration in the U.S.
Prompt 2 – Teen Activism
Prompt 3 – Body Positivity
Prompt 4 – Protecting Our Environment
Prompt 5 – Shared Talents
Prompt 6 – Juneteenth
Check back next month for suggestions to fulfill Prompt 8, "Something recommended by someone you admire."